What did you do on New Year's Eve?
We painted our bedroom.
No, I'm not kidding.
We had plans to celebrate with our good friends and then ALL our kids got sick.
I figured if we were stuck in the house we may as well do something fun, so we painted!
After a couple days of decorating we finished our budget master bedroom makeover and I'm so excited to share it with you!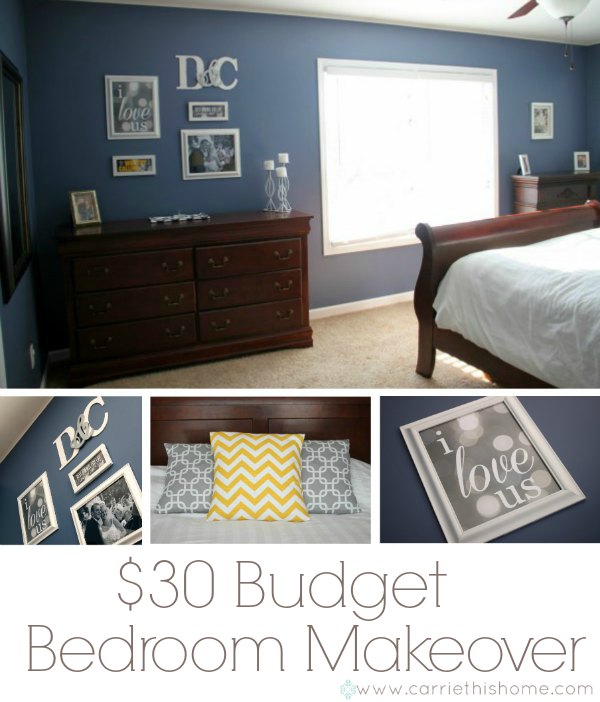 Oh and the best part–it only cost about $30.00! I'll share some money saving tricks and the budget breakdown at the end of this post but for now let's get to the fun part!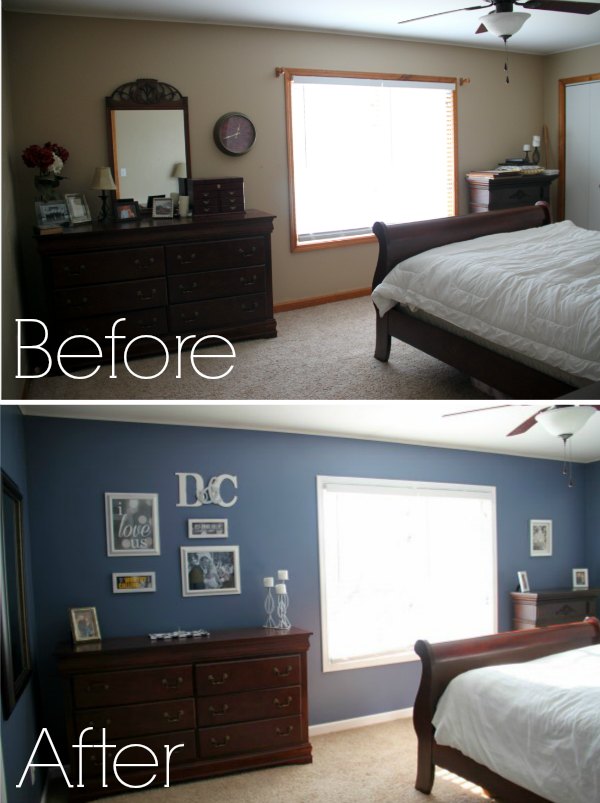 Before our room was beige, bland, and blah. The room was screaming for a makeover.
It took me forever to decide on a new wall color. I wanted a deep blue color, but I didn't want the room to be as dark as a dungeon. Six months later, we finally decided on a color called Thunderhead from Valspar.
We absolutely love it!
As you walk into the room the first thing you see is the new blue paint color and my new gallery wall.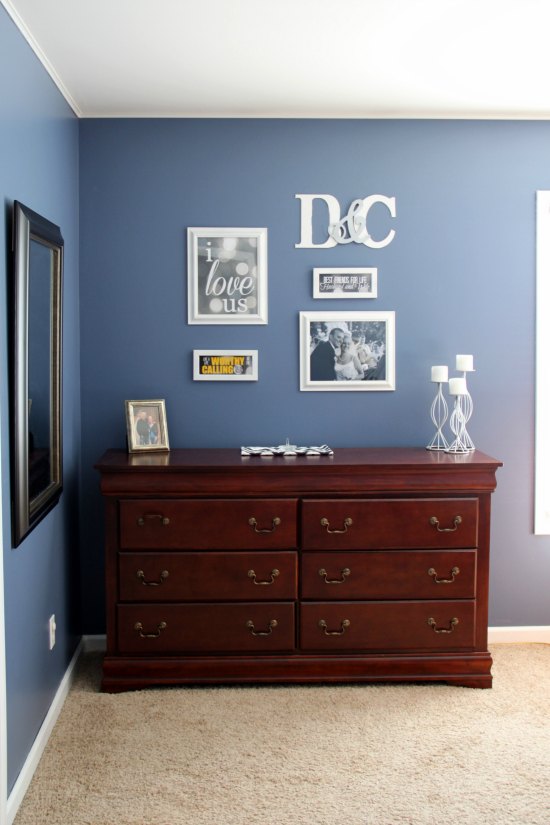 The gallery wall adds a punch of personality to the room without being overwhelming. Believe it or not, I got the two big frames at Goodwill! I bought the initials and & symbol and made some artwork out of it. I love how the frames and initial artwork pop off the paint!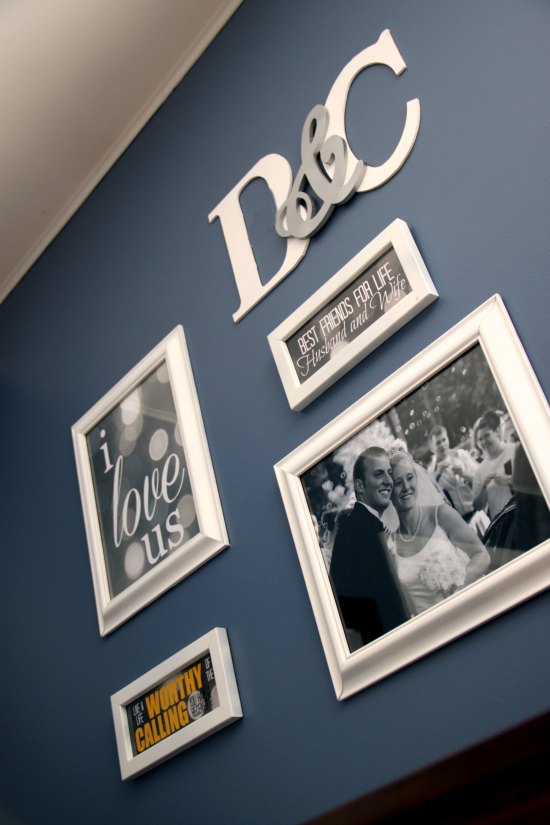 The new paint is a rich color full of character and thanks to the white bedding, white doors, and trim the room doesn't look dark. We have a huge window that lets in tons of natural light so this room was a great choice for a dark color.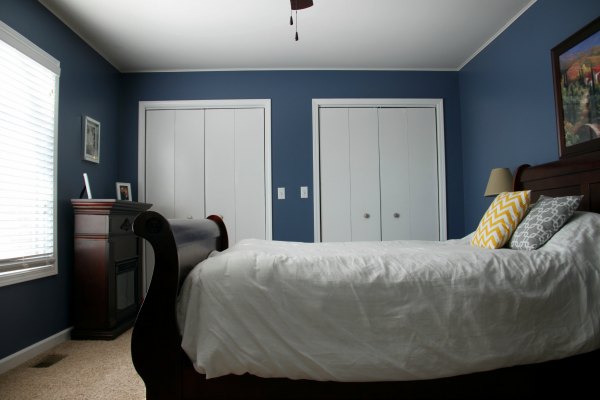 I chose to use lots of bright accessories. I used yellow, grey, and silver as accent colors.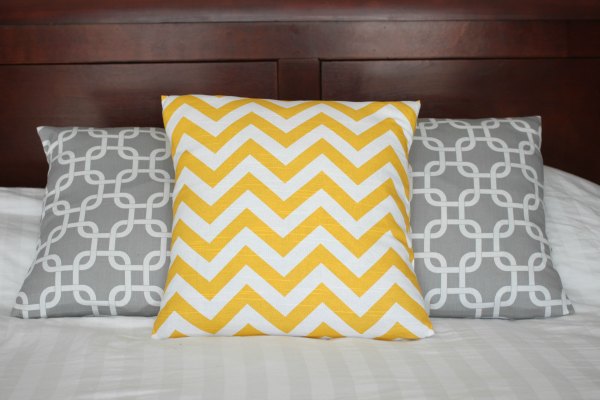 I've had these candle holders for ages so I decided to give them new life and spray paint them silver to make them brighter. It was the best 10 minute transformation I've ever done!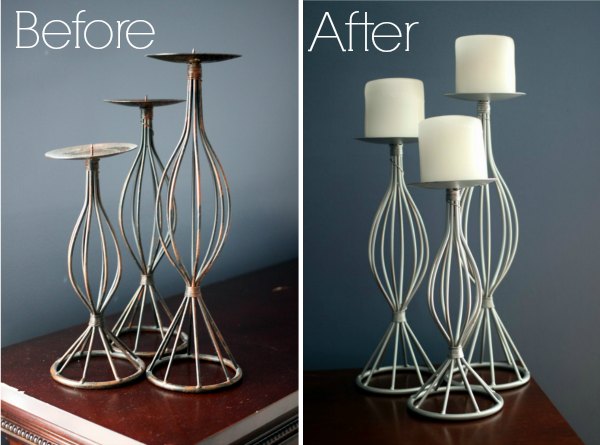 My in-laws bought me this beautiful big mirror for Christmas. I can finally get a good view of my outfit before heading out the door!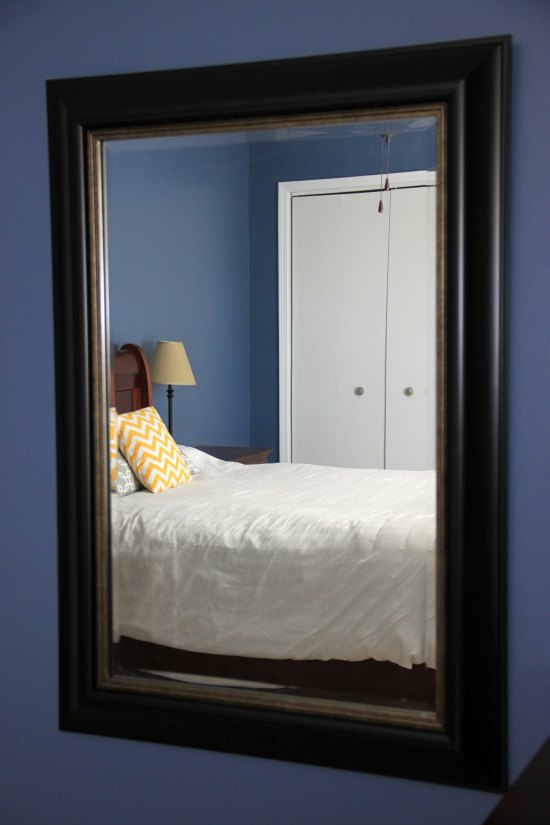 The hubby and I love the feeling this color brings to the room. The color has a calming effect on us.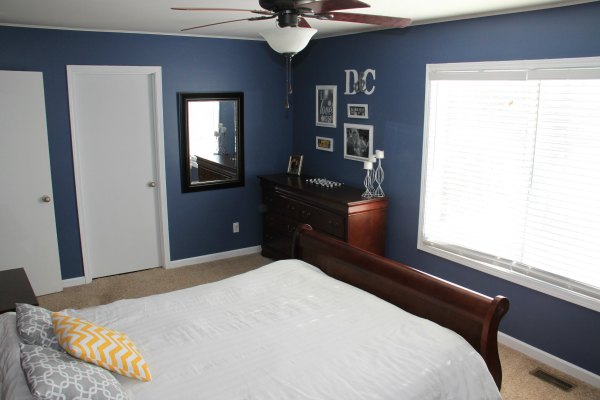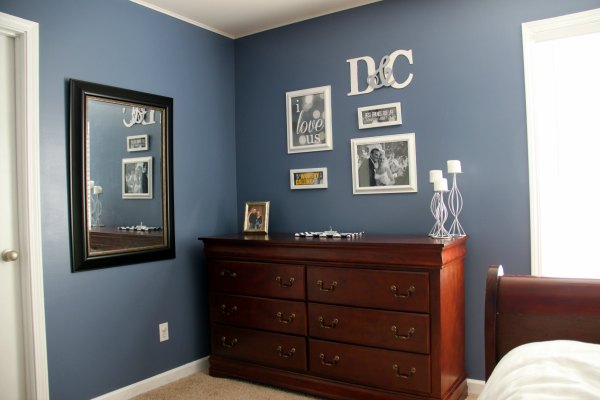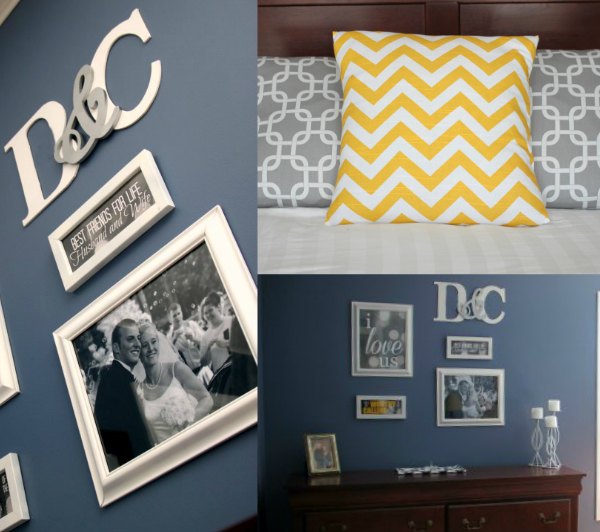 Master Bedroom Makeover Budget Breakdown:
New Paint Color: $0 (Thanks to my brother I used gift certificates to purchase the paint) All of the white paint we used was leftover from other projects.
1 Quality Paintbrush: $7.47 (Good paintbrushes are worth every penny. They make painting much easier)
Mirror: $0 Christmas gift from my hubby's parents!
2 frames from Goodwill: $3.00 each
Initial artwork: $6.00
2 little signs in gallery wall: already owned
I love us sign: I made for free online with PicMonkey and printed it off for $6.59
Wedding photo: gift from my Uncle
Pillow covers from ElemenOPillows: $0 (I won these from a giveaway!)
Spray paint for candle holders: $4.00 (there's plenty left over for more projects later)
Total project cost: $30.06! Even if we didn't have the gift certificate for the paint, the whole makeover would have been under $50.00.
How did we do this so inexpensively?
Ask for makeover items as gifts. The big mirror, the paint, and the beautiful wedding photo were all gifts.
Reuse items you already have (like the candleholders)
Keep an eye out for decor items at Goodwill and customize them to your taste (like the frames)
Paint is the biggest bang for your buck transformation item. Even if all you do is paint the room a different color, that will bring a big change!
So–what do you think? Did this inspire you to makeover a room in your home?
This post linked to Hit Me With Your Best Shot, Create It Thursday, Thrifty Thursday, Link'n Blogs, Awesome Things Tuesday, Inspire Me Please, Serenity Now, Link Party Palooza, Saturday Show and Tell, Get Schooled Saturday, Think Pink Sunday, Inspiration Monday, Give Me The Goods, Tutorials and Tips, Wine'd Down Wednesday, Whimsy Wednesday, Whatever Goes Wednesday, Work It Wednesday, Ladies Only Blog Share, Weekend Wind Down, Project Inspired, DIY Sunday Showcase, Family Fun Friday, Create It Thursday, Skip The Housework Saturday, Saturday Show licious, Be Bold Link Party, Share Your Creativity, Motivational Monday, and Moonlight and Mason Jars.
P.S. - If you're a blogger

, you HAVE to check out *this course. I took it myself and highly recommend it. (*aff link)