For your convenience, there is an affiliate link to a kitchen appliance I highly recommend. See my full disclosure here.
What do you like to do to relax?
One of my favorite ways to relax is to work on my blog while eating cookie dough. I know. That sounds super healthy, right?
Well, before I get into this not-as-healthy-as-most-of-my-recipes post, I will put out a little bit of advice:
When you want to eat something unhealthy, exercise that same day and burn off some of the calories!
I exercise because I love to eat. Doing that enables me to enjoy small treats like this with less guilt. Don't eat this all the time but when you do, exercise that same day and enjoy!
Now, getting back to the cookie dough…
My usual go-to recipe for Egg-less Cookie Dough came from Fun Foods on a Budget. I've made this version an embarrassing amount of times several times!
I love this version of cookie dough but there was a problem.
I'm assuming this recipe was intended for several people to share. When I make this, it's usually when I'm by myself (so I don't have to share!) It makes a pretty big batch and in fear that someone would find it in the fridge, I'd eat all of it within two days.
Because I was being selfish, I'd overeat and then make myself sick.
Then the solution finally hit me–make a smaller batch so you won't overeat!
So that's what I did! I started making my own smaller batch and changed up some of the ingredient amounts until it was just right.
The taste and the amount this recipe made was perfect. My small batch was big enough for my sweet tooth but small enough I wouldn't feel super guilty for eating the whole thing.
If you're not selfish like me, you can choose to share this with a friend! It would be enough for the two of you to get a small treat!
By the way, if you're looking for a mixer, this is the mixer I use & it's awesome! It's affordable and it stirs the thick cookie dough like a boss!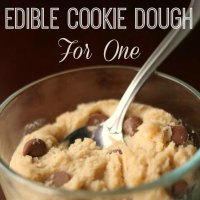 Edible Cookie Dough for One
2014-02-24 11:52:44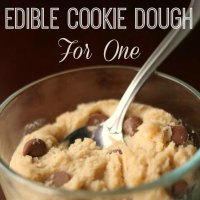 Serves 1
The perfect way to enjoy a sweet treat and not overeat!
Ingredients
1/2 cup packed brown sugar
2 TBSP butter, softened
1/8 tsp vanilla
1 and 1/2 TBSP milk
1/3 cup flour
Pinch of salt
Whatever add-ins you like: chocolate chips, M&Ms, nuts, etc.
Instructions
Combine softened butter and brown sugar with a mixer on low for just under a minute.
Gently stir in vanilla, milk, flour and salt with a spoon.
Then combine the mixture with the mixer on low for about 30 seconds.
If you have ad-ins, pour them in and stir in with a spoon.
Notes
If you like the cookie dough texture to be a bit more firm, set it in the fridge for about 30 minutes before eating.
Adapted from Fun Foods On A Budget
Carrie This Home https://carriethishome.com/
You might also like this Edible Peanut Butter Cookie Dough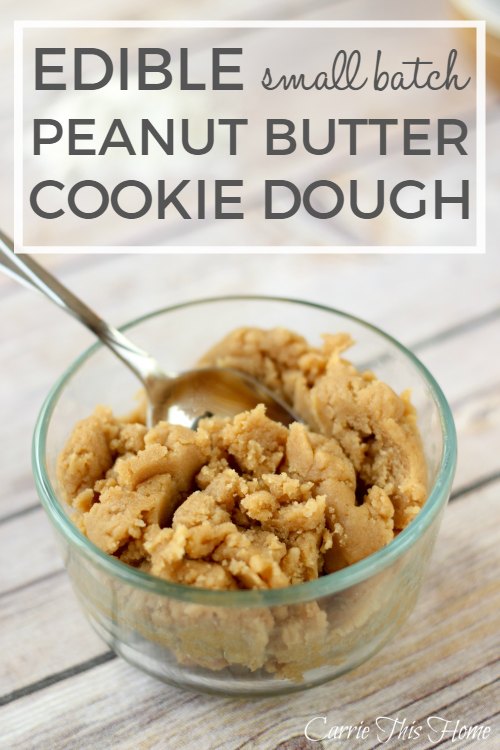 If you're more of a sugar cookie person, you'll love my Edible Sugar Cookie Dough For One!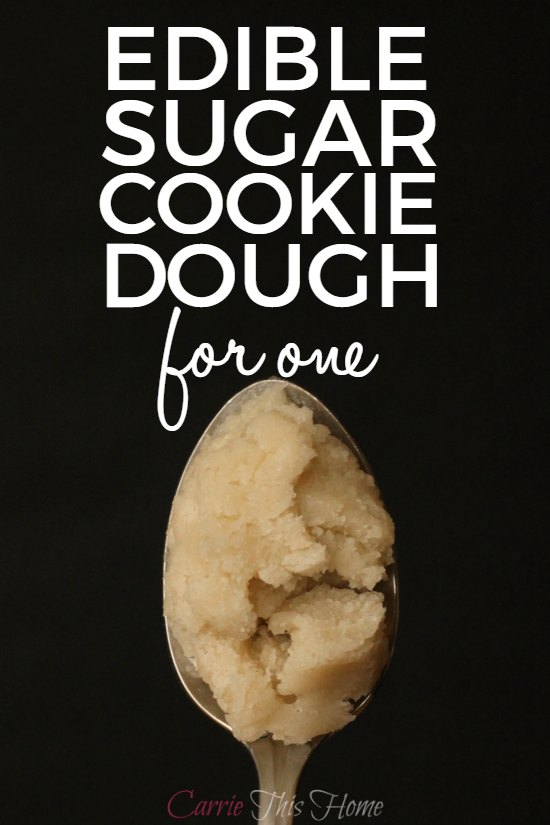 This post linked to Inspire Me Please, The Weekend Wind Down, Link Party Palooza, Strut Your Stuff Saturday, Saturday Sharefest, Skip the Housework Saturday, DIY Sunday Showcase, Share Your Creativity, Inspiration Monday, Project Inspire(d), In and Out of the Kitchen, Thrifty Thursday, Eat.Create.Party!, Create It Thursday, Tutorials and Tips, Think Pink Sunday, The Makers, Throwback Thursday, Summer Celebration, Tasty Tuesday, Do Tell Tuesday, Flashback Friday, Show Me Saturday, Best DIY Projects, Saturday Sharefest, Show Me Saturday, and Serenity Now.
P.S. - If you're a blogger

, you HAVE to check out *this course. I took it myself and highly recommend it. (*aff link)