Have you ever wanted to paint a room a dark color but were afraid of it being as dark as a dungeon?
Yep. Me too. I've been so scared to paint with dark colors.
Not anymore!
Recently I gathered up the courage and painted my master bedroom a very bold navy blue color.
Both my husband and I are really happy with the results and wished we had done it sooner!
Through this experience I discovered a few tips on how to paint with a dark color but make the room feel like it has a lot of light.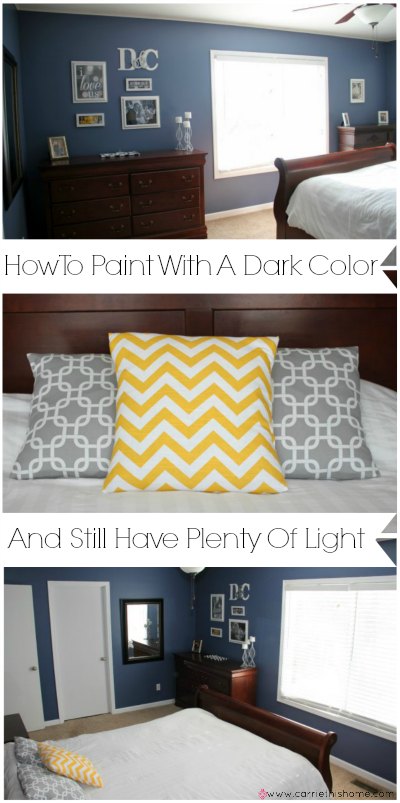 Is The Room A Good Candidate?
What makes a room a good candidate for a dark wall color? A few little factors can really make a big difference. In general, rooms that are great candidates for a dark wall color:
Have a lot of natural light coming in

Are bigger in size

Have doors that can be painted white
Have good lighting
Our master bedroom has a HUGE window (71 x 54 inches) which lets in a lot of natural light through the day. The room is fairly big and has several doors that were painted white. After looking at these factors we decided our room would look great in a dark color!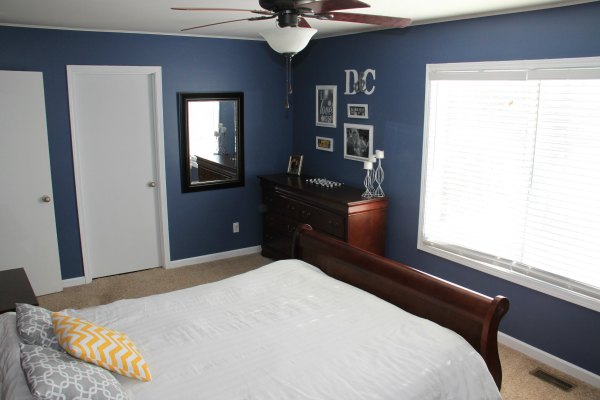 What If My Room Isn't A Good Candidate?
If you really love the color, go ahead and try it out! Worst case scenario is if you aren't happy with the results you can paint over it. That's one of the many things I love about paint: it's easily fixable!
White Paint Is Your Friend
Painting the trim, baseboards, doors and window frames white will help light travel across the room and make it appear brighter. The white paint looks so crisp and clean against the saturated wall color. White doors and trim really pop off a dark wall color and create a fabulous look!
Accessorize With Bright Accent Colors
I chose to accessorize the room with a couple pops of bright yellow, classy silver, and white. A couple bright accessories strategically placed will create a light feel through the whole room. Here's some examples of the accessories I used: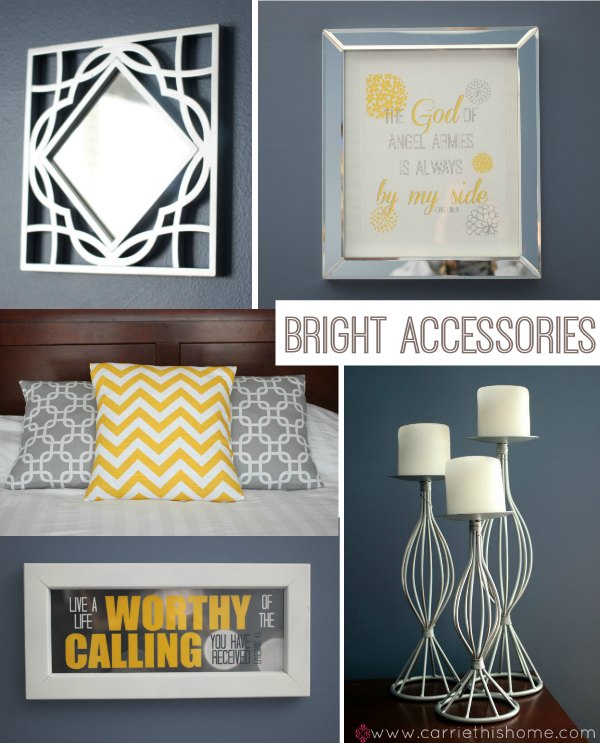 The yellow accent color in the pillow and wall art bring a punch of personality and light.
Silver is also a great accent color to help lighten a room.
All the picture frames in the room are white and look fabulous against the blue paint.
The crisp clean white bedding helps bring light into the room.
Paint A Light Accent Wall
In the picture below, three walls are painted in the dark blue, and the wall opposite the window is painted beige. Since the lighter wall is facing the window, natural light will bounce off that wall and create the illusion that the room has a lot of light. This is a great idea for those who are still a little worried about jumping in and painting all the walls dark.
We ended up painting all four walls blue since we liked the color so much.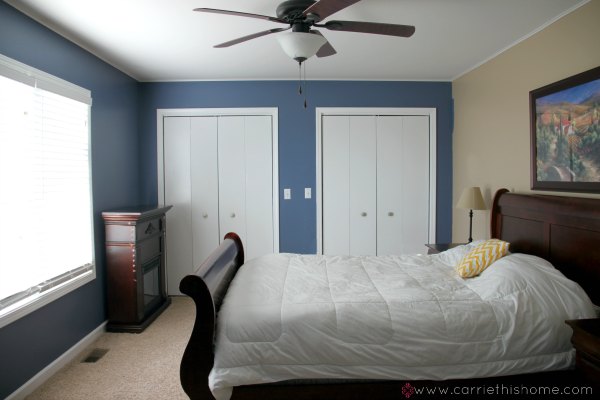 Eggshell Finish
Here's a tip I picked up from Beth at Home Stories A to Z. She suggests using an eggshell finish paint (not semi gloss) when she paints with dark colors. The eggshell finish will add a lot of depth and richness to a darker color.
Mirrors
Mirrors not only help you pick out an outfit for the day, but they can create the illusion of more depth and light to a room. See how much light is being bounced off this big mirror from the window?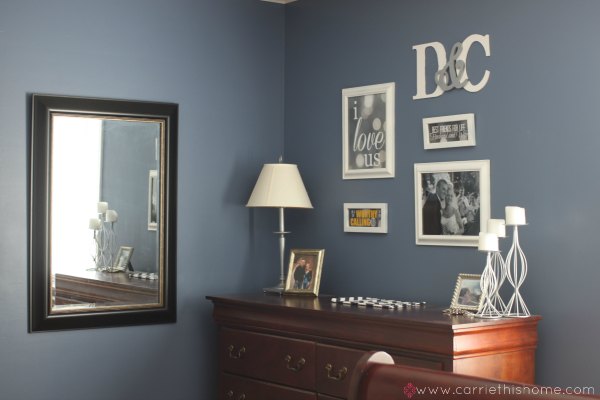 Add More Lighting
Natural light will help the room have light the day but at night you'll have to rely on lighting. Canned lighting in the ceiling is the best way of adding soft light to a room. We don't have that in our master bedroom yet, but it's on our wish list! Adding a couple lamps will help as well.
Still a Little Scared? Go A Couple Shades Lighter!
If you're still a little too worried about your favorite color being too dark, consider using a similar color that's a couple shades lighter. Originally I wanted our bedroom to be navy blue.
Like DARK navy blue.
The hubby and I reached a compromise and we picked a color that was lighter than I wanted, but was darker than what he wanted. I love the color we picked (which was Thunderhead by Valspar) It still has the richness of navy blue but it isn't as dark as a dungeon.
How about you? What room are you thinking about painting in a dark color? What dark colors are you loving right now?
This post linked to Inspire Me Please, Link Party Palooza, Saturday Show and Tell, Skip The Housework Saturday, Saturday Sharefest, DIY Sunday Showcase, Think Pink Sunday, Inspiration Monday, Whimsy Wednesday, Hit Me With Your Best Shot, and Serenity Now.
P.S. - If you're a blogger

, you HAVE to check out *this course. I took it myself and highly recommend it. (*aff link)