I am beyond excited to show you guys the latest project my hubby and I just finished!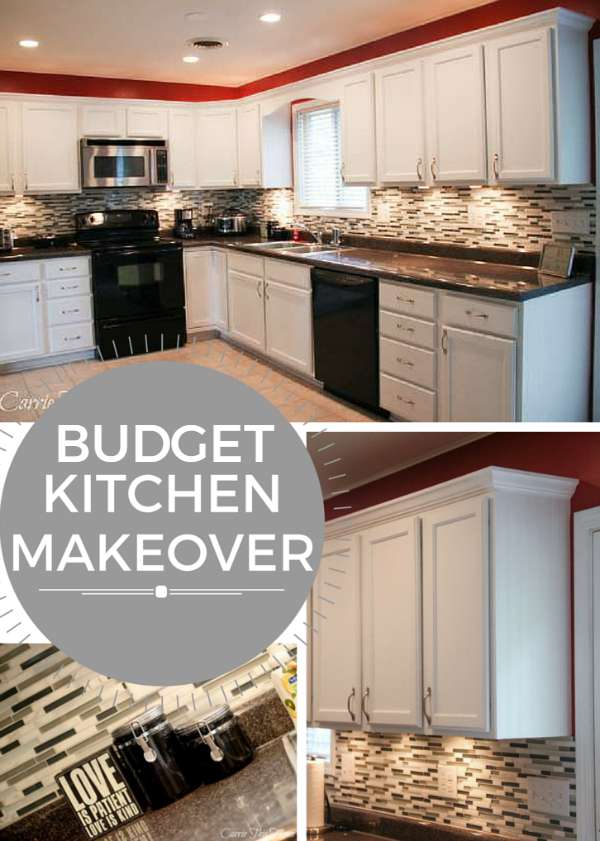 To really get a sense of how far this kitchen has come, you'll have to see it as it was when we bought the house. I'll have to warn you…it was pretty ugly!
It had pastel blue counter tops, peel and stick tiles, mismatched appliances, and caked grease on every imaginable surface.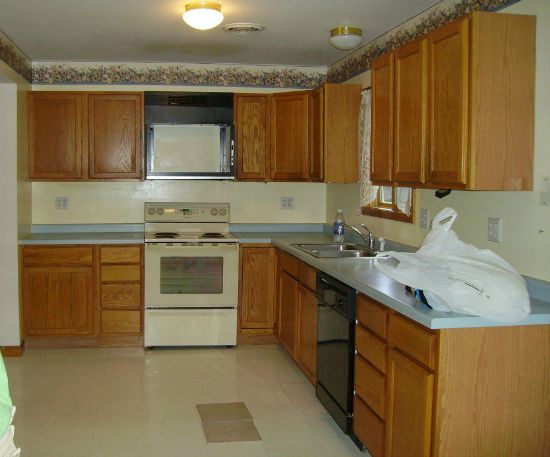 The kitchen had some good bones but the decor was…well…let's just say it's seen better days.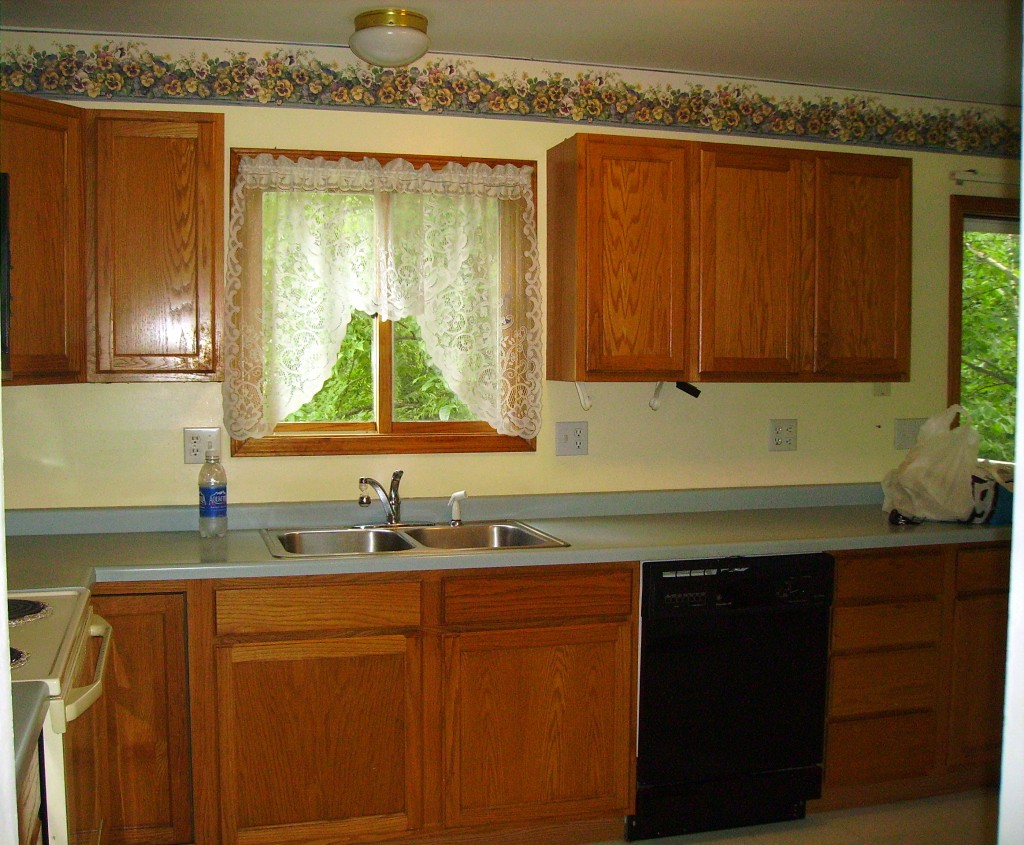 Fast forward a couple of years later, and that ugly duckling of a kitchen is now a beautiful place!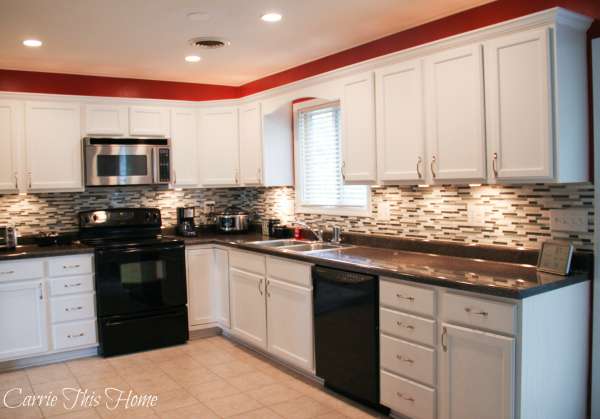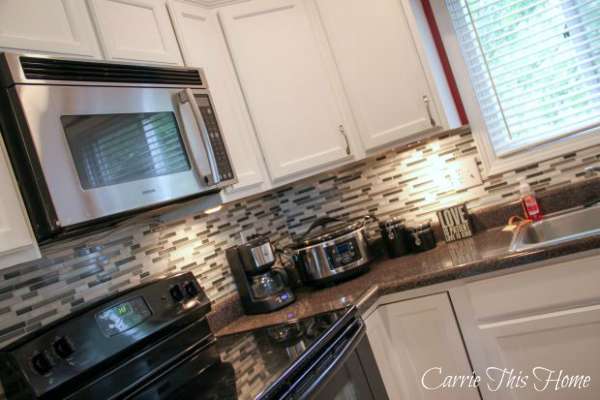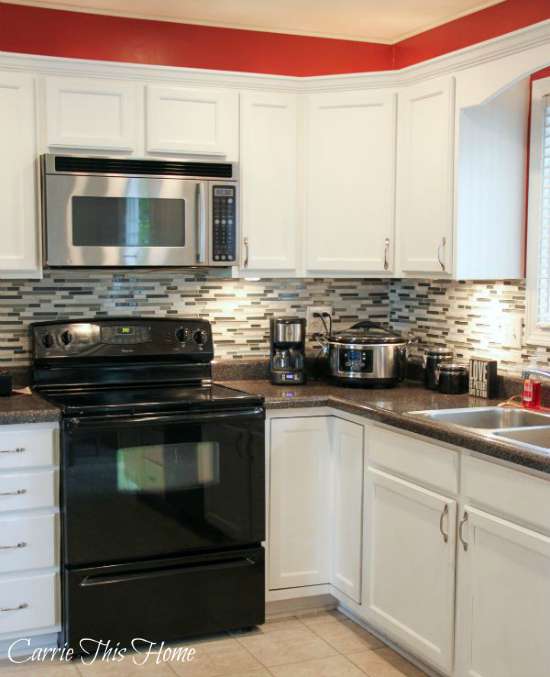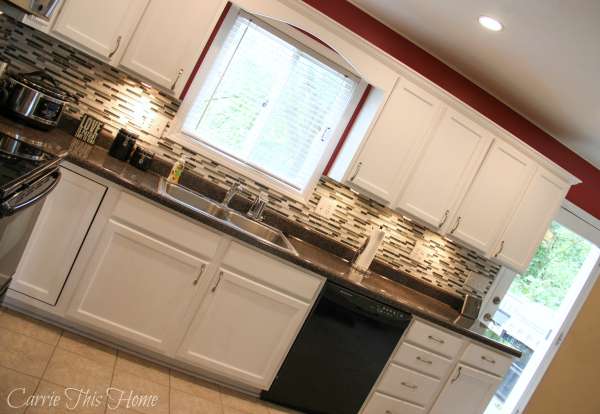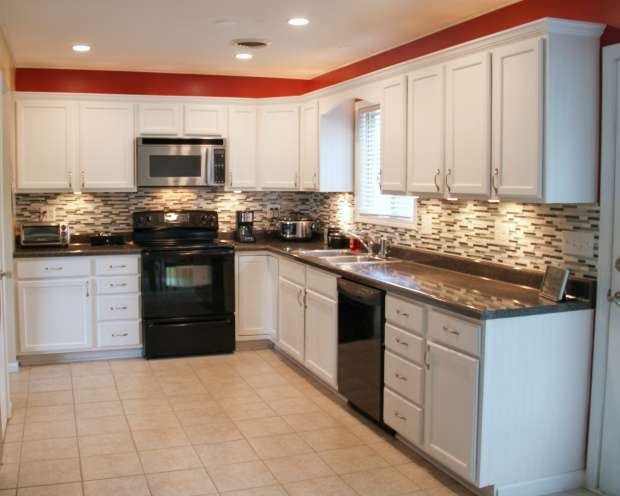 This post contains affiliate links for your convenience. See my full disclosure here.
The budget kitchen makeover included:
Here's the best part–we did all this for about $4,500! Today I'm spilling all the secrets of how we did it so you can too!
How To Do A Budget Kitchen Makeover
Do Some Of The Work Yourself
I am very blessed to have a very handy hubby that can do a lot of home projects. We did all the work on our kitchen ourselves which saved a lot of money.
What if I'm not the DIY type? The good news is do-it-yourself skills can be learned. Just because you don't know how to do it now doesn't mean you can't learn how to do it!
Take an installation class at your local home improvement store.
Get advice from the folks at the hardware store
Ask a handy friend to help
Save money by finishing the easier projects yourself and hire out the more difficult projects. You don't have to do all of it yourself.
Complete Projects Over Time
The best way we've been able to budget for this kitchen makeover was to complete small projects over time as our budget allowed. The entire process from the before to the after took about 8 years. Yes, 8 years is a long time but you don't have to go as slow as we did! Completing projects one at a time helped us spread out the cost and helped us pay off a project before starting the next one.
Paint Cabinets That Are In Good Shape
I wanted to replace our kitchen cabinets because I hated the color. The cabinets were in great shape so there was no good reason to replace them. After years of convincing, my hubby finally convinced me to paint them white.
Here's the before and after: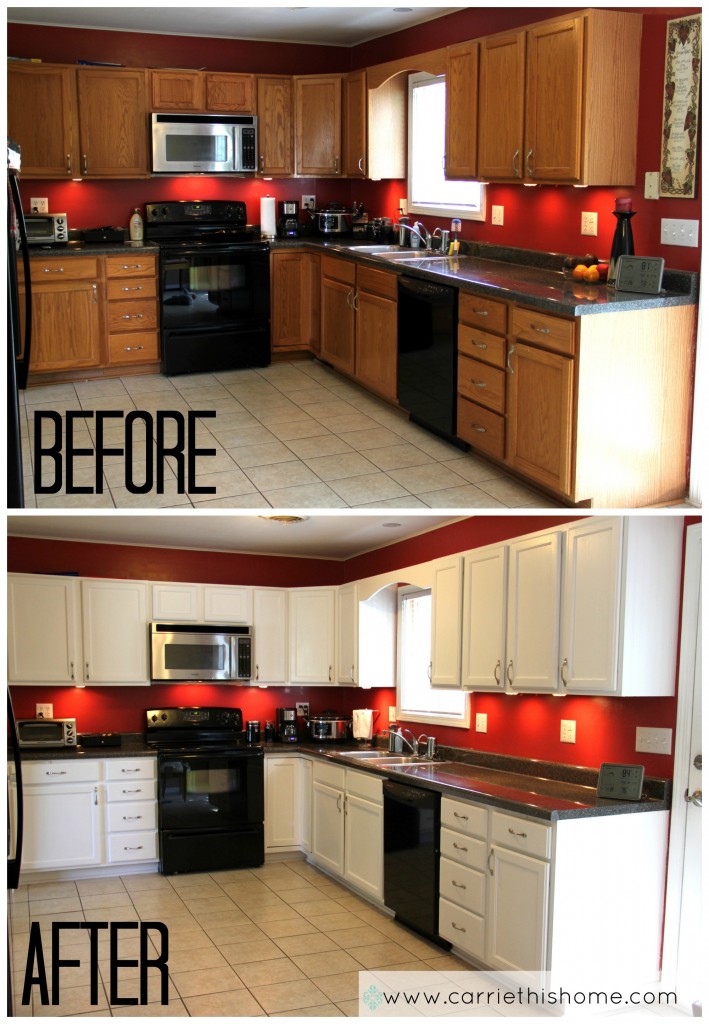 See how much brighter the whole kitchen feels? If you're thinking about painting cabinets, here's my full step-by-step tutorial about How To Paint Cabinets.
If you're wondering about the paint, we used Krylon Color Creations in Satin White (which is now called Krylon Cover Maxx in satin white)
Crown Moulding
Crown moulding is a small detail that adds so much class! The best thing is it only cost about $20! I always knew I wanted to have crown moulding on the cabinets but never realized it would make this much of an impact! Crown moulding is the best way to transform builder grade cabinets into custom luxury-looking cabinetry!
Here's the cabinets before…

…and after the crown moulding was added. Such a small detail that adds so much visual impact!

These don't look like builder grade cabinets anymore!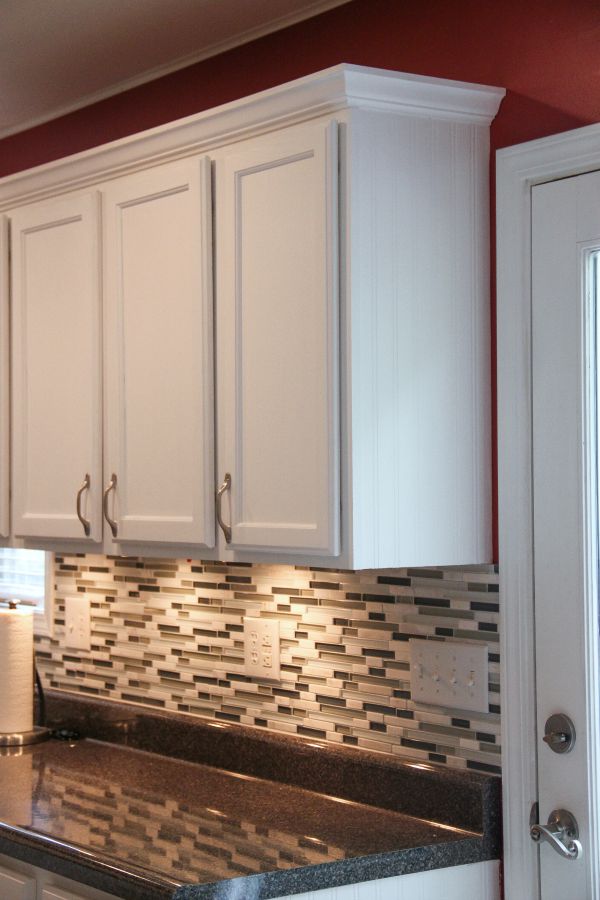 Budget Countertops
Granite, marble or quartz countertops are beautiful but can be very expensive. Our "granite" countertops aren't actually granite–they're laminate! High definition laminate countertops can give you an upscale look for a lot less. We have about 19 feet of counter space in our kitchen and we were able to replace it all for about $500 using the high definition laminate countertops.
Choose Reasonably-Priced Appliances
I love the look of stainless steel appliances but we simply didn't have the budget for them. We chose to have the major appliances in a black finish and the smaller appliances in stainless steel. This way we get a stainless look for a lot less.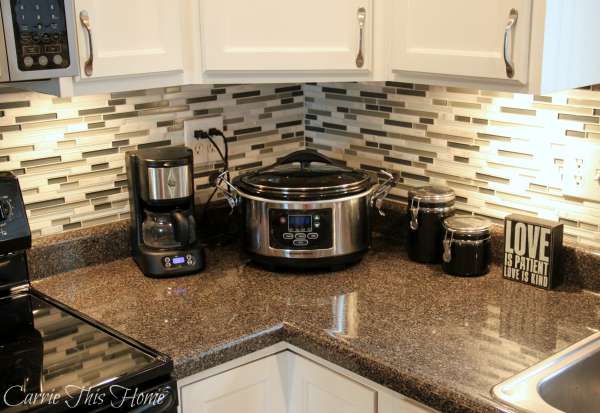 See how you can get a stainless steel look just from a couple of small appliances?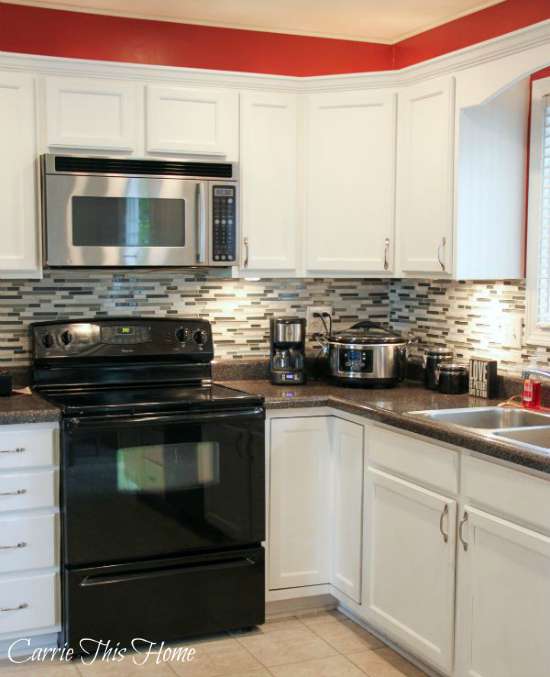 Let There Be Light
Having the right kind of lighting in a room makes an enormous difference! To prove that point, I took a photo of my kitchen on the same day with the lights off and then another photo with the lights on. The difference was pretty surprising!
without lighting: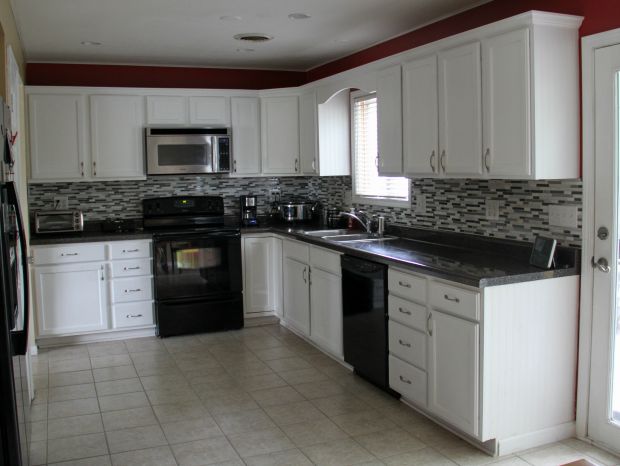 with lighting: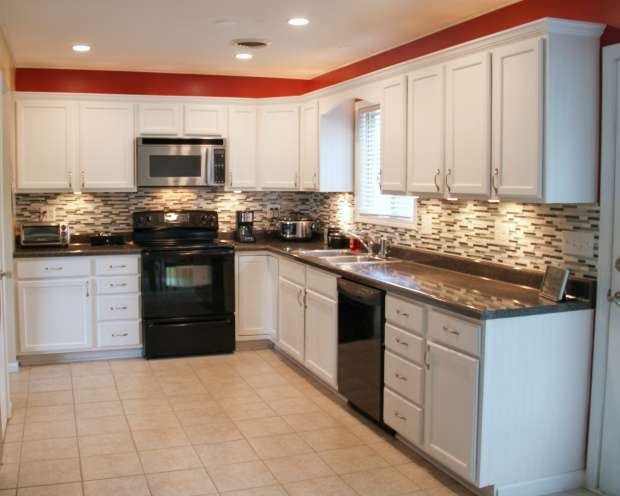 See how the kitchen has a lot more life and personality when it's all lit up? The lights above the cabinets highlight the beautiful crown moulding. The lights on the bottom of the cabinets help highlight the new backsplash and shiny countertops.
Without the lights on you can't really notice those small details!
Spend A Little More On A Focal Point
Wait….isn't this about saving money? Yes but hear me out.
Spending a little more money on a focal point for the kitchen is worth it. We chose to splurge on our backsplash. This was the biggest priced project of the whole kitchen but we still kept the price reasonable by installing it ourselves.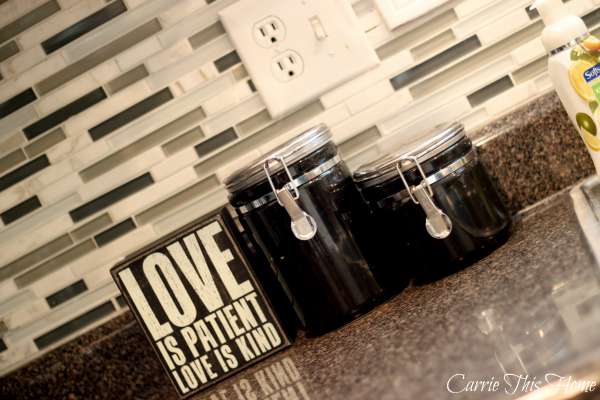 The glass adds a bit of sparkle & shine while the marble and stone pieces add warmth and luxury.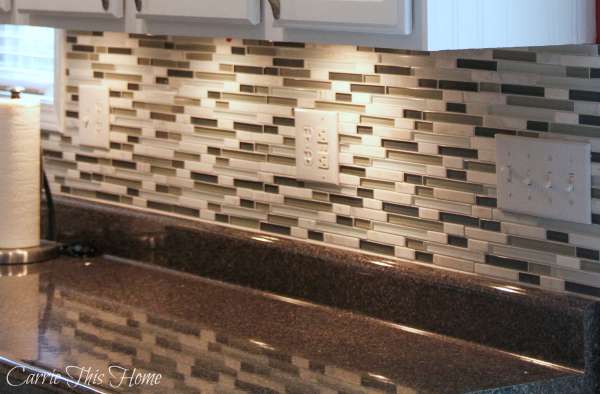 Thanks so much for taking a tour of my kitchen!
What budget kitchen project is next on
your

list?

This post shared at: Create It Thursday, Weekend Retreat, Think and Make Thursday, Skip The Housework Saturday, Tutorials and Tips, Whimsy Wednesday, Creative Spark, DIY Like A Boss and Project Inspired.

I also shared some kitchen renovation ideas at SarahTitus.com so be sure to check it out!
P.S. - If you're a blogger

, you HAVE to check out *this course. I took it myself and highly recommend it. (*aff link)