About six months ago the hubby and I went out on a date.
Where did we end up?
Goodwill.
Bless my hubby's heart! Being married to a blogger means the occasional trip to Goodwill to check out some potential project pieces.
This trip was well worth it. I scored two 8×12 frames for $3.00 each!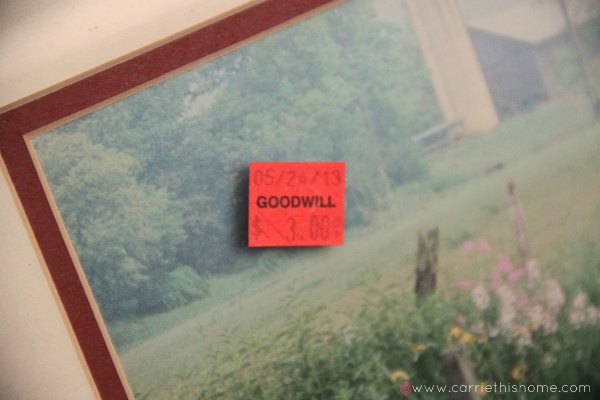 The hubby didn't quite understand my excitement at such lackluster frames. I can understand because they were not pretty. But I could see the potential. I knew I could make them into something special.
Here's what they looked like before…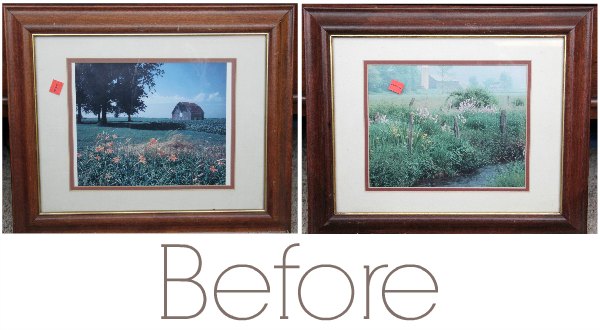 …and here's what they look like now!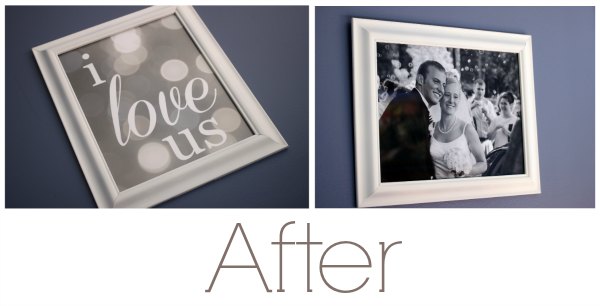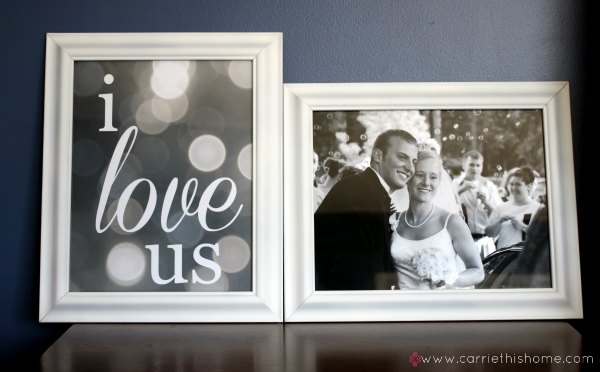 They don't look like 3 dollar frames anymore!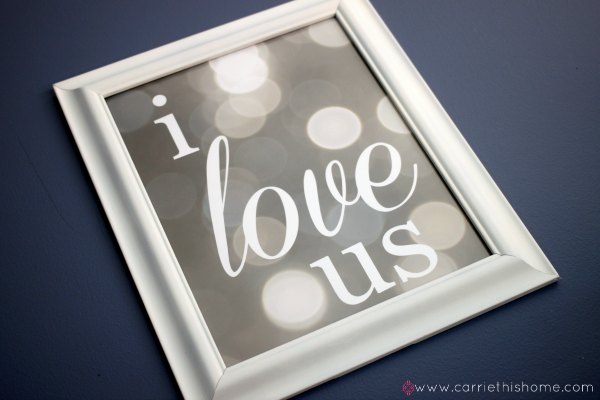 One of the things I was most excited about was framing my favorite photo from our wedding.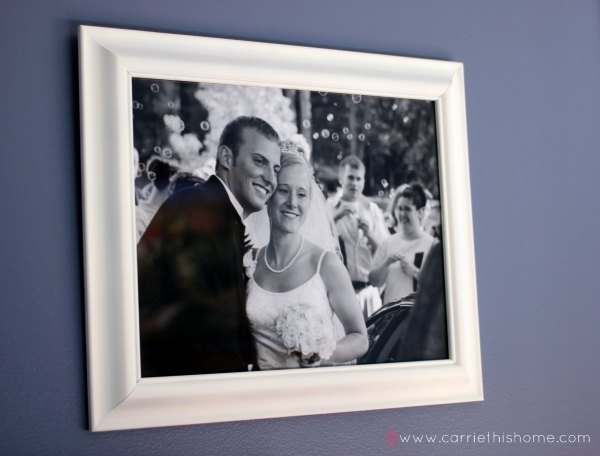 Today I'm going to share a couple little secrets on how to find the perfect used frame so you can do this yourself!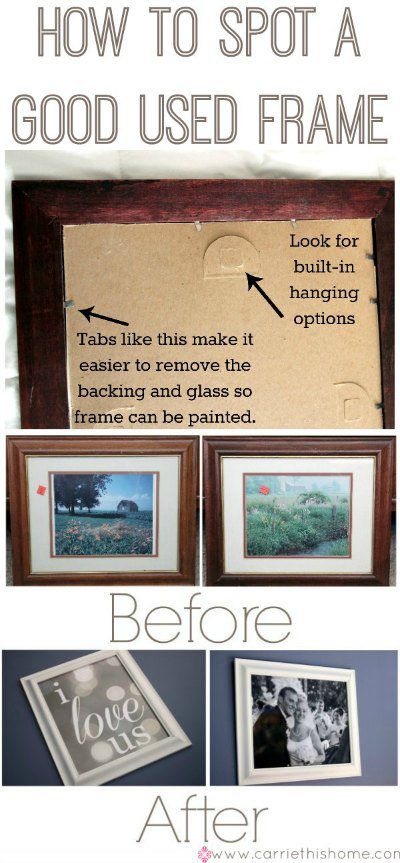 When looking for frames, look for ones that can be easily modified. There's two big qualifications I look for in a used frame: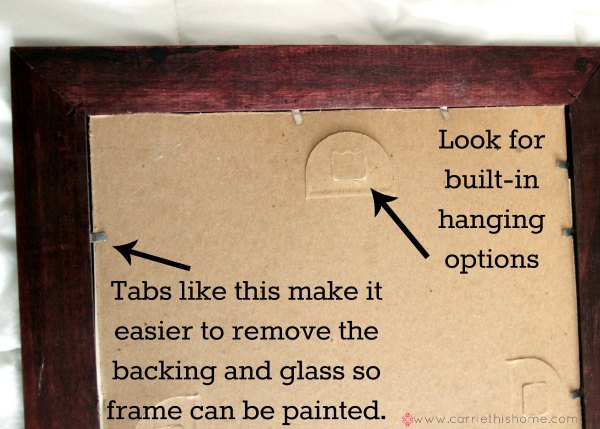 Tabs make the backing and glass very easy to remove so the frame can be spray painted. Frames with tabs like this are some of the easiest to modify because the photo mat, current photo and glass can be easily taken out. Then the frame can be painted, the glass cleaned off and your new photo or artwork can go in.
Hanging features enable the project to be hung on the wall if desired. I've had to say no to a lot of frames because there was no way to hang it on the wall. You an also choose to install a hanger on the frame, but I'm too lazy for that!
Project Details
This project was super simple. It literally took 4 steps!
I removed the backing and glass from each of the frames.
Next I gently sanded the frames for about a minute. I just wanted to give the paint a little texture to adhere to.
I started the painting by priming both frames with spray paint primer. Then after the primer dried I sprayed on a couple coats of the white spray paint.
Then I put the beautiful photos in the frames, hung them up and then it was done! Doesn't that sound easy?
Project Cost
Frames: $3.00 each
Spray paint: $1.00
Photo prints: $4.50 (one was a gift)
Total cost: $8.50
I'd say results like this are well worth $8.50!
We just did a budget makeover of our master bedroom and these frames made the perfect decor addition to our room.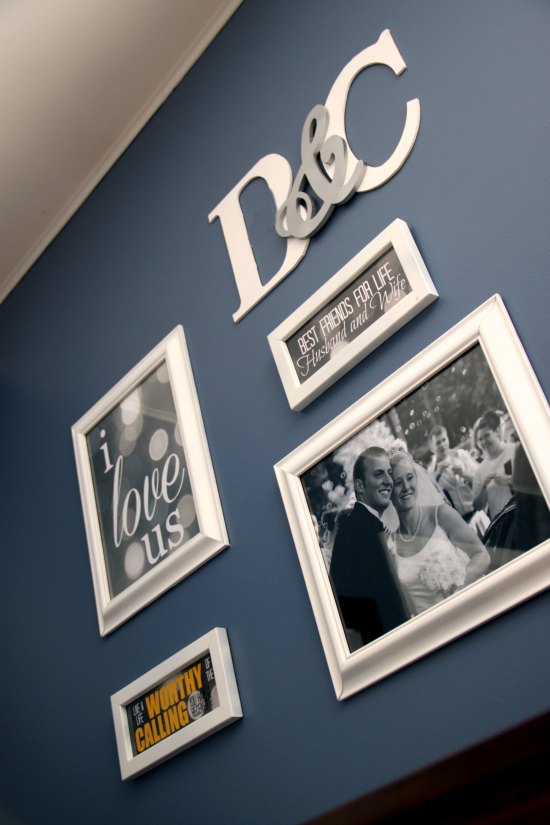 Do you like this project? Come check out some other great DIY projects!
This post linked to Family Fun Friday, Eat.Create.Party, Inspire Me Please, Serenity Now, Weekend Wind Down, Link Party Palooza, Saturday Sharefest, Skip The Housework Saturday, Saturday Show Licious, Get Schooled Saturday, DIY Sunday Showcase, Thursday Style, Share Your Creativity, Inspiration Monday, Give Me The Goods Monday, Do Tell Tuesday, Awesome Things, Whimsy Wednesday, Hit Me With Your Best Shot, Lovely Ladies, Create It Thursday, Moonlight and Mason Jars, Thrifty Thursday, Throwback Thursday, and The Weekend Re-Treat.
P.S. - If you're a blogger

, you HAVE to check out *this course. I took it myself and highly recommend it. (*aff link)