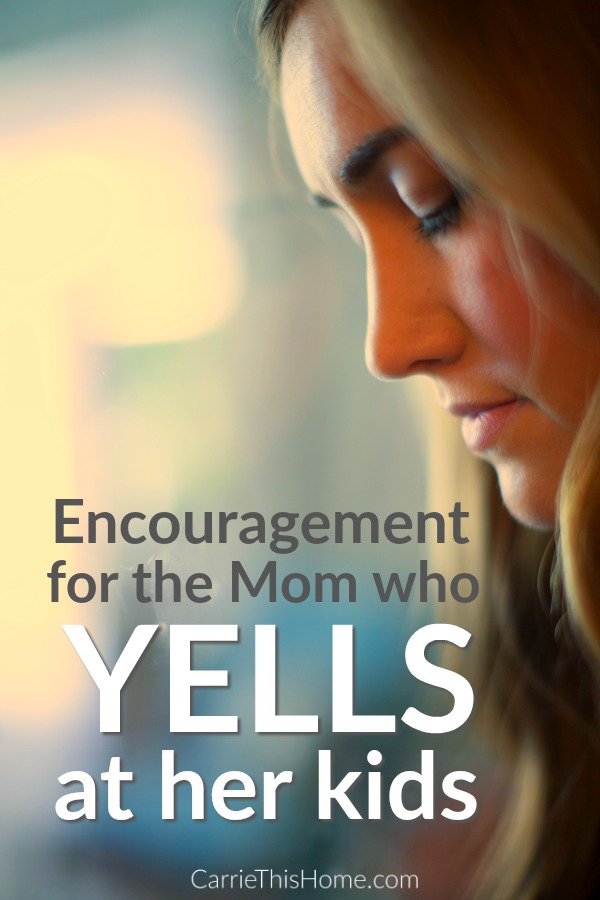 Chances are you're doing better than you think.
Yep. You read that right. I know mothers can be so hard on themselves so I wanted to make sure I started this post off with encouragement right off the bat.
Being a parent is downright HARD. At times, a lot of moms (myself included) feel like they're failing as a parent. Sometimes being a mom is the most gut-wrenching, difficult, make-me-want-to-pull-my-hair-out-frustrating thing I've ever done. On the other hand, being a mom is also the most rewarding thing I've ever done.
If you're reading this, maybe you're like me and you yell at your kids more times than you'd like to admit. If that's you–you're in good company. I struggle with that too.
I know what it's like to be so frustrated you yell at the little ones. I know what it's like to finally snap at the kids and instantly see the pain and hurt I caused on their sweet faces. I know what it's like to struggle and want to stop yelling, commit to doing better next time, only to go back and do it again five minutes later.
Kids will be kids and they need to be corrected and disciplined. Correction can be spoken calmly and gently and yield the right results. Other times a good voice raising can be just what they need to get their attention.
However, that should only be a once-in-awhile-thing. I've been finding myself yelling way too much at my kids.
As parents, we're responsible for how we react to our kids.
That statement both humbles and scares me. The truth is I can't do it on my own. You can't either. But there is hope.
When I've yelled at my kids out of anger, snapped at them for something that wasn't their fault or spoken words too harshly, I go to Jesus for forgiveness and he gives me a fresh start. Every time.
Jesus came to live the perfect life and died for our sins to pay for every harsh word we've spoken, all the words spoken with anger, and all the wrong things we've done in order to purchase our freedom. He offers this to anyone who will turn and believe and trust in him for salvation.
Even though we're a hot mess, we can go to Jesus for forgiveness and a fresh start.
I gathered a collection of powerful Bible verses that help bring the truth into my life. Reading through these verses gives me the right perspective & I hope this collection does the same for you.
click here to download the printable version of these verses
Encouragement For The Mom Who Yells At Her Kids
To help bring calm:
"let every person be quick to hear, slow to speak, slow to anger, for the anger of man does not produce the righteousness of God" – James 1:19
"A soft answer turns away wrath, but a harsh word stirs up anger" -Proverbs 15:1
"Children are a heritage from the Lord, offspring a reward from him." -Psalm 127:3 NIV
When you're on your last straw:
"Come to me, all who labor and are heavy laden, and I will give you rest." Matthew 11:28
"I have said these things to you, that in me you may have peace. In the world you will have tribulation. But take heart; I have overcome the world." John 16:33
"The Lord is a stronghold for the oppressed, a stronghold in times of trouble. " Psalm 9:9
When you failed again:
"God shows his love for us in that while we were still sinners, Christ died for us." Romans 5:8
"Fathers do not provoke your children, lest they become discouraged" -Colossians 3:21
When you don't know how to respond to your child:
"I will instruct you and teach you in the way you should go; I will counsel you with my eye upon you." -Psalm 32:8
When you're feeling disqualified as a parent:
"For I have chosen him, that he may command his children and his household after him to keep the way of the Lord by doing righteousness and justice, so that the Lord may bring to Abraham what he has promised him." Genesis 18:19
You were chosen to be your children's parent. Take that responsibility as a compliment and encouragement that through Jesus you can be closer to the parent God wants you to be!
Good advice to remember:
"Let no corrupting talk come out of your mouths, but only such as is good for building up, as fits the occasion, that it may give grace to those who hear." -Ephesians 4:23
I want to be building my kids up and giving them grace. Harsh words spoken in anger will tear them down. As I heard these words last Sunday at church, I felt God clearly tell me to put them on a sign to help encourage me to check my heart before words come out of my mouth.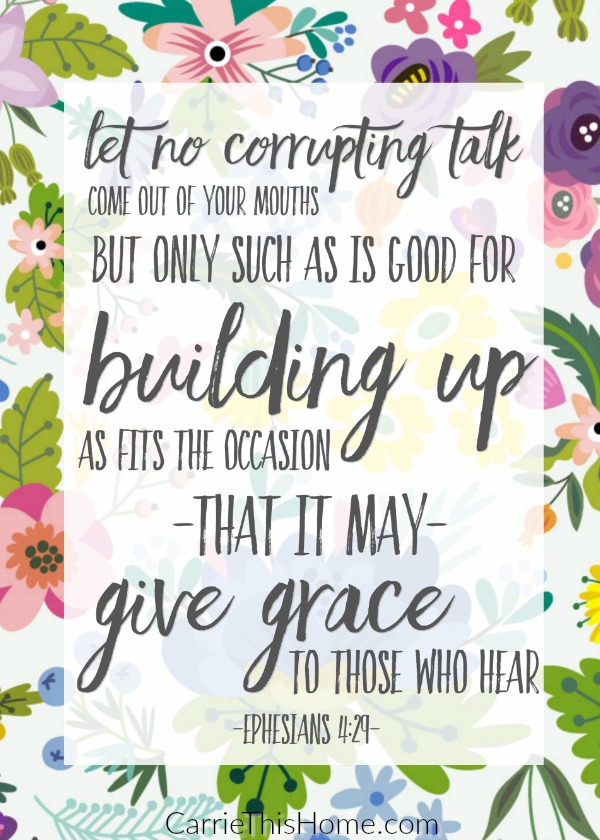 Click here to download the printable for free!
Since posting that verse up on my fridge, things have been going MUCH better! (click here to download the printable version of the Bible verses in this post)
If you'd like any of these verses made into a printable, I'll gladly make you one for $5! Just fill out this form and I'll make one specially for you!
Do you struggle with this like I do? If so I'd love to pray for you! Leave me a comment and let me know how I can help pray for you.
Most Scripture quoted from the ESV Bible.
This post was shared at: Project Inspire(d), The Creative Gallery, Family Fun Friday, Weekend Wind Down, Creative Corner and Inspiration Monday.
P.S. - If you're a blogger

, you HAVE to check out *this course. I took it myself and highly recommend it. (*aff link)