God is real.
Realizing those three words were true changed my entire life. I felt I always believed in God but I never knew He was real.
When I was younger, I went to church occasionally but didn't go as much in my teenage years. I thought life was about trying to be a good person, doing what is right, and going to church when I could.
I was wrong.
Just believing God exists is totally different than knowing He is real and having a relationship with Him.
When it all changed
My life changed drastically when I was 18. After growing up in the suburbs of Chicago, I left the only place I've ever lived and moved 300 miles away to attend college. I was a track and field hurdler and got a partial scholarship for college. My life was all about track.
After a night of drinking and partying, I woke up the next morning and looked outside my dorm room window. There was a beautiful sunrise outside.
I was looking at a gorgeous sunrise which should have given me joy. It didn't. I wasn't enjoying the beautiful view because I felt lost.
It's hard to explain what I felt that day. I felt a deep sense of depression. I felt like I didn't know where my life was going. Worry and panic were flooding my heart.
It seemed at the time that had no reason to feel that way. I was going to college on a partial scholarship to study radio and TV broadcasting. The next few years were already planned out. I was going to run track and work on my broadcasting degree and hopefully get a job as a broadcaster.
Why did I feel so lost?
That morning, God was revealing to me that I needed a relationship with Him. It's not about being good. It's not about going to church. It's not about trying to be a good person.
It's about having a relationship with Him. I know that may sound totally cheesy. Cheesy or not–that's the truth.
I felt lost because although I believed in Jesus, I didn't really have a relationship with him.
After talking this out with some friends, I decided that day to give my life to him. He died to set me free and have a relationship with me. I just needed to say yes. That meant I wasn't in charge of my life anymore. He's in charge now.
Everything changed
Then something amazing happened. The heaviness and depression I felt just hours before completely lifted off. I felt as if a huge weight was lifted off my shoulders. I felt clean–inside and out.
Since then, I have become involved with a local church where I really feel God's presence and feel at home. God has brought me amazing leaders and friends that have been so life giving. I get to live out life with people that struggle with some of the same things I do and can point me to the one who can help in any situation.
This relationship with God has brought me through some really rough times. I've learned over the years that I cannot control anything that happens in this life but whatever does happen
He will be with me.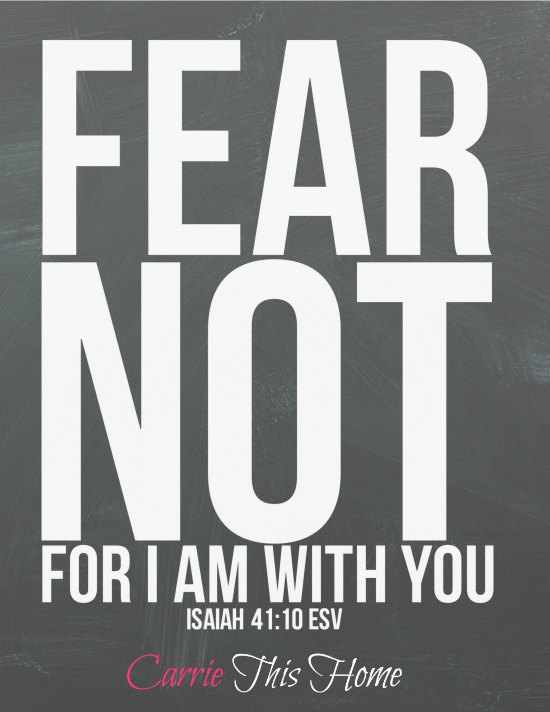 This 8 x 10 Fear Not Isaiah 41 10 Free Printable is my gift to you!
Resources:
"God is most glorified in you when you are most satisfied in Him" John Piper Desiring God.
That's my story. What's yours?