Are you going through a difficult time in your life right now? It's always the right time to turn to Jesus for help, especially when life is hard. Some of the most comforting moments I've had with God is when he gave me hope during hard times.
When you give your life to Jesus, you give him access to all parts of your life, including the struggles that are making your life hard right now. Giving my life to Jesus was and will always be the best decision I ever made because I know whatever I face in life, he will be right by my side.
I hope this collection of verses points you to Jesus–the source of help and hope that you need.
Verses To Read When Life Is Hard
(click here for the free printable version)
When you need strength
Come to me all you who are weary and burdened, and I will give you rest. Matthew 11:28
Wait for the Lord; be strong and take heart and wait for the Lord. Psalm 27:14
Therefore we do not lose heart. Though outwardly we are wasting away, yet inwardly we are being renewed day by day. For our light and momentary troubles are achieving for us an eternal glory that far outweighs them all. 2 Corinthians 4:16,17
He gives strength to the weary and increases the power of the weak. Isaiah 40:29
My flesh and my heart may fail, but God is the strength of my heart and my portion forever. Psalm 73:26
And if the Spirit of him who raised Jesus from the dead is living in you, he who raised Christ from the dead will also give life to your mortal bodies through his Spirit, who lives in you. Romans 8:11
When you're scared
God is our refuge and strength, an ever present help in trouble. Therefore we will not fear, though the earth give way and the mountains fall into the heart of the sea, though its waters roar and foam and the mountains quake with their surging. Psalm 46:1-3
Have no fear of sudden disaster or of the ruin that overtakes the wicked, for the Lord will be your confidence and will keep your foot from being snared. Proverbs 3:25, 26
When a man's ways are pleasing to the Lord, he makes even his enemies live at peace with him. Proverbs 16:7
Because you have made the Lord your dwelling place–the Most High, which is my refuge–no evil shall be allowed to befall you, no plague come near your tent. Psalm 91:9-10
Be strong and take heart, all you who hope in the Lord. Psalm 31:24
Be strong and courageous. Do not be terrified; do not be discouraged, for the Lord your God will be with you wherever you go. Joshua 1:9 (I like this verse so much I made it into a sign)
So we say with confidence, "The Lord is my helper; I will not be afraid. What can man do to me?" Hebrews 13:6
My sheep listen to my voice; I know them, and they follow me. I give them eternal life, and they shall never perish; no one can snatch them out of my hand. John 10:27, 28
Hope for your future
Praise be to the God and Father of our Lord Jesus Christ! In his great mercy he has given us new birth into a living hope through the resurrection of Jesus Christ from the dead, and into an inheritance that can never perish, spoil or fade. 1 Peter 1 3-4
For I know the plans I have for you," declares the Lord, "plans to prosper you and not to harm you, plans to give you hope and a future. Jeremiah 29:11
Why, my soul, are you downcast? Why so disturbed within me? Put your hope in God, for I will yet praise him, my Savior and my God. Psalm 42:11
When calamity comes, the wicked are brought down, but even in death the righteous have a refuge. Proverbs 14:32
I tell you the truth, if a man keeps my word, he will never see death. John 8:51
When you're worried
Cast your cares on the Lord and he will sustain you; he will never let the righteous fall. Psalm 55:22
Do not be anxious about anything, but in every situation, by prayer and petition, with thanksgiving, present your requests to God. Philippians 4:6
So do not worry, saying, 'What shall we eat?' or 'What shall we drink?' or 'What shall we wear?' For the pagans run after all these things, and your heavenly Father knows that you need them. But seek first his kingdom and his righteousness, and all these things will be given to you as well. Therefore do not worry about tomorrow, for tomorrow will worry about itself. Each day has enough trouble of its own. Matthew 6:31-34
Search me, God, and know my heart; test me and know my anxious thoughts. See if there is any offensive way in me,
and lead me in the way everlasting. Psalm 139:23-24
Though I walk in the midst of trouble, you preserve my life; you stretch out your hand against the anger of my foes, with your right hand you save me. Psalm 138:7
When you're sad
He will wipe every tear from their eyes. There will be no more death or mourning or crying or pain, for the old order of things has passed away. Revelation 21:4
For I am convinced that neither death nor life, neither angels nor demons, neither the present nor the future, nor any powers, neither height nor depth, nor anything else in all creation, will be able to separate us from the love of God that is in Christ Jesus our Lord. Romans 8: 38-39
Those who sow with tears will reap with songs of joy. Those who go out weeping, carrying seed to sow, will return with songs of joy Psalm 126:5-6
Click here to print the verses & be encouraged!
How can I pray for you?
If you're in a hard situation and could use some prayer, I'd love to help. Leave me a comment below and let me know what I can be praying about for you.
If you enjoyed this post, you may also like Verses To Battle Fear.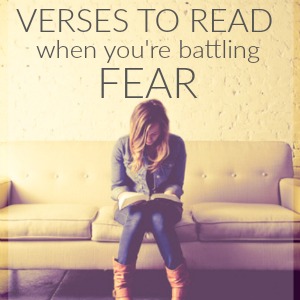 All verses from the NIV Bible.
Shared at: Project Inspire(d)
P.S. - If you're a blogger

, you HAVE to check out *this course. I took it myself and highly recommend it. (*aff link)