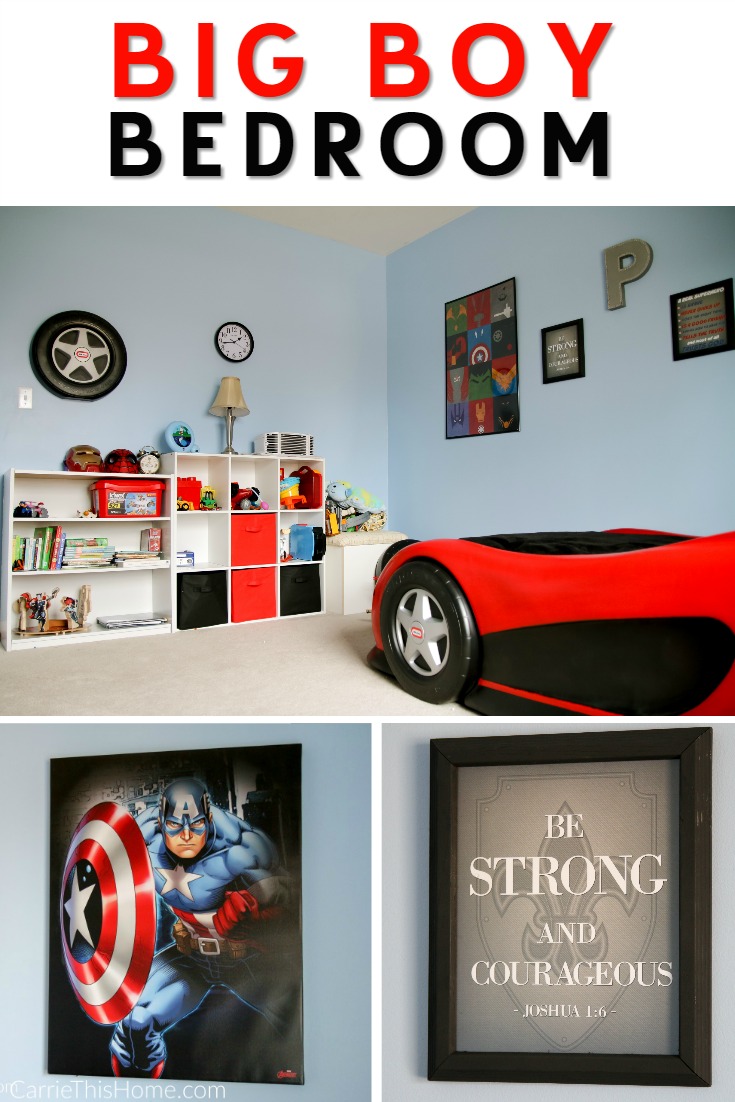 If you're one of those people that struggles to keep your home decorating "Pinterest-worthy", this one's for you. It all started while pregnant with my second child. I daydreamed about what his room would look like and gathered up lots of boy room decorating ideas on a Pinterest board. I wanted to get my son's room all finished before we brought him home from the hospital. That little goal was made over five years ago and until just recently, his room still wasn't done. Now, finally, I am ready to reveal my son's big boy bedroom design!
"Why did it take so long?" you may be asking. Well, there's two reasons. 1) I was busy now caring for two children (which takes more than twice the time and effort as just one child) and 2) I struggled with how to decorate with two different design themes.
I couldn't decide: should his room have a car theme or superhero theme?
My son loves cars and superheroes and I wanted his room to be a place that reflects both those interests. How can I incorporate two totally different themes into one room? Can that really be done?
Well, as it turns out, you can!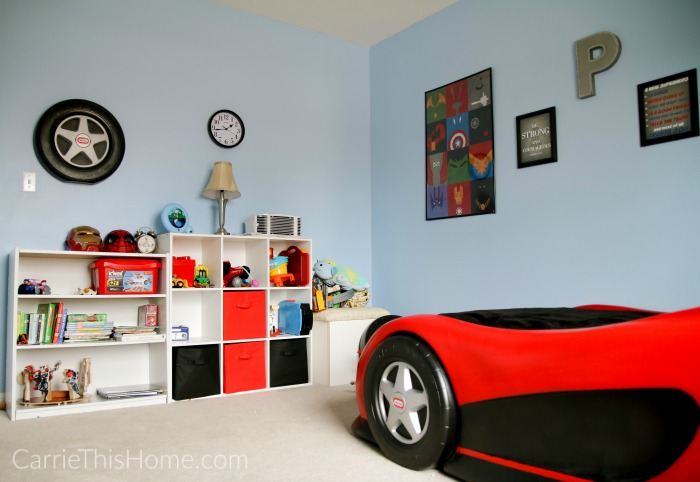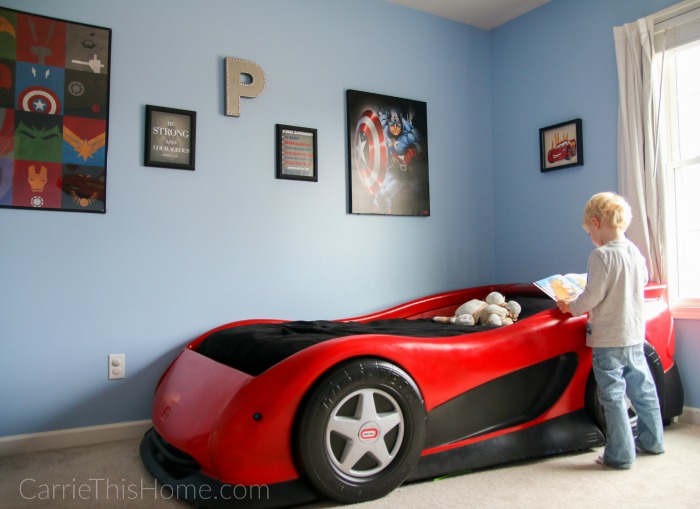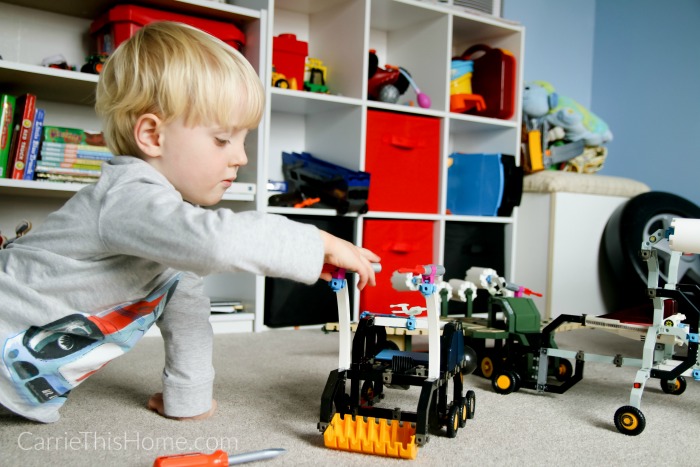 The trick is to designate an area in the room for each theme and find a couple ways you can tie them together into a cohesive design. Keep reading & I'll show you how to do this in your own home.
Big boy bedroom design source list:
For your convenience, I've included affiliate links to items I used in the room, in case you'd like to find something similar for your home. See my full disclosure here.
car bed – we bought ours at a garage sale and painted it (you might find some new options here but some are expensive)
bookshelves with fabric drawers
Captain America canvas print: purchased at my local Hobby Lobby store (sorry I can't find an online source for this)
Here's a closer look at the big boy bedroom design:
I designated the biggest wall in his room as his superhero wall and the opposite walls for cars. The big picture on the left side is actually just a regular poster. When regular posters are displayed in a nice frame, it instantly gives the poster a little more class. I also anchored the other side of the superhero wall with a Captain America wall canvas that I found at Hobby Lobby.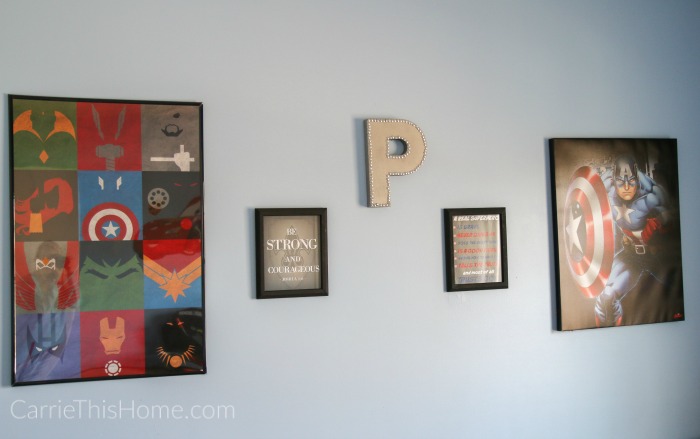 In the middle I added a couple of prints to go along with the superhero theme.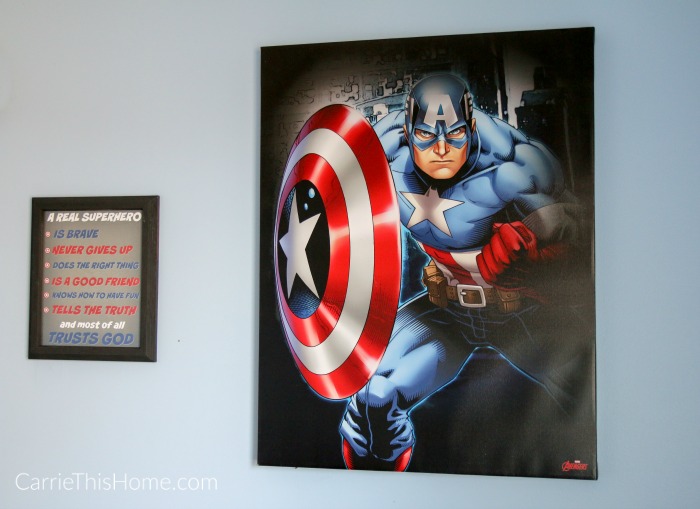 I had a lot of fun making this Captain America inspired motivational sign which you can find here in my Etsy shop.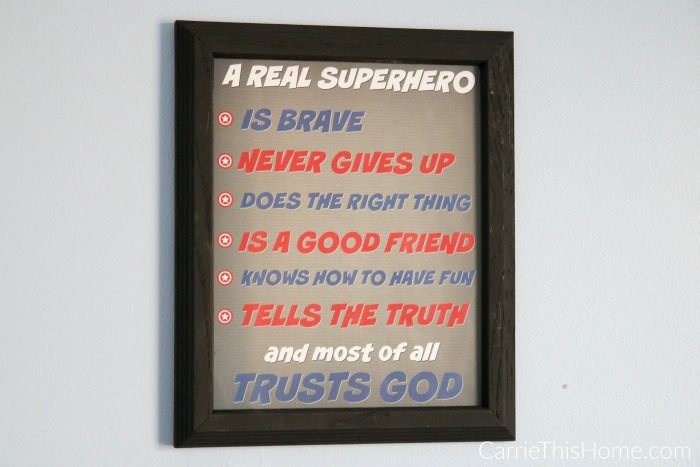 We all know superheros have to be courageous, so including this verse from Joshua was a no-brainer.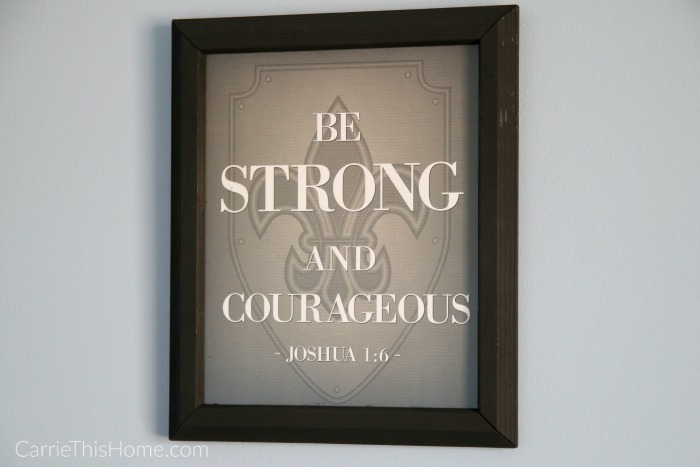 Since the car bed is a large focal point of the room, I didn't have to go overboard with other car decorations. I repurposed one of the car bed wheels and hung it up above his bookshelf to help bring the car theme to that side of the room.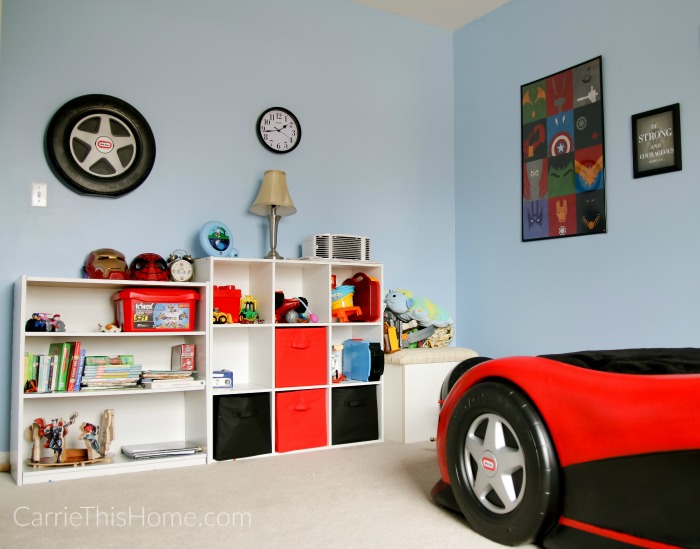 We also added this Cars themed wall decal opposite the superhero wall, right above his pretend workbench.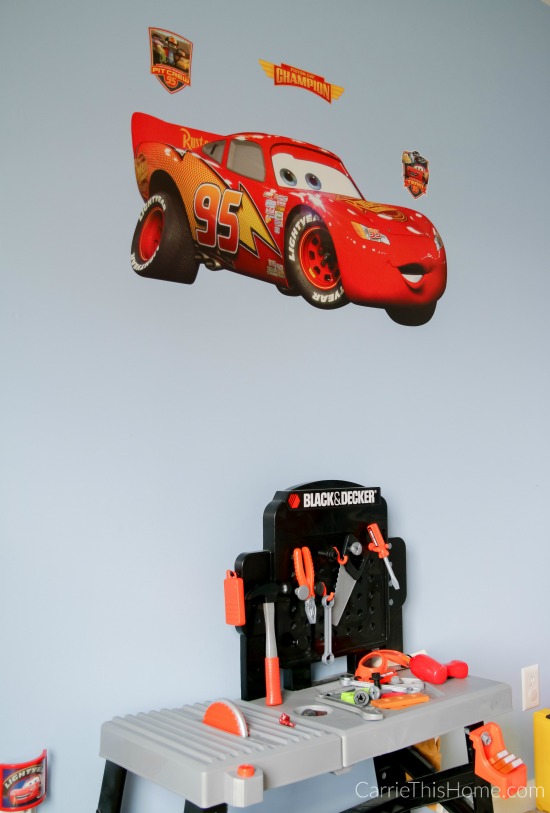 The bookshelves help tie the two themes together, housing toys of all kids all gathered together like a big melting pot of fun. Also, the bright red color that is used in the cars theme is also a main color theme in superhero memorabilia as well. If the two themes you're working with have the same or similar colors, it will be much easier to meld them together into a cohesive design.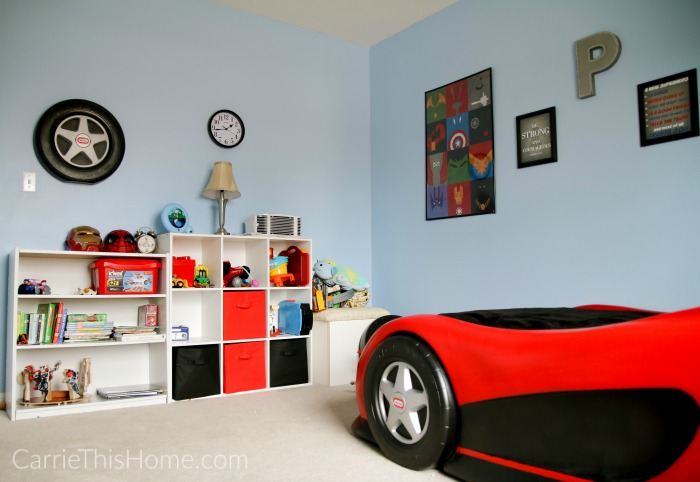 It may have taken five years but the ultimate goal of this project was met–my son really enjoys being in his room!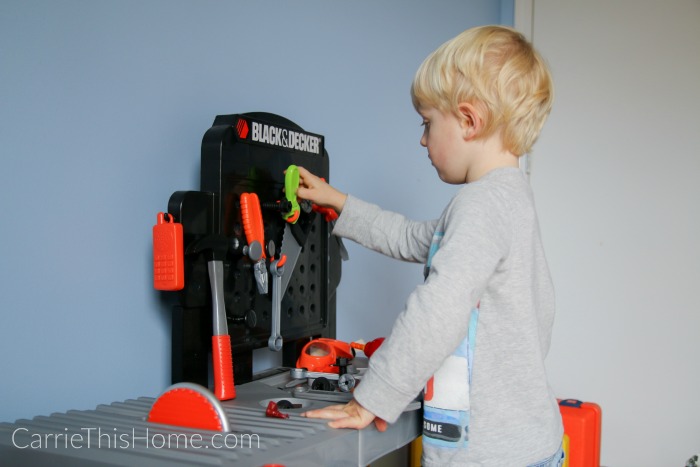 Which is good, because now that he's not napping, I need all the help I can get to make "quiet play time" in his room as appealing as possible! Thanks so much for joining the big boy bedroom design tour.
If you found this post inspiring or helpful please share it!
shared at: Creative Corner and Project Inspire(d).
P.S. - If you're a blogger

, you HAVE to check out *this course. I took it myself and highly recommend it. (*aff link)