I know every single parent on the planet has said it before…but I'm going to say it anyway.
I can't believe how fast time goes.
In some ways, it seems like it was just yesterday when my daughter was born.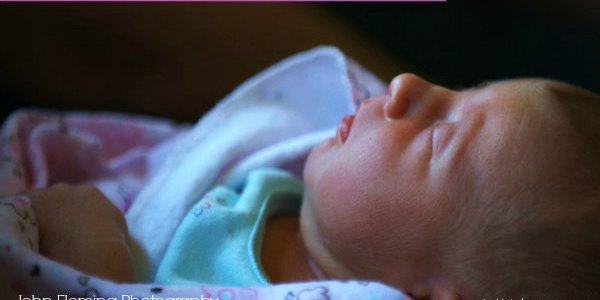 I blink my eyes and now she's FIVE.
How did that happen?
My daughter sings "Let It Go" on an hourly basis and constantly pretends to be Elsa, so naturally the theme for her birthday party this year was Frozen.
We decided to have a Frozen inspired birthday party at the park.
The kids were so excited to help make the goodie bags for all their friends!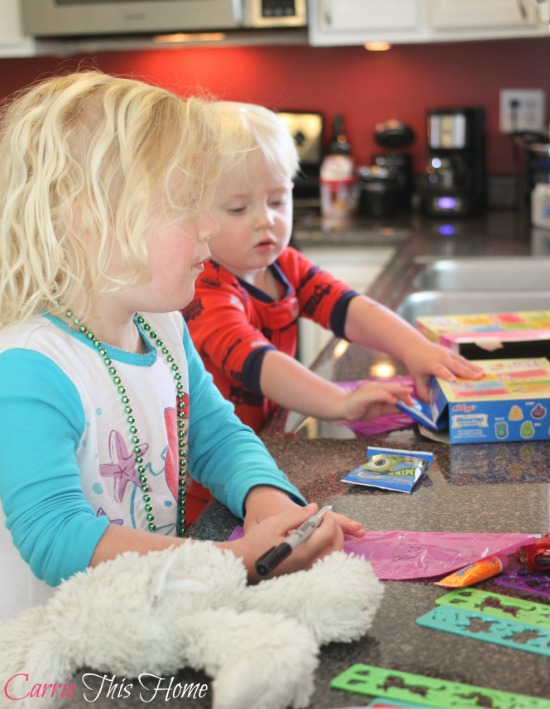 I made cupcakes with blue frosting to fit in with the Frozen theme.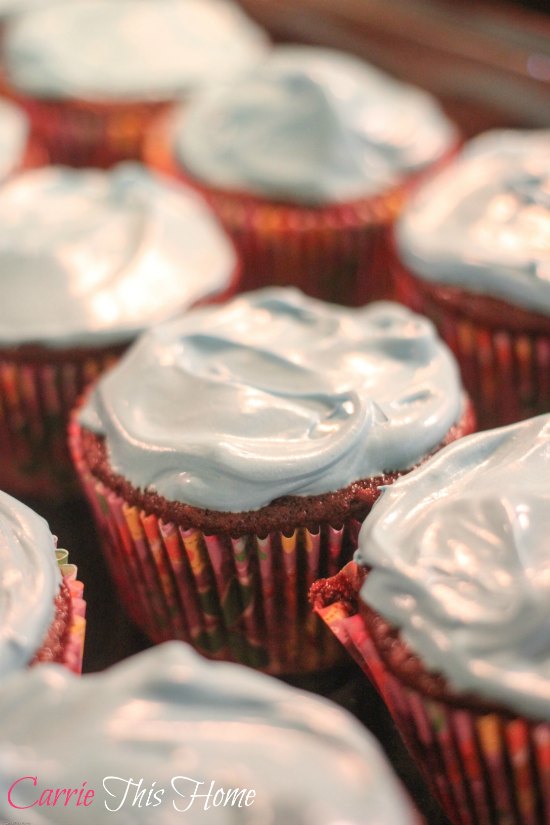 My daughter had a blast playing outside with her friends at the park!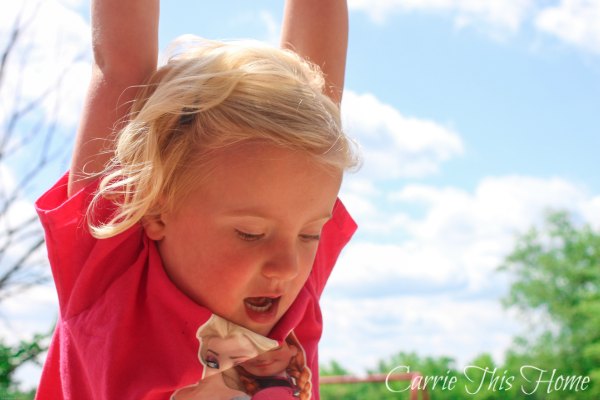 I'm so grateful for the amazing family and friends we have. They were all so generous by taking time out of their day to help us celebrate. They really made this little girl's day!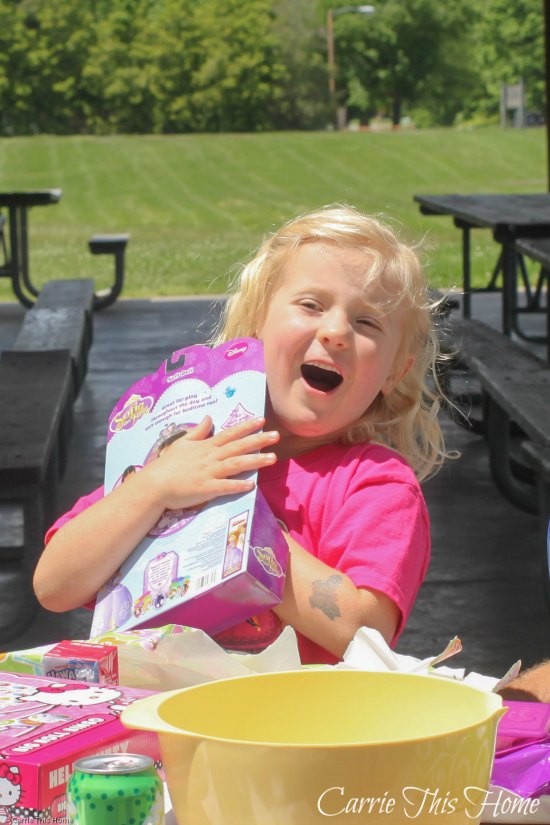 I learned a lot from organizing this party. I had to figure out solutions to issues like these:
How do I decorate for a Frozen party when I can hardly find any Frozen decorations?
How do I pull off a party at the park and remember to bring everything that's needed?
How can I make this party fun but easy for me to organize so I can sit back and enjoy the party instead of running around like a chicken with it's head cut off?
Today I'm sharing all the secrets, life hacks, and tips that really helped make this Frozen inspired party at the park fun for everyone.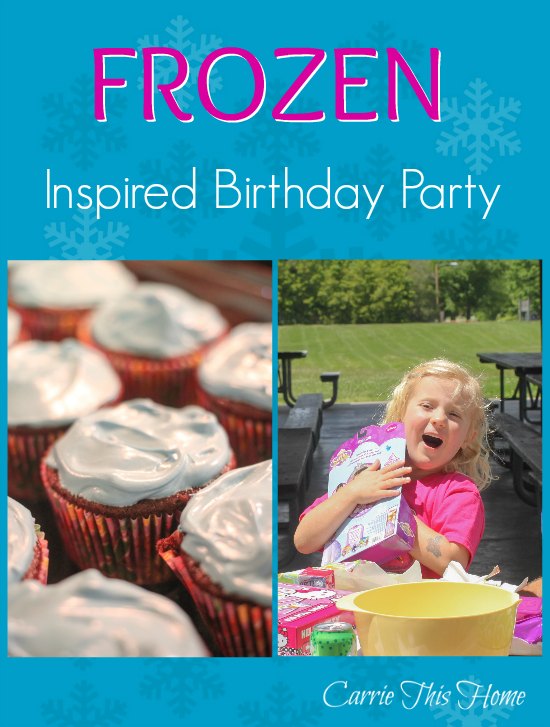 Frozen merchandise and decorations are very hard to find. I've been to several Disney stores and they all say the same thing: Frozen merchandise sells out quickly.
The only merchandise I could find for the party were some paper plates with Anna and Elsa on the front, cups, and tablecloths. I had to get creative.
How To Get The Frozen Feel
Invitations–you can purchase invitations with the Frozen characters on them. Some of these can be expensive, so I chose to make my own.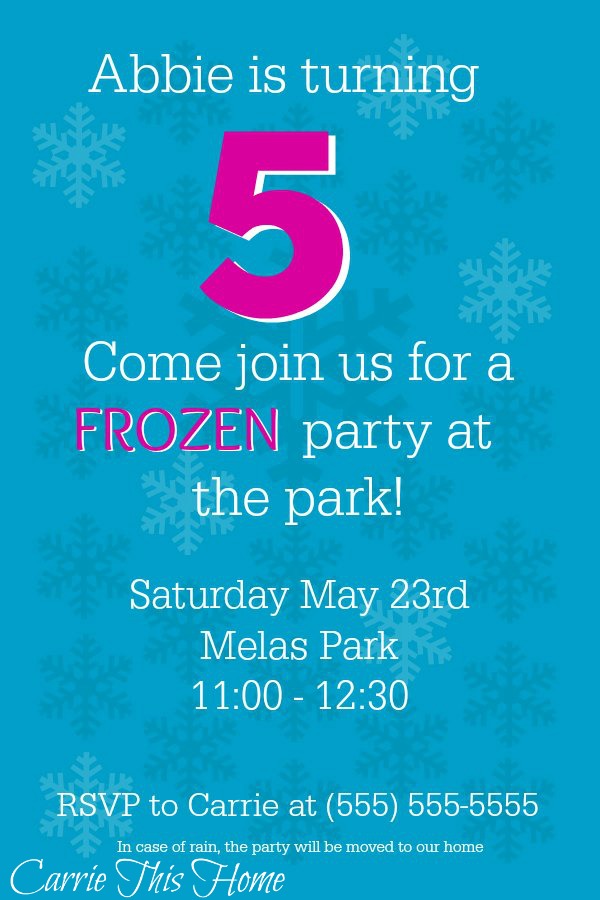 Play the soundtrack (if everyone's not totally sick of it by now!)
Food can be tied into the Frozen theme as well. All the cupcakes were blue and the cake had an edible picture of Anna and Elsa.
Incorporate the signature Frozen colors into the decorations as much as you can. Use the fuscia purple and teal blue colors in balloons, napkins and banners and you'll instantly get a Frozen feel to the party.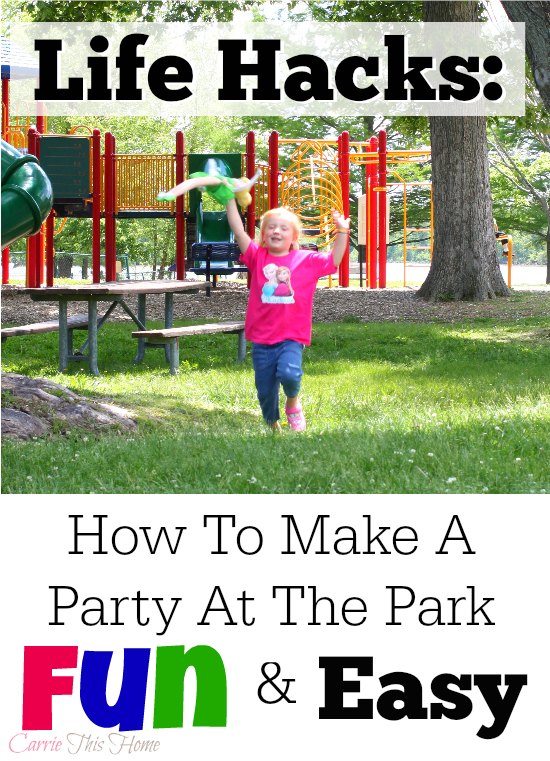 Tips For Having A Party At The Park
Since you're at the park, you'll have to bring some extra supplies with you. Remember to bring:
Baby wipes for fast clean up
Hand sanitizer to clean hands
Birthday candles and lighter
Disposable forks, spoons and knives
Tablecloths
Napkins
3 trashbags: one for gift wrap trash, one for recycling, and one for food trash
Folding chairs for guests to sit
Sunscreen
Life hacks to make your next party at the park much easier:
Cupcakes are more portable than cake and you don't need a plate and fork to eat
Serve lots of finger foods so guests can easily eat
Serve drinks from cans and bottles from a cooler with ice so you don't need to bring cups
The day before the party, put the pop cans, juice boxes and bottled water in the fridge the night before so they're already cold when you put them in the cooler.
Make sure your backup plan is just as much fun as the park. We don't always get the weather we hope for, so make sure you have a backup plan that is just as fun as the park.
Do you have any tips on hosting parties? I'd love to hear them!
This post linked to: Inspire Me Please, Skip The Housework Saturday, Share Your Creativity, Motivational Monday, Whimsy Wednesday, Hit Me With Your Best Shot, Wine'd Down Wednesday, DIY Sunday Showcase, Work It Wednesday, The Makers, Creative Spark, Serenity Now, Family Fun Friday, and Saturday Sharefest.
P.S. - If you're a blogger

, you HAVE to check out *this course. I took it myself and highly recommend it. (*aff link)