This post contains affiliate links for your convenience. See my full disclosure here.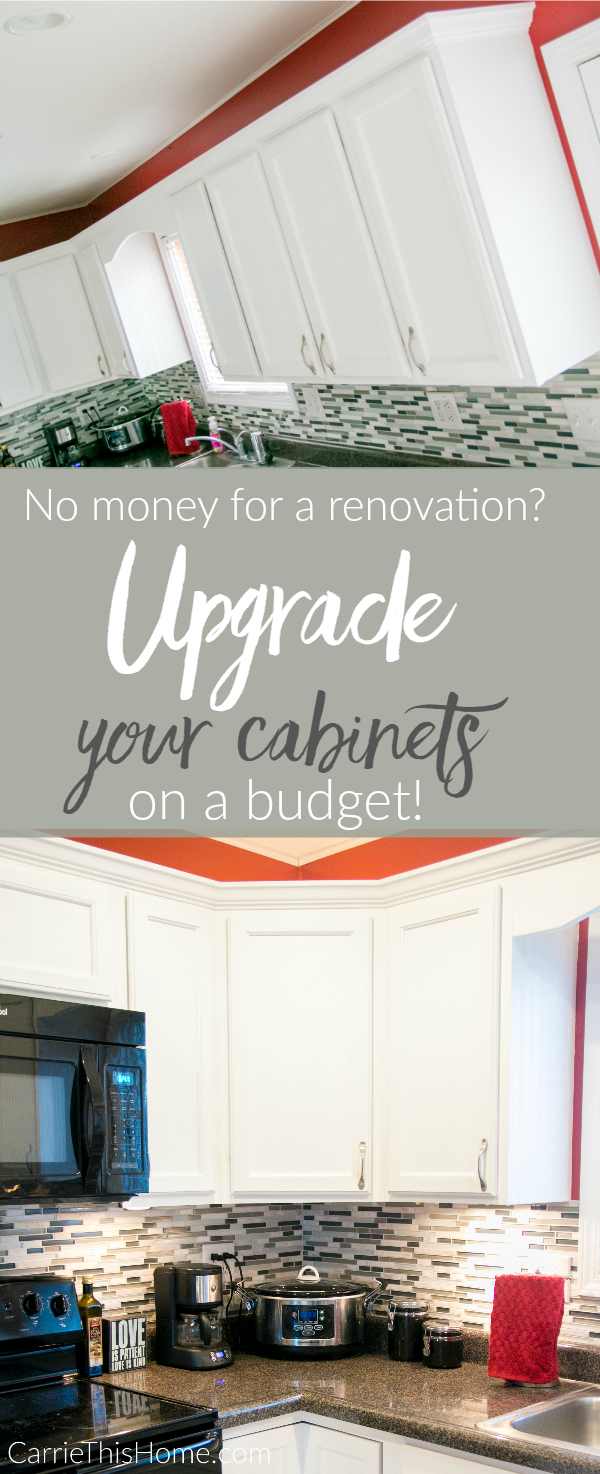 Would you like to renovate your kitchen but lack the budget to do so? I've got the perfect solution for you:
Just upgrade your cabinets!
If you don't have the money for a major kitchen renovation, consider a DIY cabinet upgrade instead. You'll be amazed at how a couple of low-cost cabinet projects can make a dramatic impact on the look of your whole kitchen!
We did an upgrade to our cabinets in our own kitchen and this was the amazing result: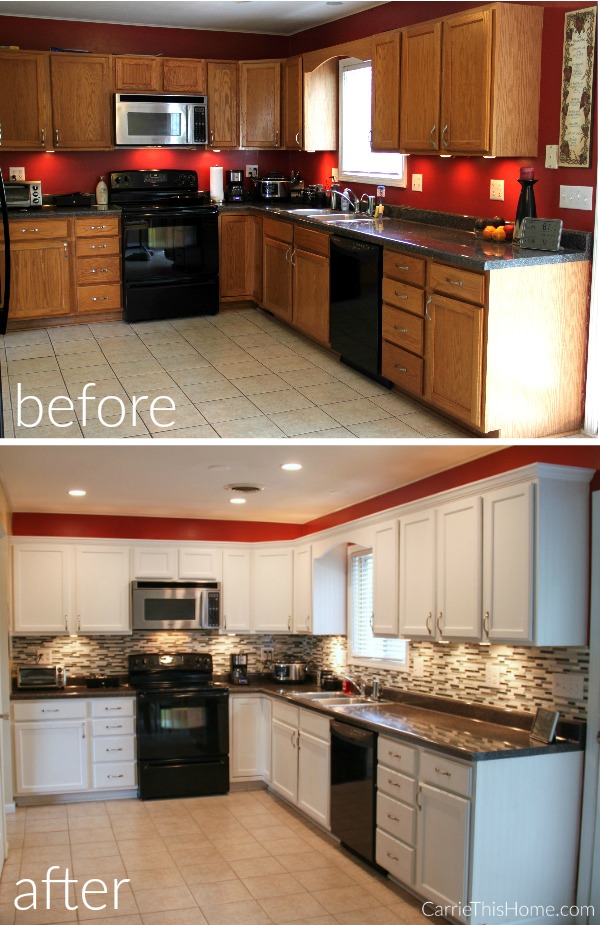 The biggest result of our entire Budget Kitchen Makeover came from the couple of budget projects we did on our cabinets.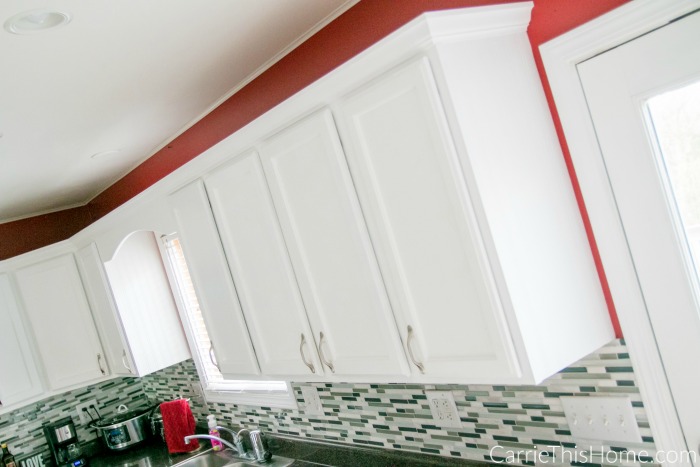 Upgrade Kitchen Cabinets On A Budget
If you have cabinets that are in good shape, keep reading and I'll show you how to change the whole look of your kitchen on a budget!
Upgrade good cabinets, don't replace them!
Cabinets can be easily upgraded for a beautiful and fresh look– with just a fresh coat of paint! The look of our once dark and boring oak cabinets was immediately improved once we painted them and the difference was amazing!
Afraid to tackle that project on your own? My step-by-step how to paint cabinets tutorial will show you how.
Crown Moulding
Adding crown moulding to basic cabinets is by far the easiest & most dramatic way to upgrade cabinets. We added the moulding and wished we'd done it years before.
The best part is it only cost about $20!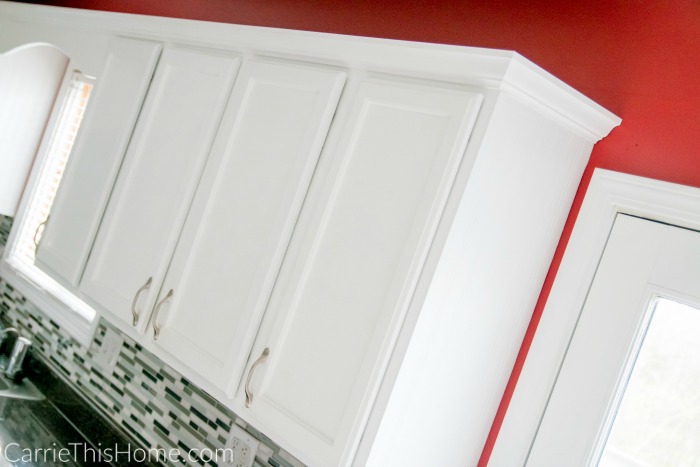 Crown moulding immediately gives cabinets a custom look (and no one will know how little it cost!)
With a couple good tools, my husband was able to install the moulding himself which kept the cost down. Even if you have to pay someone to install moulding, the results will be worth every penny.
Good lighting goes a long way
Installing the right kind of lighting can make all the difference in the feel of your kitchen. See how the cabinets look cold and stale in this picture below?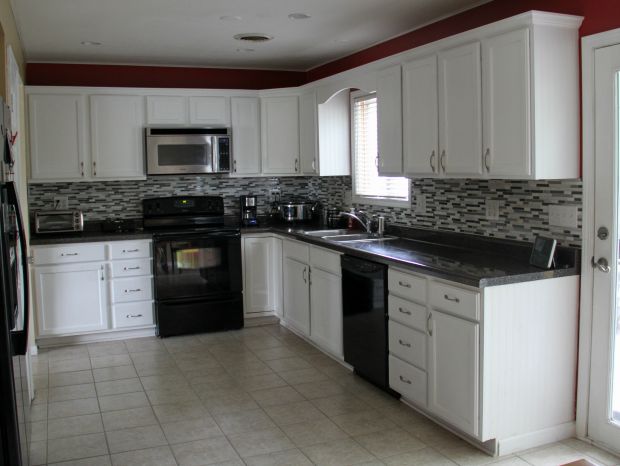 Proper lighting gives the whole kitchen a warm & inviting feel. Our new lighting now highlights the cabinets and backspash, making them the stars of the kitchen.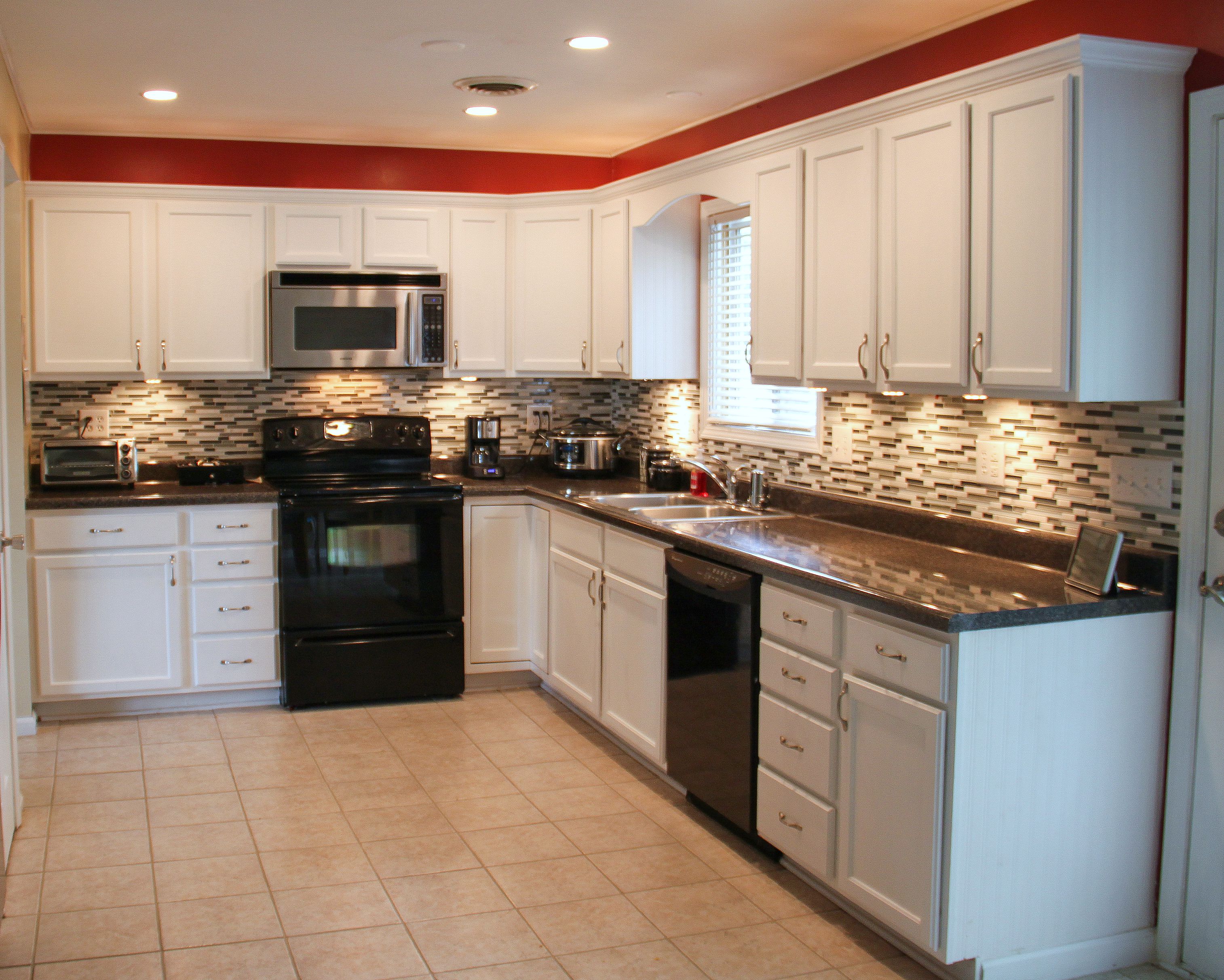 We added three new light sources to help highlight the cabinets:
Under cabinet lights
Canned lights in the ceiling
Lighting above the cabinets highlight the custom look of the crown moulding while adding warmth and depth to the space above the cabinets. The lighting underneath the cabinets brings attention to the custom look of the backsplash and countertop.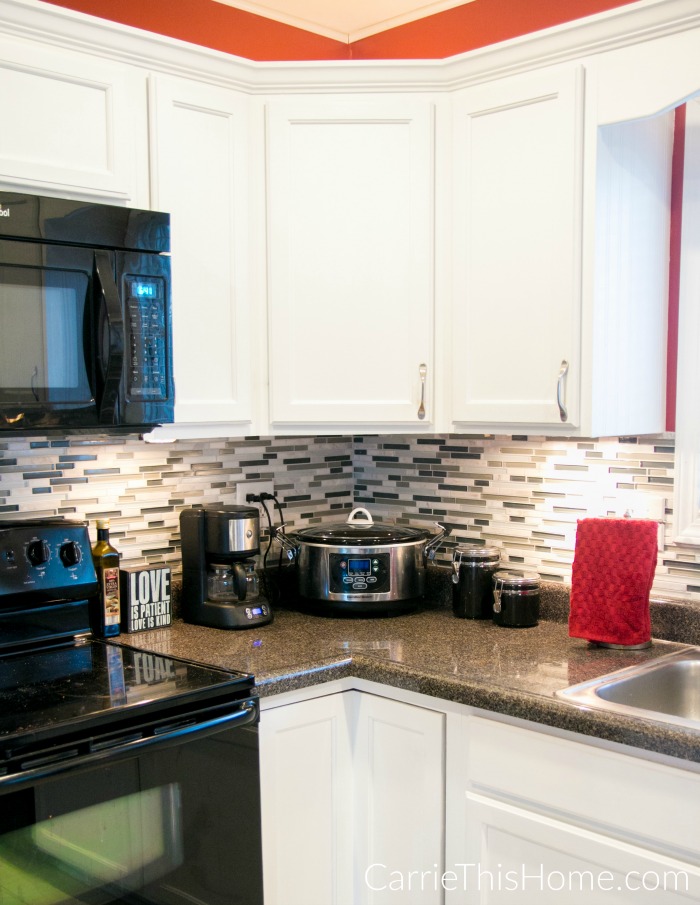 Wainscoting on a budget
Adding some texture to the end of cabinets transforms a boring builder grade cabinet into an upgraded piece. Wainscoting is a beautiful texture for cabinets but it can be pricey. You can get the same wainscoting look on a budget with this paintable wainscoting wallpaper. It passes for the real stuff!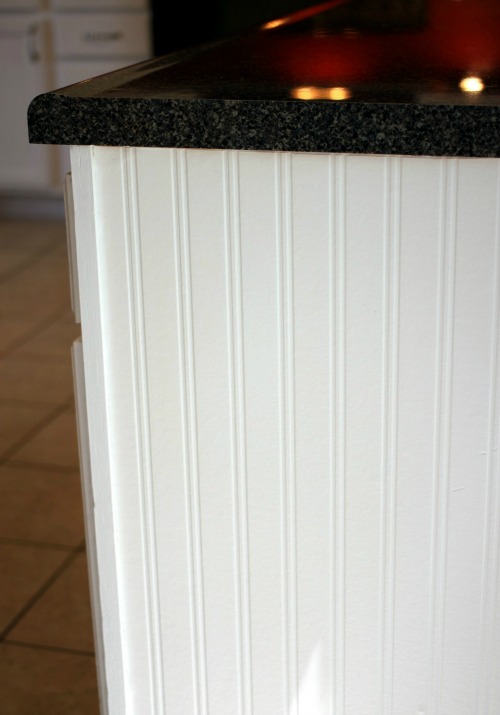 Update the hardware
Simply updating the handles and pulls can instantly give cabinets a fresh look.
If you'd like your cabinets to have a more modern look, choose some modern fixtures like these.
For a more traditional look these pulls might be a good option since they're a good mix between traditional and modern looks.
Or if you're going for a really girly glam look you could go for these (although my hubby would never want those in our kitchen!)
Splurge on one statement piece
The biggest splurge of our kitchen cabinet project was our new backsplash. Although this didn't change any part of the cabinets, the backsplash does a great job of bringing people's eyes to the freshly updated cabinets. This was the one item we decided to spend a little more money on. The good thing about doing budget projects is they often leave room for one good splurge item!
Accessorize
Using colorful fruits in a pretty bowl or some fresh flowers in a beautiful vase will instantly bring life and some personality to your kitchen, which will reflect well on your cabinets, too!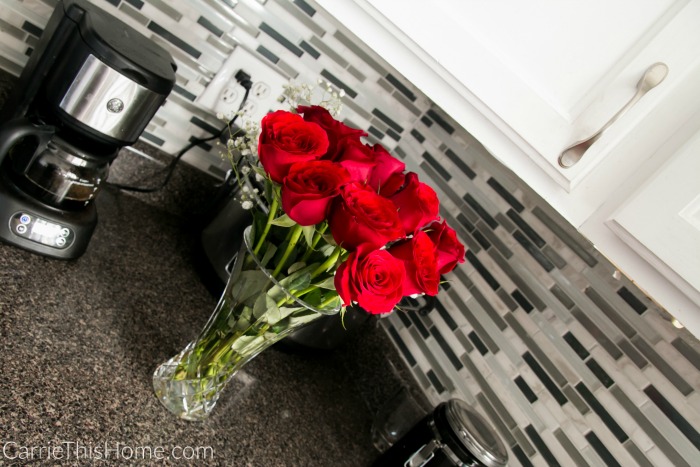 Thank you so much for checking out our Upgrade Kitchen Cabinets On A Budget post! I hope this inspires you to make some changes on a budget & learn to love the cabinets you have!
Source List:
This post contains affiliate links for your convenience. See my full disclosure here.
crown moulding
cabinet lighting: above cabinets, under cabinet lighting and canned lights in the ceiling
This DIY project was shared at: Welcome Home Wednesdays, Work It Wednesday, Creative Corner, DIY Like a Boss, DIY Collective, Family Fun Friday, Weekend Wind Down and Creative Spark.
What do
you

think about this cabinet upgrade?
P.S. - If you're a blogger

, you HAVE to check out *this course. I took it myself and highly recommend it. (*aff link)