This post contains affiliate links meaning if you make a purchase you will be supporting Carrie This Home at no extra cost to you!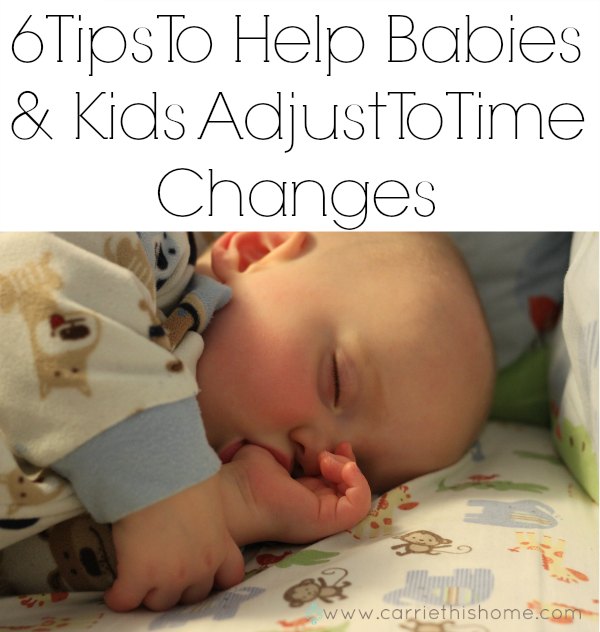 I used to love daylight savings time because it would give me light early in the morning so I could go for a run before work.
Now as a mom I despise it.
I know I'm not the only one.
In my Facebook news feed this morning, here's what some of my friends said:
"Toddlers know nothing about day light savings" -Ben

"Yeah right an extra hour of sleep. Not with toddlers in the house." -Alana

"I hate you time change!!!!!!!! 2 babies in my bed ready to start the day. Gonna be a long one" -Kristin
Our bodies have been made to respond to light. When daylight peeks in through the windows, we are more likely to wake up. Same goes with our kids.
Sun comes up then kids get up. No more sleeping in.
Then when it's time to spring forward, your kids end up going to bed before the sun goes down. Convincing a three year old to go to sleep while it's still light out is no easy task.
Does it have to be that way?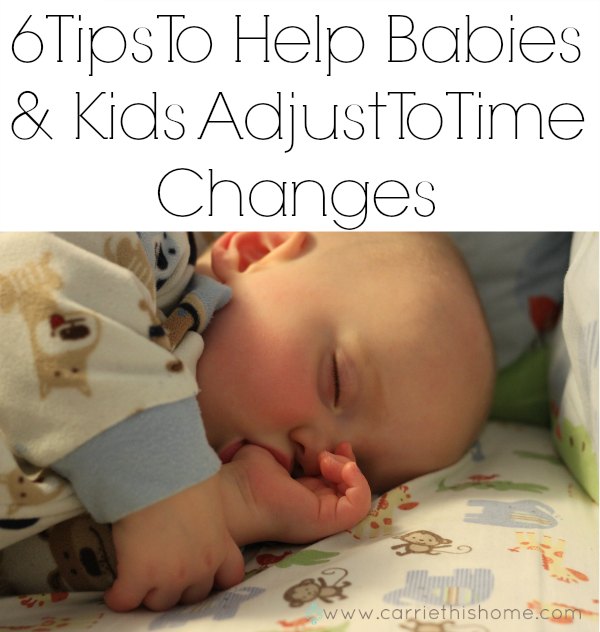 I'm not claiming to be an expert but I have found a couple of tricks & tips on how to help kids adjust to time change.
This is also applicable for traveling with children to different time zones.
Tips To Help Make The Time Change Go Smoother
Consider moving bedtime temporarily. When moving the clocks back one hour, think about keeping the child up a little later the night before. This will encourage them to sleep a little later the next morning. This can be done slowly over several nights in increments of 60, 30 or 15 minutes. It just so happened our kids were up late at a church event Saturday night so they were already staying up late. They slept in until 8am the next morning so it worked like a charm!
When changing the clocks one hour ahead, move bedtime up early the first couple night in increments as described above.
Install light blocking curtains. The biggest problem with daylight savings time is that the sunlight comes in waking my kids up early. You can purchase ready-made light blocking curtains or make your own. In my case, I bought some inexpensive curtain panels and sewed in some light blocking material (which you can find at Hobby Lobby or other fabric stores)
Use white noise in their room. I use an air purifier
like this one in both my kids rooms to help buffer out the sounds outside and inside the home that might wake them up. I'm able to get things done in the home, have friends over and make some decent amount of noise without having to walk around on eggshells. This will come in handy for those mornings when you're encouraging them to sleep in later.
For older kids, use a clock to help them know what time it's okay to get out of bed. We use this bunny clock
and love it. It's a $40.00 investment in our sleep and it's been totally worth it. We use this in my daughter's room and she loves it. When it's time to sleep, the bunny sleeping is lit up. When it's time to get up, the bunny that's up lights up. Even though the time changed and the sun is trying to shine through her curtains, she still knows it's not quite time to get up yet.
(Click here for image source)
Expect that this will be an adjustment. Your kids will probably still get up earlier than you want when you change the clocks back. When changing the clocks forward one hour they may not want to go to sleep at night. Expect it so you won't be super disappointed. This is a process that takes some time to get used to. Doesn't it take time for you to get used to a time change? If it's hard for us, it's also hard on the kids. Give them some grace.
Keep bedtime routines consistent. Keep the bedtime routine the same every time. Consistency is key. With so much changing going on, kids comforted by a familiar routine will be more likely to deal with change better.
What helps your kids get used to a time change?
How has the time change affected you?
This post linked to Craft-O-Maniac Monday, Ladies Only Blog Share, Inspire Me Please, Serenity Now, Link Party Palooza, Skip The Housework Saturday, and Wine'd Down Wednesday.
P.S. - If you're a blogger

, you HAVE to check out *this course. I took it myself and highly recommend it. (*aff link)