Get ready!
Today I'm going to introduce you to one of the biggest-bang-for-your-buck projects I've ever done!
I LOVE the look of wainscoting, don't you? It makes a boring builder-grade cabinet look upgraded and customized. Wainscoting gives a simple elegant look that I had to have in my kitchen.
This summer, The Hubby and I painted our kitchen cabinets white. We wanted our cabinets to have more character so we decided to install traditional wainscoting to all the cabinet ends.
My Hubby went to the local home improvement store to research our wainscoting project. As a result, he noticed several problems.
The Problems With Wainscoting:
It's expensive!
The cuts have to be perfect
There's almost no room for error
By this point in our cabinet makeover, we were both tired and ready to be done with it. That's not a good place to be in when perfection is expected.
Determined to figure out a way around the problems, the hubby went back to the home improvement store & came home with the perfect solution!
This post contains affiliate links for your convenience. See my full disclosure here.
The Solution:
He brought home some beadboard paintable wallpaper. I loved the idea from the start because it's:
Much less expensive than traditional wainscoting
Looks just like the real thing!
A lot easier to work with!
An entire roll of beadboard wallpaper covers up to 50 feet and it costs about $20.00!
We changed the game plan and decided to use the paintable breadboard wallpaper instead of the traditional wainscoting.
We weren't really sure if it would work. The paintable wallpaper was so cheap–would it really look like the real thing?
The good news is it DID work!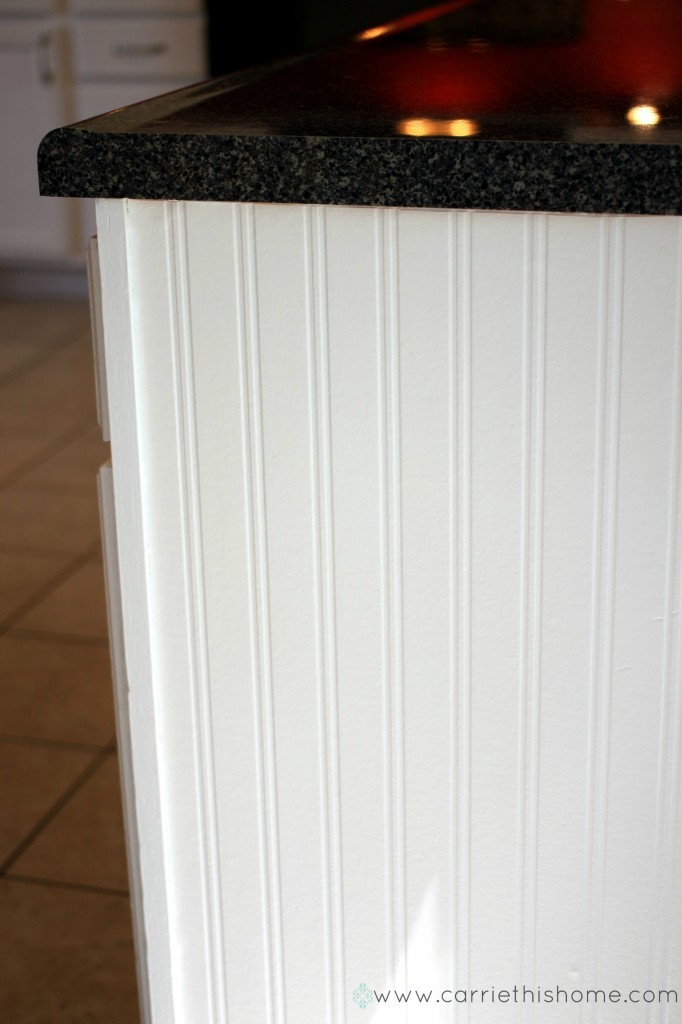 We love the results! It adds a lot of personality and character & now our cabinet ends are no longer boring!
Our family and friends were pretty impressed with the results, too. Most people look at it and think it's the real stuff.
The one downfall is that the texture of the wallpaper is a little soft. We have two little ones that love to run all around our kitchen and they've both left little "dents" in the wallpaper. They're not too noticeable so we're okay with that.
If you have a project involving wainscoting, this may be a great solution for you!
If you like this idea, feel free to pin any of my images!
This post linked to Link Party Palooza, Saturday Show & Tell, Create and Inspire, Craft-O-Maniac Monday, Wine'd Down Wednesday, Work It Wednesday, Moonlight and Mason Jars, Thrifty Thursday, Inspire Me Please, Serenity Now, Inspiration Monday, Give Me The Goods Monday, DIY Sunday Showcase, Whimsy Wednesday, Hit Me With Your Best Shot, Skip The Housework Saturday, Summer Celebration, and Strut Your Stuff Saturday.
{A version of this Easy Wainscoting post originally published at One Krieger Chick and now I'm excited to share it with my readers!}
P.S. - If you're a blogger

, you HAVE to check out *this course. I took it myself and highly recommend it. (*aff link)