We just moved my son into a big boy bed.
The thought of not having any more 'babies' in a crib made me sad. Especially after seeing this: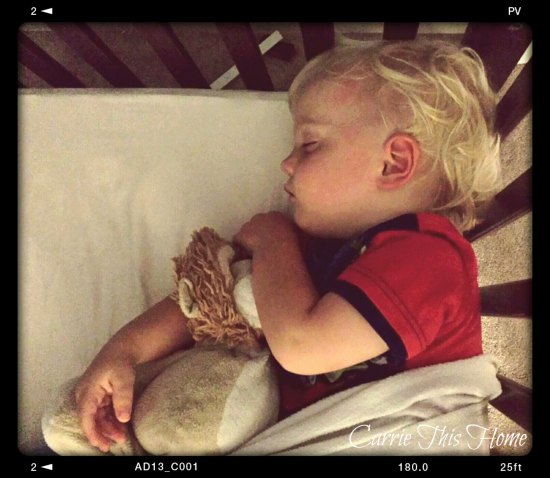 My baby is not a baby anymore!
But one thing got me really excited about my son being in a big boy bed.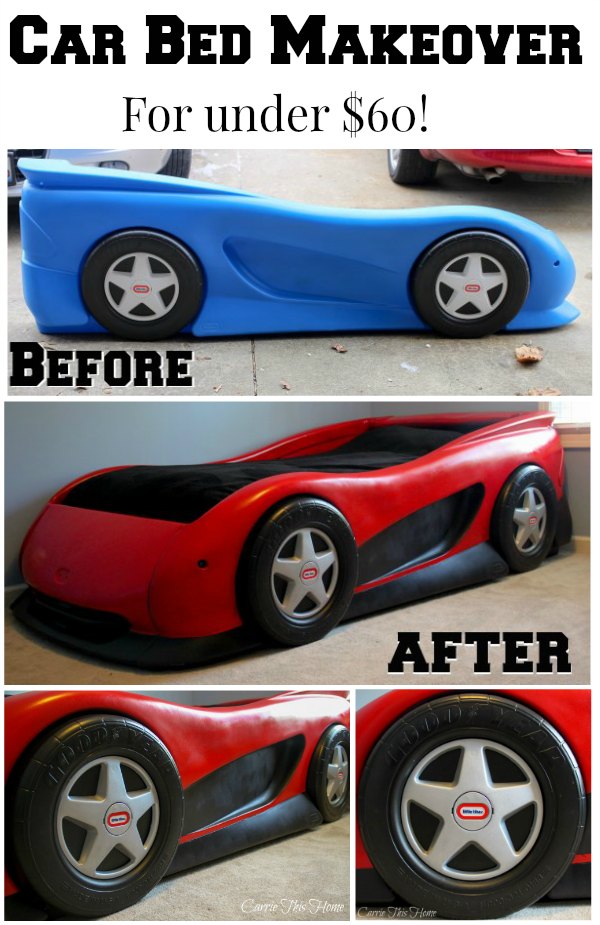 We did a makeover of his car bed and it turned out AWESOME! I was literally jumping up and down once I saw the finished project and couldn't wait to see it in his room.
My hubby and I are car people–in our free time we love to watch Top Gear UK and imagine what it would be like to own a fancy sports car.
So if our son is going to have a car bed–it's going to have to look epic.
This is what it looked like before: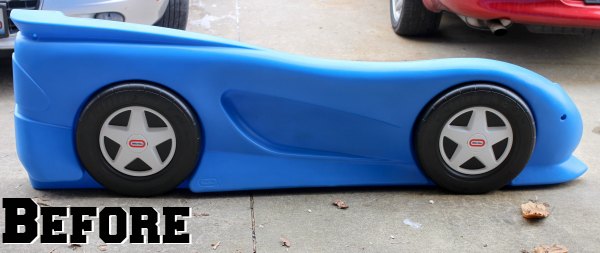 After some trial and error and a lot of spray paint, here's what the bed looks like now!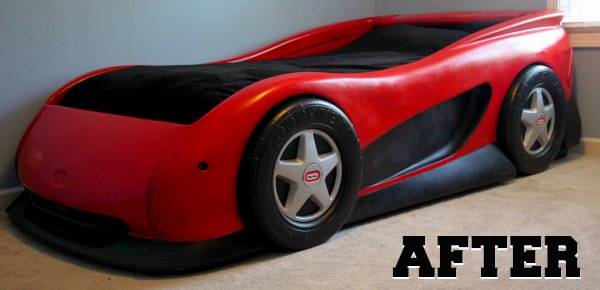 We did this all with spray paint for under $60!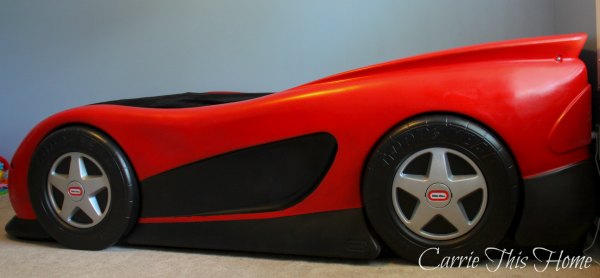 Painting the wheels a metallic silver was one little detail that made the car look more realistic!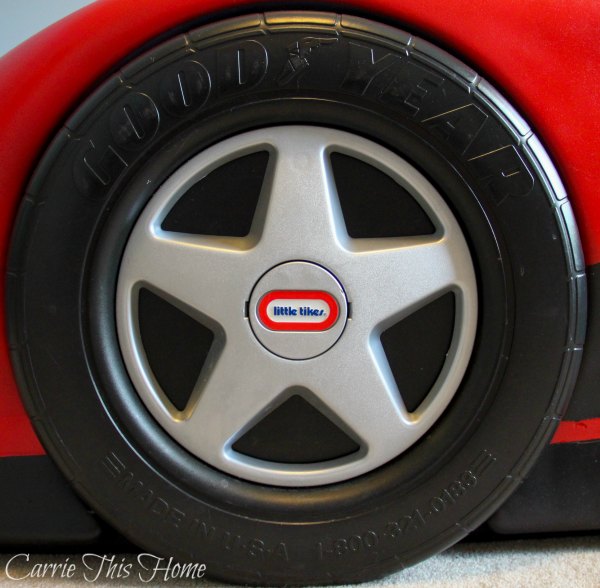 My son loves his new car bed! It provides the perfect statement piece for his room.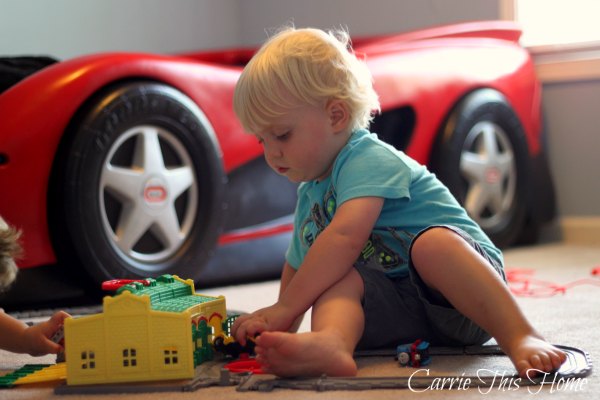 I'll show you how we did this and what we would do if we had to do it all over again.
How To Spray Paint a Little Tikes Car Bed
All the paints we used for this project are pictured below. I've had great results with Rust-Oleum spray paint. The coverage is great and they come with a bigger spray nozzle so it's more comfortable for your finger as you paint.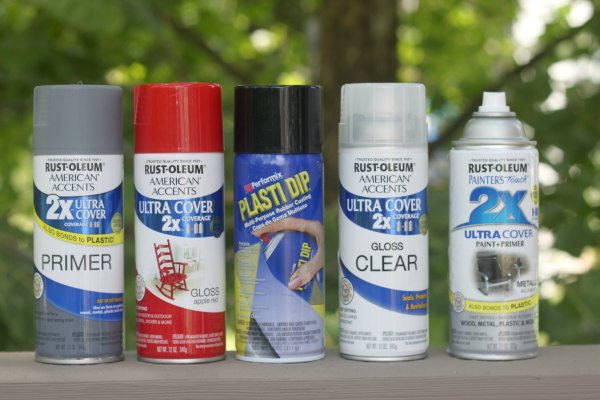 Supplies:
4 cans Rust-Oleum primer spray paint
6-7 cans Rust-Oleum gloss apple red spray paint
1 can Plasti Dip in black
2 cans Rust-Oleum clear gloss spray paint (optional and not really necessary as you'll read later)
1 can Rust-Oleum Metallic Aluminum spray paint
Painter's tape
Project Cost:
Believe it or not we were able to complete this project for under $60 dollars!
Most of the spray paint cost $3.77 per can except for the Plasti Dip which was $6.97 per can.
We also chose to use a gloss top coat spray paint. That wasn't necessary because the red spray paint had a glossy finish that was had a pretty good shine on it's own.
Without using the clear spray paint as a top coat–this project had a grand total of $59.18! With the clear spray paint the project came in at $66.72!
Here's How To Do It:
Make sure the weather will be good for spray painting. Shade, low winds, and comfortable temperatures make for a great spray painting atmosphere.
Plan for this project to take a couple days. Allowing time for each coat to dry is crucial. I would plan about two days for this project.
Disassemble the bed into the four main pieces. Then wipe off each panel with a dry cloth.
If you have sandpaper, I would recommend sanding the surfaces before painting. We did not do this and wished we had! Try to sand most all of the surfaces with 400 or 600 grit sandpaper. Then wipe off with a dry cloth before spraying on the primer.
Apply 2-3 coats spray paint primer on each piece, letting each coat dry before starting the next one. The primer will help the spray paint adhere to the plastic. Spray about 10 inches from the surface in thin even coats. If you spray it on too close or stay in one spot too long, you'll get drips in the paint (which looks really bad)
After the primer dries, sand the primer lightly with 600 grit sandpaper. Then you're ready to apply the top coat.
Next, apply 3 coats of your top coat color. Remember–don't spray it too close or linger on one spot for too long or else you'll end up with uneven paint and drips. Take your time!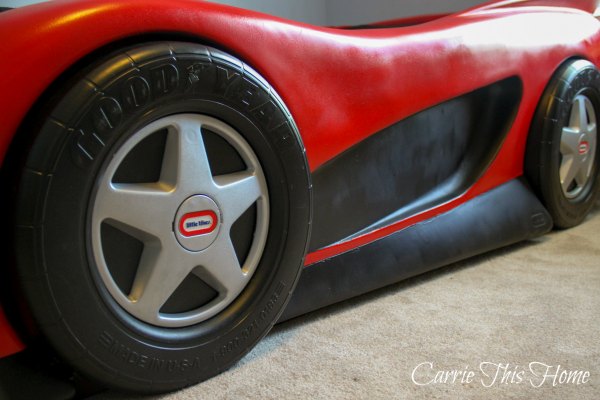 We chose to paint the ground effects and side scoops a contrasting black color. This little detail really made the bed look fantastic! If you choose to to a two-tone paint project, paint first with the color that will cover the most space on the car.
To paint accents (like we did) use painter's tape to tape off the boundaries.
CAREFULLY paint the chosen space in the accent color making sure to keep the paint within the right boundaries.
After the accent paint color dries, carefully remove the painters tape. You may notice some spots that need touching up–you can gently do this with a Q-tip covered in spray paint.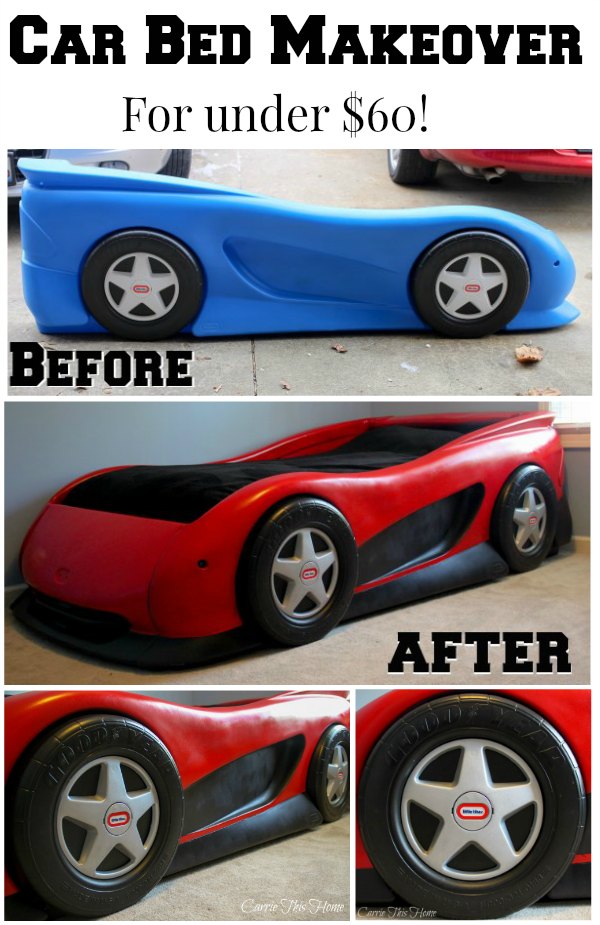 What We Would Have Done Differently:
We should have sanded the surfaces before painting. This step takes some time but will really help the paint stick and keep the surface consistent.
We started this project intending to spray the whole thing with Plasti Dip. My hubby painted one panel with Plasti Dip and after realizing how little it covered, we decided to use regular spray paint instead. Plasti Dip is great but at $6.97 a can, but the cost of spraying the whole bed would have cost a lot more.
So we changed our minds and decided to paint most of the car with regular spray paint and using the Plasti Dip for the ground effects and side scoops.
Is the finish perfect? No. This was hard for my project-perfectionist hubby to get over. But once we put it up in my son's room, the little imperfections were hardly noticeable.
In a perfect world, we would have used automotive primer and spray paint. but most people don't have access to that!
WE also used a clear gloss paint as a top coat. The red spray paint we used had a glossy finish to it and that offered enough shine. So if we had to to the project all over again, we wouldn't have used that paint.
This post linked to: Inspire Me Please, Family Fun Friday, Link Party Palooza, Skip The Housework Saturday, Think Pink Sunday, Saturday Sharefest, Share Your Creativity, Inspiration Monday, Feature Friday Link Palooza, In and Out of the Kitchen, Project Inspired, Tutorials and Tips, Do Tell Tuesday, The Makers, Whimsy Wednesday, Hit Me With Your Best Shot, Finding Inspiration, Project Parade, Creative Spark, Thrifty Thursday, Inspiration Gallery, I'm Lovin' It, Create It Thursday, and Serenity Now.
P.S. - If you're a blogger

, you HAVE to check out *this course. I took it myself and highly recommend it. (*aff link)