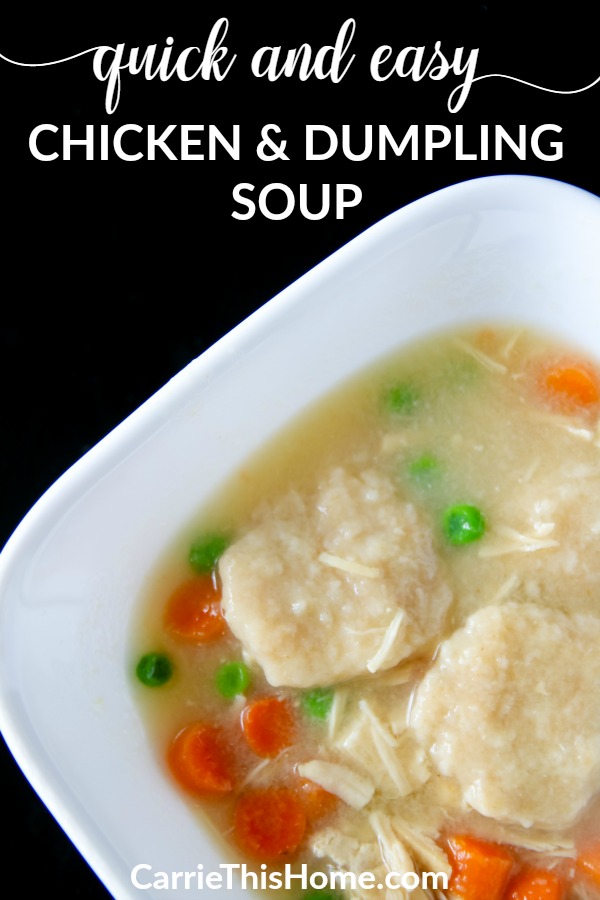 I'm a total hypocrite. I tell my children to eat vegetables as much as possible, yet I hardly eat them myself. For instance, there are very few times when I will willingly eat peas. This Quick & Easy Chicken and Dumpling Soup is one of the few exceptions that will have me not only eating peas but really enjoying doing so.
Chicken and dumplings isn't really known as a quick recipe. The good news is I'm going to share a couple of smart time-saving tricks brings this comfort food staple to your table in minutes!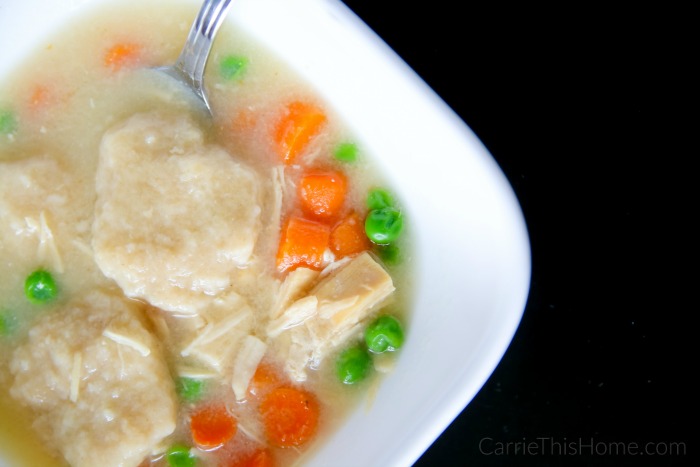 I also love this recipe because it's frugal, you'll only use one pot to make it and it's the perfect way to use leftover chicken. Oh yea, and it's full of vegetables (but the good taste will help you forget that fact)
So if you're a vegetable hypocrite like me–this recipe is for you!
Quick and Easy Chicken and Dumpling Soup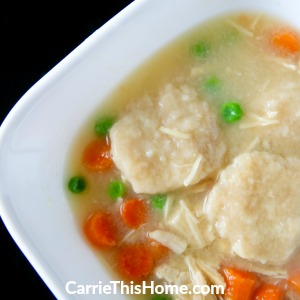 Quick and Easy Chicken and Dumpling Soup
2016-11-28 14:48:34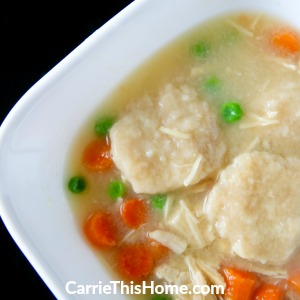 Serves 4
Ingredients
6 cups of chicken broth or 6 cups water with 6 bouillion cubes
1 cup cut carrots
1.5 cups Bisquick or pancake mix
5-7 TBSP milk
1 cup frozen peas
1 cup cooked chicken, cut into cubes
Instructions
Heat chicken broth (or water and boullion cubes) over medium high heat until boiling.
Meanwhile, stir Bisquick (or pancake mix) and milk together until it forms a very thick dumpling-like texture. Depending on the humidity in the air, you may need to use a couple of extra TBSP of milk to get the right texture.
Form dumplings into your desired shape (I make mine big and flat, about 2 inches in diameter, which yields about 15 big flat dumplings) You can also spoon the dumplings in for a more round texture dumpling.
When the water and bouillon cubes are boiling, reduce the heat to medium.
Carefully place the dumplings in the pot and boil for 5 minutes.
After 5 minutes, carefully stir in carrots (try not to break the dumplings as you stir)
After 2-3 minutes, add in peas and cooked chicken.
Cook covered for an additional 5-7 minutes or until the veggies reach your desired texture.
Serve & enjoy!
Adapted from Cherished Bliss (with permission)
Carrie This Home https://carriethishome.com/
What is your favorite soup to enjoy in the cold weather?
P.S. - If you're a blogger

, you HAVE to check out *this course. I took it myself and highly recommend it. (*aff link)