For your convenience, this post contains affiliate links. See my full disclosure here.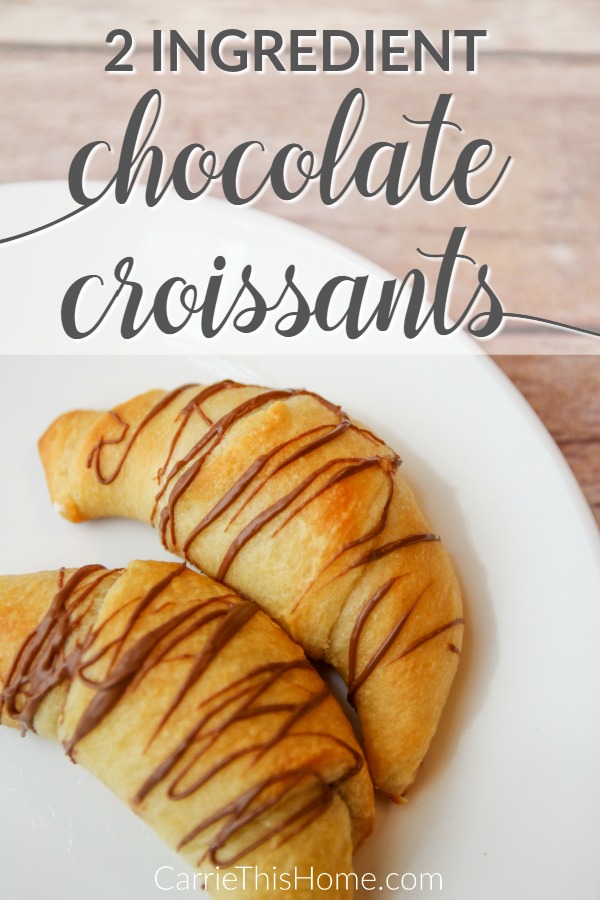 The warm, buttery taste of croissants merged with sweet creamy chocolate is one of my all-time favorite taste combinations. People will think you worked in a bakery to make these delectable treats. But here's the thing: my 2 ingredient chocolate croissants are so simple to make, it almost doesn't need a recipe.
I made these a couple of weeks ago for our weekly Bible study group and they were a hit! I excitedly told my friends how easy they were to make, so I figured I better share the secret with you, my lovely reader.
2 ingredient chocolate crouissants also makes a great activity to do with the kids, so make sure you add it to your arsenal of super easy recipes.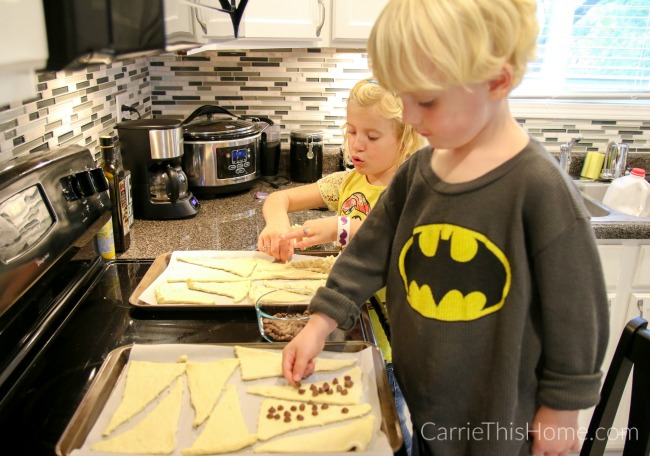 Here's a quick baker's tip: anytime I bake or cook with cookie sheets, I ALWAYS line the pans with this. It makes clean up a breeze & keeps the food from sticking to the sheet. It's a lifesaver! (This is going on my wish list as it would be a permanent more eco-friendly solution)
Now that I've shared my best baking secret, let's get to the recipe!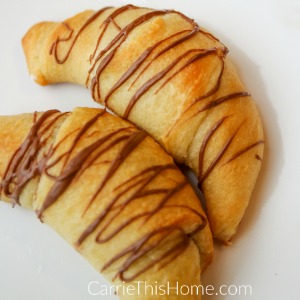 2 Ingredient Chocolate Croissants
2016-11-03 18:31:44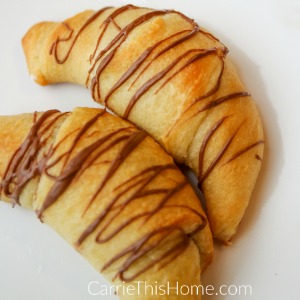 Serves 4
Ingredients
1 package crescent rolls
about 1/2 cup of milk chocolate chips or white chocolate chips
Instructions
For best results, line a cookie sheet with either parchment paper or a silicone baking mat.
Preheat your oven according to the crescent roll package directions.
Unwrap crescent rolls, separating into flat triangles.
Place about 15 chocolate chips on top of a crescent roll triangle, leaving the bottom third of the triangle empty.
Wrap each crescent starting with the larger end towards the point, enclosing all the chocolate chips.
Bake rolls according to crescent roll package directions.
Right before the rolls are done baking, melt a handful of chocolate chips in a small microwaveable bowl.
Drizzle melted chocolate on top of croissants for an added touch of elegance!
Notes
Chocolate croissants taste great with milk chocolate chips or white chocolate chips.
Carrie This Home https://carriethishome.com/
Either milk chocolate or white chocolate chips can be used in this recipe and both taste awesome! After a lot of taste-testing, I decided my favorite is the white chocolate croissants. Now that I've been drooling over these photos, please excuse me while I go and make another batch for myself.
In the meantime I'd like to know – which one do you think you'd like better: milk chocolate croissants or white chocolate croissants?
P.S. - If you're a blogger

, you HAVE to check out *this course. I took it myself and highly recommend it. (*aff link)