For your convenience, this post contains affiliate links. See my full disclosure here.

We love our DIY breakfast bar so much, we're kicking ourselves that we didn't do this project sooner!
This simple DIY breakfast bar provides additional seating, a craft area, homework station and blogging station all in one, making it one of the best multi functional projects we've ever done. It's an easy & fun project that can be done over a weekend to instantly give purpose to an awkward space.
Let's get right to the tutorial, shall we? First I'll go over what supplies and materials you'll need so you can be sure it's in your budget, then I'll show off the big reveal and lastly I'll include the step-by-step directions.
For your convenience, this post contains affiliate links. See my full disclosure here.
DIY breakfast bar materials:
2 cabinets (we chose upper cabinets because they are slimmer for the small space we had)
barstools (there's also a good selection of barstools here)
paint in your color choice for the cabinets
1 4×8 feet sheet of lauan plywood to make cohesive sides for each of the cabinets
wainscoting wallpaper for the cabinet sides (if your bar will get a lot of use, you may want to skip the lauan and get the real wainscoting instead)
For the bar surface:
1 project board in the size you need (ours was 20 inches by 6 feet)
stain in your choice of color (I think we used this stain and then topped it with with this stain to get the rich deep cherry wood look)
polyurethane to seal in a coat of protection
For the cabinet base:
2 pieces of 2in x 4in x 10ft lumber to build the cabinet frame
1×2 inch finishing board (for the top piece in between the cabinets right in front of the bar stools)
For the craft cabinet:
The big reveal!
As part of our eat-in kitchen, there was this little wall next to our refrigerator right underneath the opening to our living room. It was valuable real estate that wasn't being used to it's potential as you can see in this picture: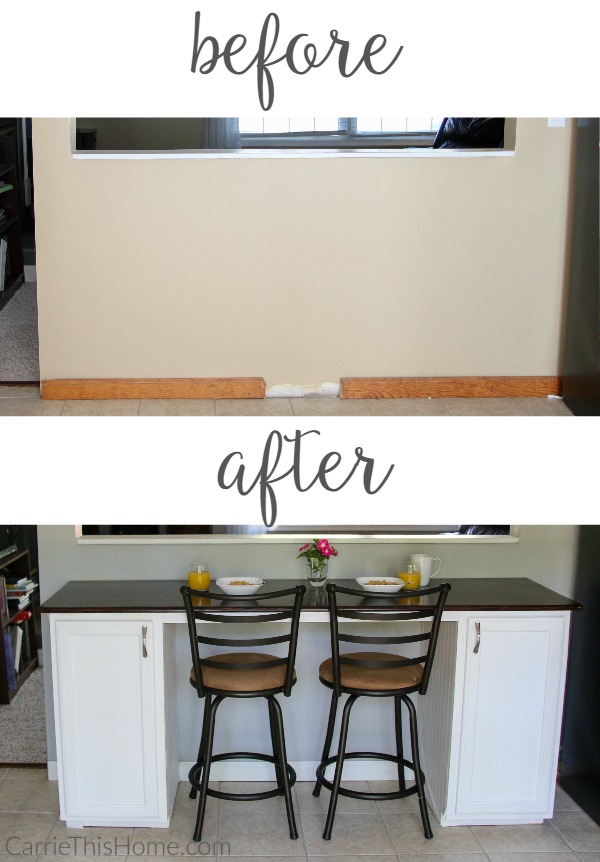 Now this once awkward area has been transformed into one of the favorite areas of our home!
We decided to build the breakfast bar out of our simple need for more seating. What we didn't realize is that the finished project gave us so much more than what we planned. It's a great place to sit & connect with people in the living room, eat & watch a movie, provides a good homework station, houses the kids crafts & homework supplies, and creates extra storage.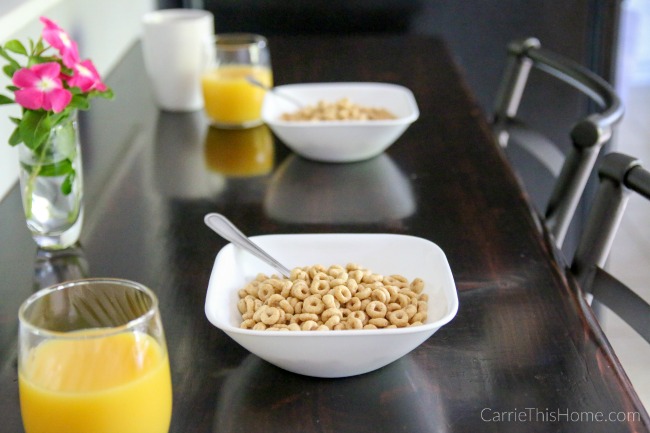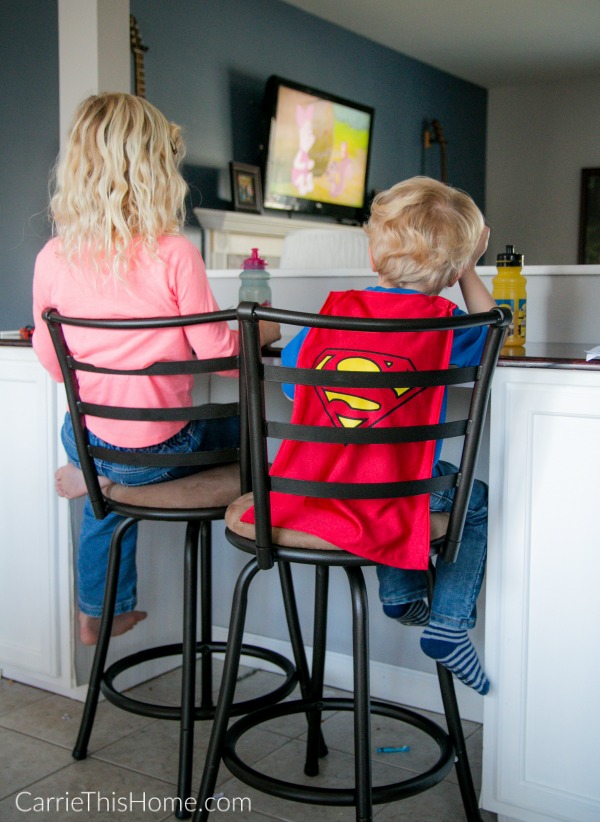 The kids absolutely love to sit at the breakfast bar (especially when watching TV is involved!)
The bar offers plenty of extra storage inside for crafts, school supplies and kitchen appliances.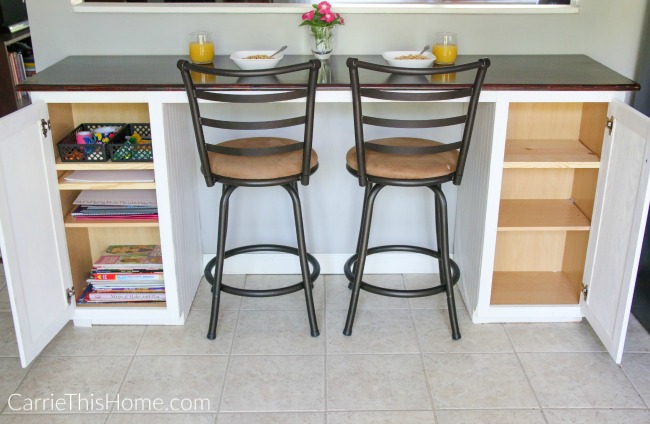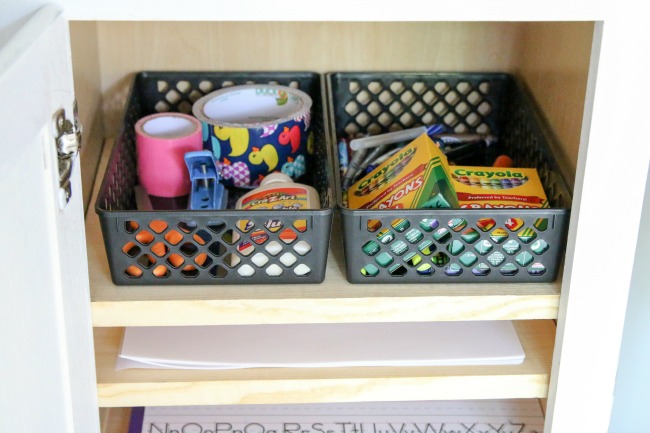 Inside the cabinets, these little baskets are just the right size to hold pencils, crayons, glue and supplies for homework.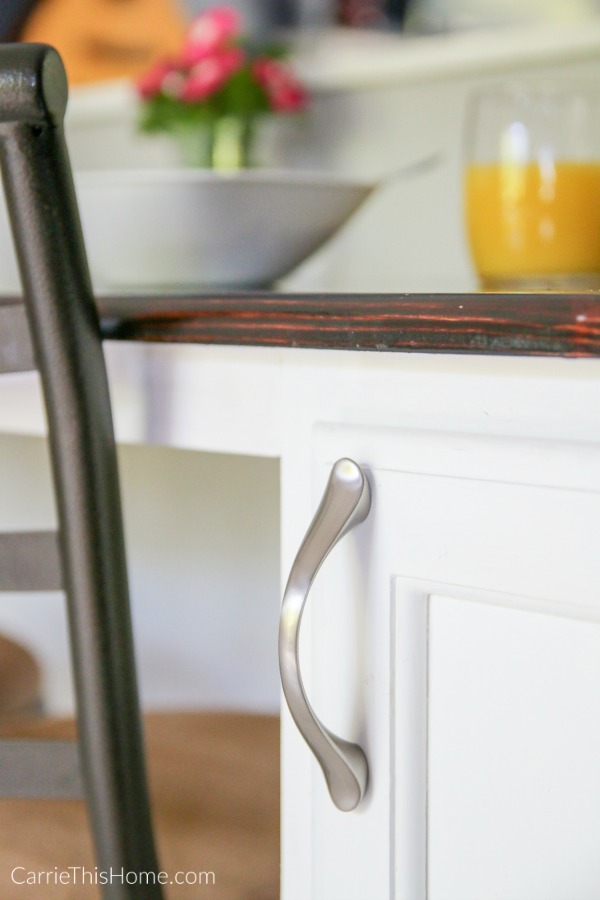 I am loving the cabinet pulls we chose! They're simple yet beautiful and coordinate with our other kitchen cabinets really well.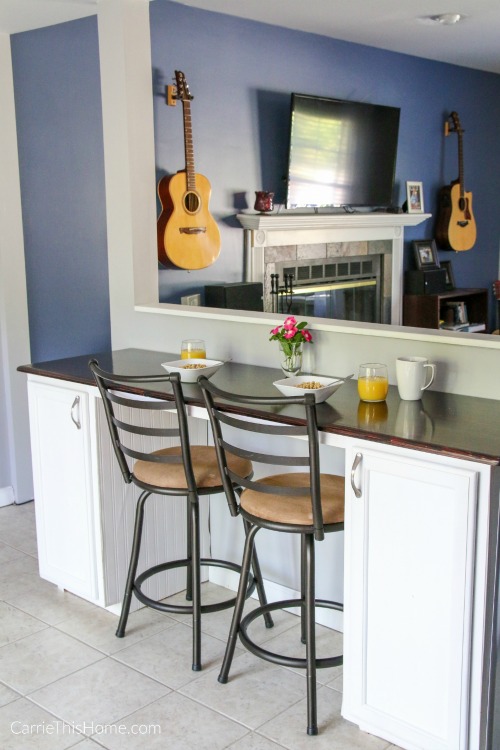 The great news is this project is fairly simple and consists of three simple steps:
paint the cabinets and surface
install cabinet pulls on the doors
install a surface on the top and you have a breakfast bar!
DIY breakfast bar directions
We have a limited amount of space in our kitchen, so we wanted the bar to be somewhat slim (ours is just 20 inches deep) We chose to use upper cabinets since they are slimmer and in doing that we had to make a base so the cabinets would sit at the right place and properly hold the bar top.
My husband built two simple frames and attached the slim upper cabinets to them. This frame you see in the picture below helps to bring the cabinet up and out to the correct position on the floor (If you are planning on using normal bottom cabinets, you will not need to build a frame and can skip that step)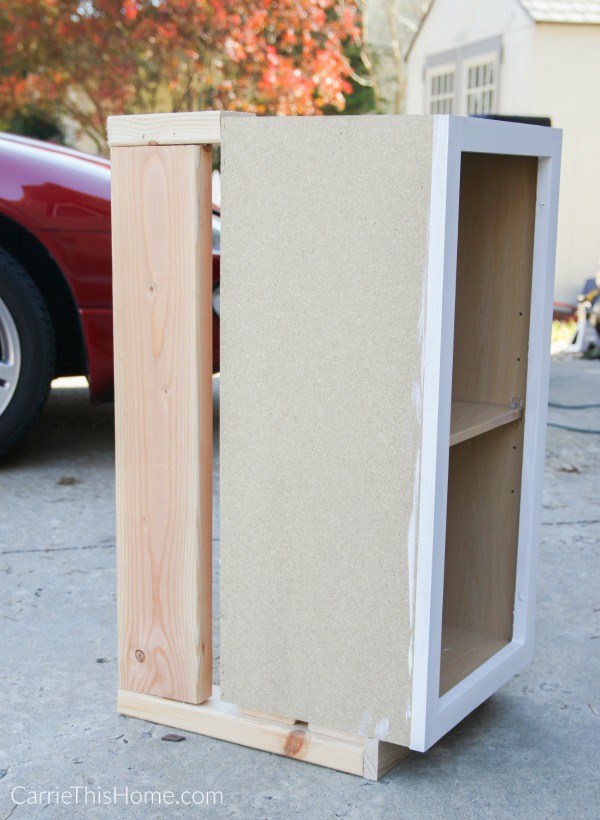 See how the frame brings the cabinet up and out? Now the cabinets are ready to be prepped and painted.
Next, we cut and installed the sheet of lauan plywood to cover the sides of each cabinet, bridging the frame and cabinet together to make a smooth surface.
Then we covered each side with paintable wainscoting wallpaper (this paintable beadboard wallpaper is the BEST! It gives a luxurious finished look to cabinets & it's so cheap!) You can quickly and easily cover the cabinet sides with the wallpaper using spray adhesive.
**Special note: if you think your breakfast bar will need to endure a lot of traffic and use, you may want to consider using traditional wainscoting. This will be more durable and last longer but will be more expensive.
For the bar surface:
We used a simple craft project board from our local home improvement store for the bar surface. My hubby stained it using two different stains. The brown stain we used ended up being a little too boring, so once that dried my husband added this red stain on top. This two stain process resulted in a beautiful dark red cherry finish that we both love.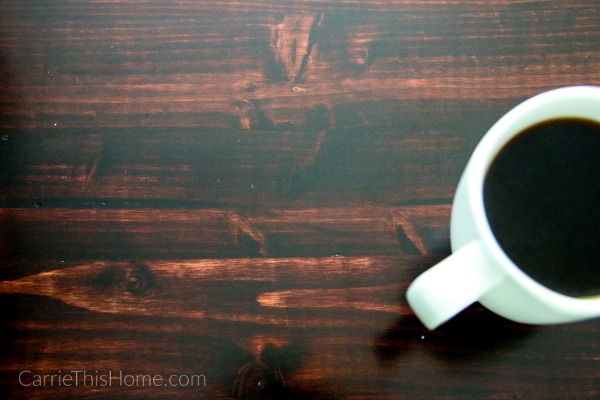 Next we added a coat of this polyurethane to seal in a coat of protection. In hindsight, I wished we had used a gloss finish polyurethane instead but that is just a personal preference. I don't dislike it enough to change it…yet!
Once the cabinets and bar surface were finished to our liking, we attached them together in the final project location.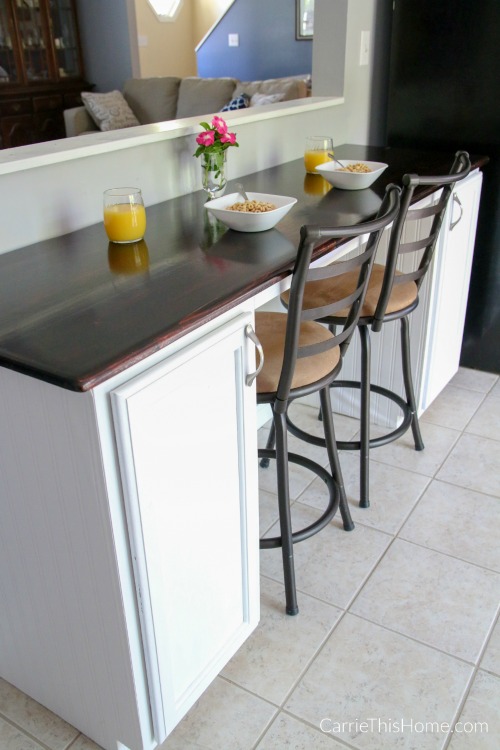 I'm still kicking myself for not building this sooner. We've gotten so much more use than we expected out of our breakfast bar. My family and I will be enjoying this breakfast bar for many years to come!
What we would have done differently:
As with every project, there are a couple of things we would have done differently. First, we would have chosen a harder wood for the top. After the kids spent time on the bar drawing, we noticed scratch marks in the craft wood. If you like a rustic, worn look, then a craft board would be perfect. If you want a bar surface that will be perfectly smooth, choose a harder wood for the surface.
I had a hard time deciding if the top should be a matte finish or glossy. We originally chose to go with satin but after some time we both now prefer the look of gloss. This will take just a simple coat of gloss polyurethane and we'll have the look we should have gone for in the beginning 🙂
Since our bar gets used a lot of use (and some of that use is not gentle!) we would recommend getting the real wainscoting to withstand lots of heavy use. If you're just planning on light use, the wainscoting wallpaper will work just fine.
I hope you get to enjoy your breakfast bar as much as we do! If you have any questions, leave a comment below and I'd love to help!
Shared at: Creative Spark.
P.S. - If you're a blogger

, you HAVE to check out *this course. I took it myself and highly recommend it. (*aff link)