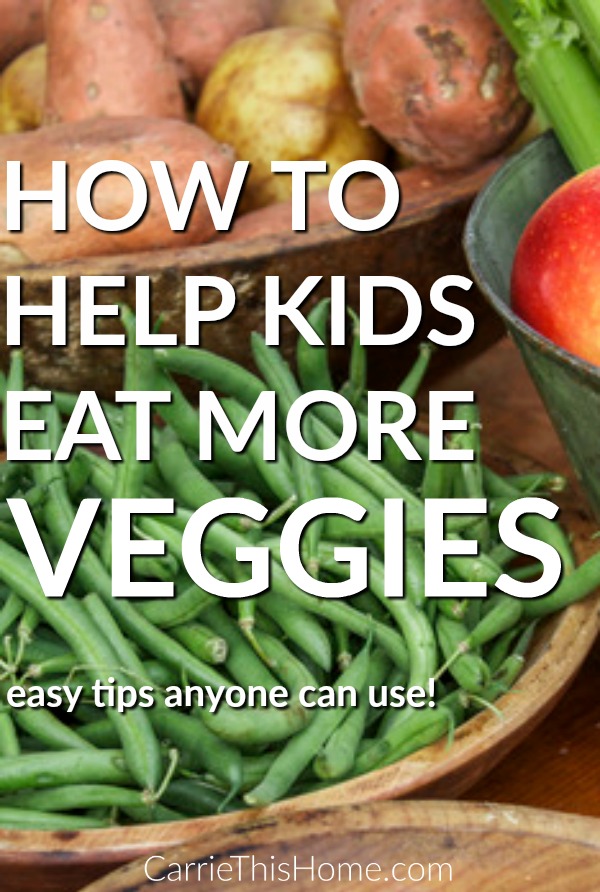 I was thinking about calling this post "How To MAKE Your Kids Eat Vegetables" but let's face it. We can't make our kids do anything. Especially when it comes to eating healthy foods.
I want my kids to eat veggies because they like to, not because I force them to. So I decided "How To Help Kids Eat More Veggies" would be a better and more realistic title for this post.
Over the past couple years I've been gathering ideas that actually worked with my own kids. Some of these will work for you, while some of them may not. The key is to try some that you think will work for you and your family and celebrate each little success along the way.
How To Help Kids Eat More Veggies
Dip makes veggies fun! Dipping a vegetable in a new or exciting sauce makes it a fun event for the kids. Light ranch dressing is a popular dip around our table.
Offer choices. When kids are allowed a choice in what they eat, they're more likely to actually eat it. I give the kids a choice of two or three different veggies to eat and they get to pick their favorite.
Veggies first. Every night at dinner my kids have to eat all their vegetables before they can eat the main part of the meal. Looking forward to the main part of the meal will give them incentive to finish their vegetables. It doesn't always mean that dinner time is fun or even peaceful but over time this trick has really helped my kids eat vegetables on a regular basis.
Think outside the box. One of my favorite veggie offerings is broccoli slaw salad. Broccoli slaw is sliced up broccoli stems and my kids love them! I cut up the slaw into smaller pieces, top with a little mozzarella cheese and light ranch dressing and now it's become one of our family's favorite dinner sides.
Toppings go a long way. A little butter and parmesan cheese magically make veggies appealing to my kids. They put it on everything–including corn (yuck–I know!) Whatever works, right?
Kids LOVE green smoothies! Smoothies like this peach green smoothie have been by far the best way to get my kids to eat veggies. This recipe has a full 2 cups of spinach in it and the kids love the taste. See–here's the proof: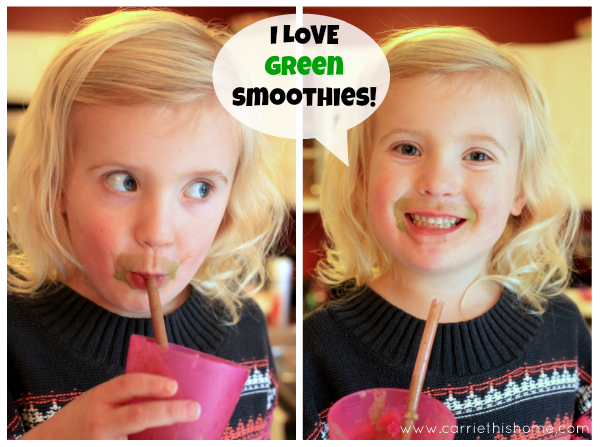 This post contains an affiliate link for your convenience.You can see my full disclosure here.
Buy common food products with veggies in them. No it's not the same as with the real thing, but it certainly doesn't hurt! My favorite example is this veggie juice. I buy this every week because it offers good nutrition in something I know my kids will drink. I'm also a fan of veggie pasta, spaghetti sauce with veggies in it, and even veggie yogurt!
Serve a green smoothie as a dessert and then you've got dessert with nutrition! Talk about a win-win!
Start babies on veggies before fruit. If your baby is about to start eating solid food, try to start them on veggies before giving them a taste of fruits. Once they taste the sweetness of the fruit they may not be as interested in vegetables.
If your kids are past this stage and you didn't do that — don't worry there's still hope! Keep reading!
Collect tasty looking veggie recipes together. Look at recipes together and let the kids choose ones they'd like to try. I've been collecting delicious looking vegetable recipes for years on my Veggie Pinterest board, so feel free to take some ideas from there. Be careful to make sure the recipe is still healthy–a lot of veggie recipes call for big amounts of butter and other high calorie ingredients.
Try something different. If they get the same vegetable night after night of course they're going to get sick of it! Trying a new veggie was how I discovered my daughter really likes broccoli. I honestly thought she'd gag on the first bite, but to my delight she proved me wrong.
Cut down on snacks before mealtime. When my kids have had too many snacks, they aren't as hungry at dinner time. If they're hungry, they'll be more likely to eat their vegetables.
Use a different cooking method. Just because your child may not like a vegetable raw may not mean they won't like the cooked version. You never know until you try! My kids may not like fresh broccoli but cooked broccoli with a little bit of butter on top is a totally different story. Carrots are also a great example–eat them raw for a crunchy snack or cooked with a roast for a sweeter softer version.
A little hiding is good. There's nothing wrong with masking some veggie nutrition in a meal. Vegetables hide well in meals like lasagna or other pasta meals with a thick sauce. Puree some vegetables and mix a small amount into some spaghetti sauce and they'll (probably) never know. The trick to success is to add enough veggies to get the nutrition but not too much so it changes the taste. You can also buy spaghetti sauce with extra veggies already in it.
Sweet potatoes. Not only are sweet potatoes one of the healthiest foods on the planet, they're also a good go-to veggie for it's sweet taste. The sweetness of sweet potatoes is very appealing to a lot kids.
Make their favorite veggies available for an "anytime snack" My kids ask to have a snack. All.the.time. Carrots and dip (a little light ranch dressing) are a snack the kids can have anytime. No matter what. Have veggies available and ready for your kids to snack on.
Be a good example yourself. This is one I have the hardest time with. If you're encouraging the kids to eat more veggies but not eating them yourself, what kind of example are you setting? Remember that when you are setting a good example for your kids, you'll also reap the benefits of getting healthy!
Let the kids build a salad. Salads are a great way to help foster creativity as your kids get to make their own meal. Use baby spinach instead of traditional lettuce and your salad will be much healthier. I LOVE adding these cauliflower crumbles to my salad–they add a great taste and crunch. The possibilities are endless with salads, so have fun making new creations!
Do you have any tips on how to help kids eat more veggies? I'd love to hear some more ideas so leave a comment below!
These helpful tips were shared at: Creative Spark, Create it Thursday, Link Party Palooza, Tasty Tuesday, Inspiration Monday, Creative Corner and Work It Wednesday.
P.S. - If you're a blogger

, you HAVE to check out *this course. I took it myself and highly recommend it. (*aff link)