Once upon a time I made a plan. I decided to go back to work when both my kiddos were in school full time. Then my plan got thrown out the window (you can read that whole story here)
Now I get to spend two days a week doing medical coding and I LOVE it! I needed a good bulletin board for work. I needed something to hang up important notes, memos and of course pictures.
"Just go to the store and pick out a bulletin board" I thought.
Sounds easy, right?
The problem is I'm picky. A little too picky.
I'm a lot like Goldilocks. All the bulletin boards I saw at the store weren't right for me. Some were too small. Some weren't magnetic and all of them weren't cute enough.
So I did what any crafty person would do. I bought a regular bulletin board and made it super cute!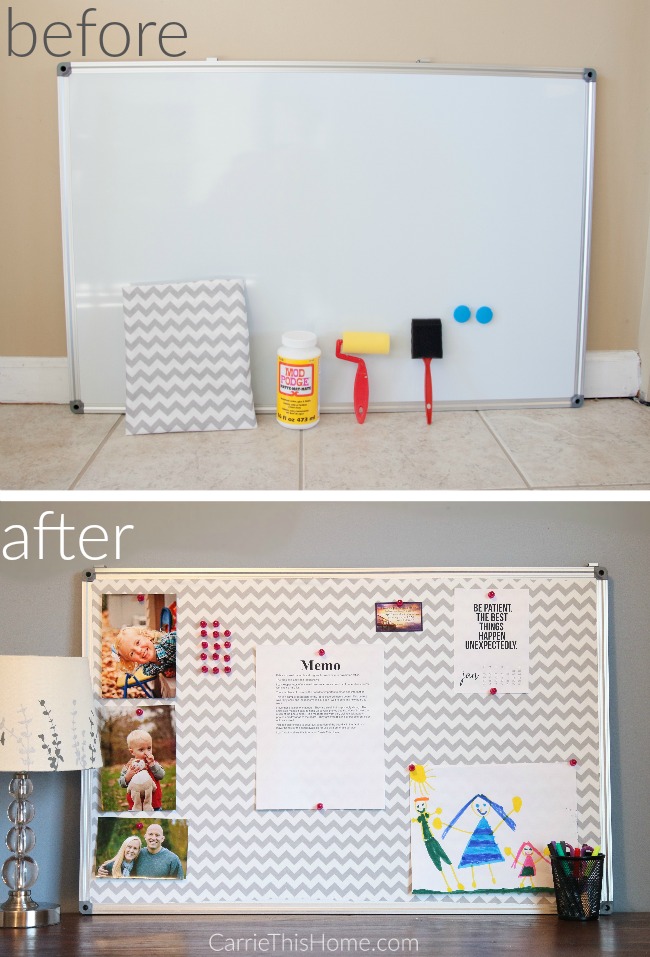 I bought a plain magnetic bulletin board from Hobby Lobby (with a 40% off coupon) and decided to cover it in a cute gray chevron fabric.
This project was pretty easy and I was so happy with the results. I didn't have to spend much money and it turned out better than any other board I saw at the stores.
Here's how to make your own: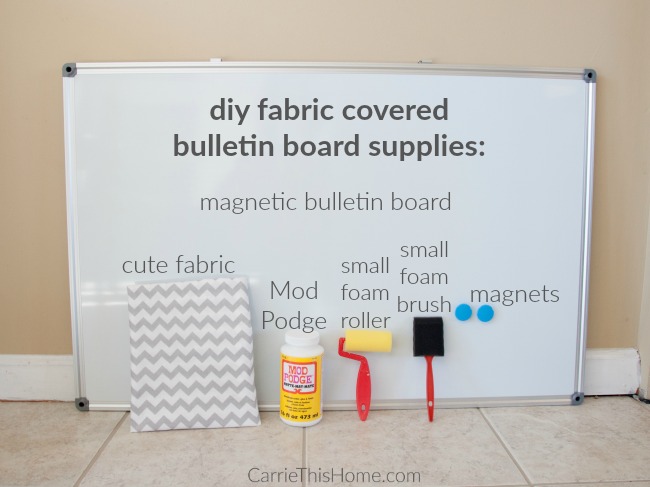 DIY Fabric Covered Bulletin Board Materials:
This post contains affiliate links for your convenience. See my full disclosure here.
Mod Podge in matte finish
small foam roller and a foam brush
fabric of your choice (just make sure it's thin)
Magnetic bulletin board (I got mine from Hobby Lobby)
magnets in your choice of color (I chose pink of course!)
Directions:
Consider doing a small test run with a small piece of fabric on the back surface of the board first to practice and see the results before jumping in!
First, carefully cut your fabric to fit the board. You can choose to cover part of the board or the entire surface with the fabric. If the fabric frays on the edges after cutting, apply a small amount of Mod Podge to the frayed edges so they stay put.
Once the fabric is cut to size & ready, spread out a THIN layer of Mod Podge with the foam brush on the board where you'd like the fabric to be.
Remember–use a thin layer of Mod Podge! If you use too much, it may end up leaking through to the front changing the look of the fabric. The trick is to use enough so it glues the fabric to the board but not so much that it leaks through the fabric. The picture below demonstrates how much Mod Podge I used: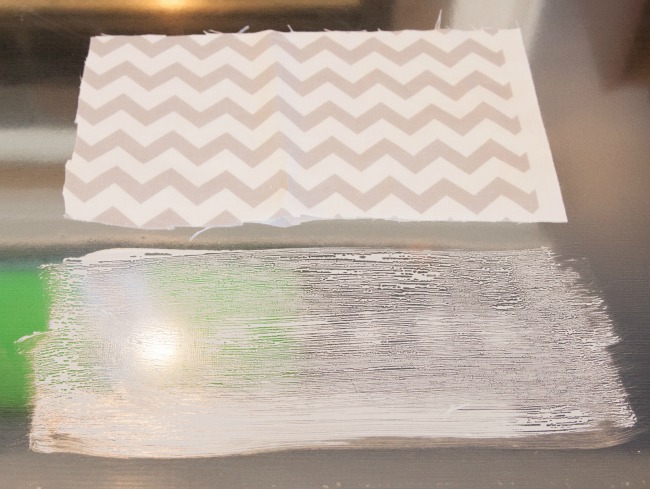 Next, carefully place the fabric on top of the Mod Podge and smooth out all the bubbles using the foam roller. If needed you can stretch the fabric by the ends to make sure it's even and straight.
Let your bulletin board dry overnight.
Then attach your favorite photos, accessories and memos to the board and enjoy the finished product!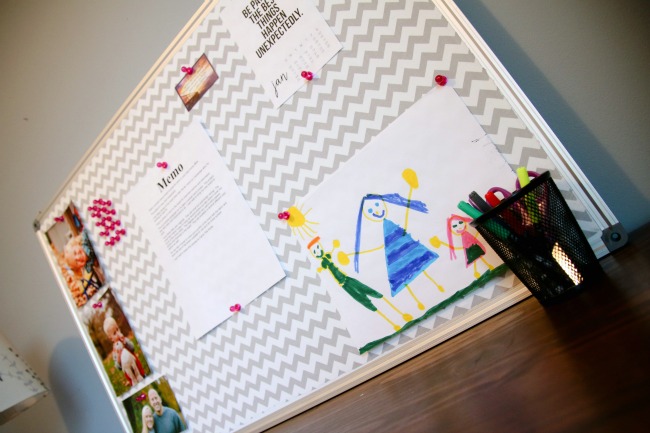 Here's a little virtual tour of my bulletin board:
I had to include some of my favorite photos. The magnets make it easy to switch out the photos when I'm ready for something new.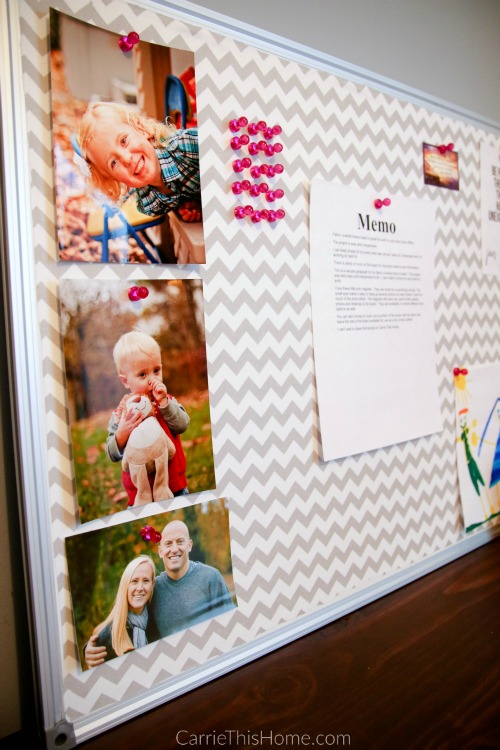 One of my all-time favorite Bible verses earned a spot on my board as well.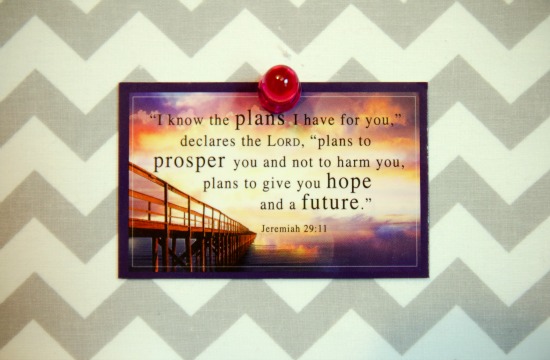 This super cute free calendar from Live Laugh Rowe keeps me on track.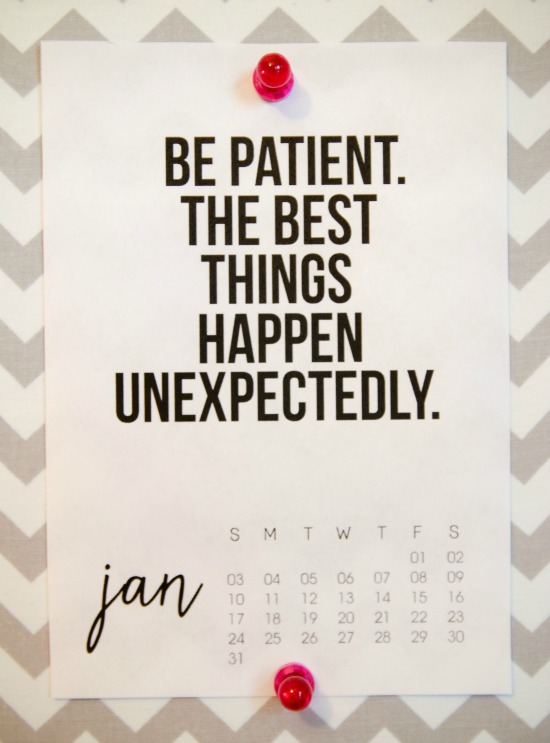 My fabric covered bulletin board now has it's home on my desk at work. As I'm working I often gaze up to the photos and verses that remind me of how blessed I am.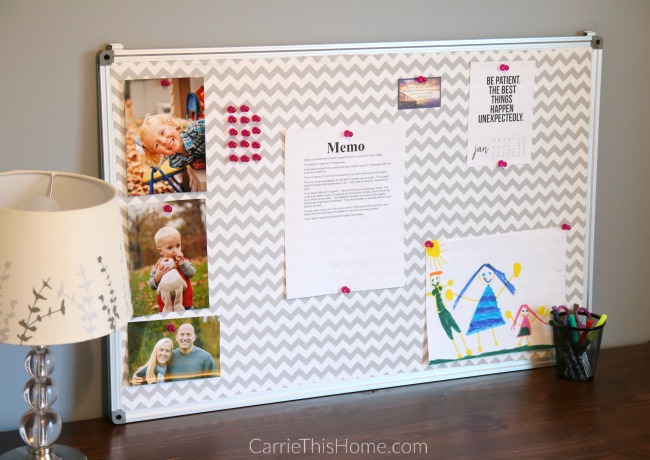 This easy tutorial was shared at: DIY Like A Boss, Craft Frenzy Friday, Weekend Wind Down, Skip The Housework Saturday, Tutorials and Tips, Work It Wednesday, Creative Spark, Inspiration Monday, Creative Corner and DIY Collective.
P.S. - If you're a blogger

, you HAVE to check out *this course. I took it myself and highly recommend it. (*aff link)