Today I'm going to give you just a little glimpse of how crazy and fun my family is.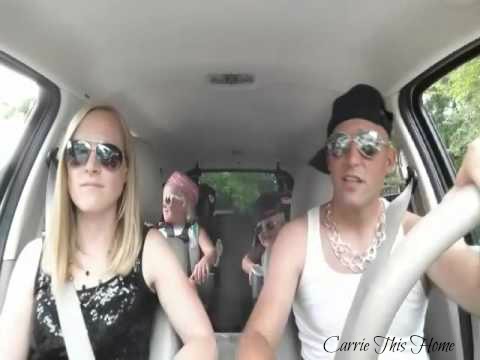 One thing I love about my Hubby is how he makes me laugh. This guy is seriously crazy (in a funny way). I'm the more serious one so sometimes he has to help me let loose a little.
This was one of those times.
This summer a group of friends from our church issued a lip synch in the car challenge. We took this challenge somewhat seriously. The hubby and I spent an entire evening trying to find the perfect song. The song had to be funny. Something memorable. Something family friendly.
We finally decided on the song Rapper's Delight by the Sugarhill Gang. It was funny, memorable, and family friendly (well most of it). We both love the song, and it had the potential to be epic….if we could pull it off.
I printed off the song lyrics and tried to memorize my part. My memory is not the greatest so this was a challenge for me.
Originally it was just going to be the hubby and I in the video. At the last minute, we decided to do a shot with the kids and see how it went.
We told the kids to act cool and bob their heads to the music. We expected to do a couple takes and then do the video over with just the Hubby and I.
To our surprise, the kids nailed it!
The video was FAR better with the kids.
My son's giggles are probably the cutest thing I've ever heard.
My daughter got into character instantly. 45 seconds into the video she shushed her giggling brother since he wasn't following directions!
My Hubby's ghetto necklace is actually mine!
Rappers Delight Lip Synch
We should do family lip synchs more often. We all had a blast!
Now for a life update:
You may have noticed I've not been writing much here on Carrie This Home.
I have a good reason for that.
I've had a very busy summer! My hubby is a teacher and he's been off for the summer. We've been busy traveling, working on projects and enjoying the kids so the blog took a back seat for awhile. Having all four of us at home all the time didn't leave me much time for blogging.
That's okay with me.
So what does this mean for you? Look forward to some great posts at Carrie This Home starting this month! I literally have a gazillion ideas that I can't wait to share with you! I just need to get the time to sit down and write it all down for you.
So stay tuned for some exciting stuff at Carrie This Home!
What have you been up to this summer?
This post linked to Saturday Sharefest.
P.S. - If you're a blogger

, you HAVE to check out *this course. I took it myself and highly recommend it. (*aff link)