I've seen lots of green smoothie recipes out there lately. They all look great but there's one problem.
Most smoothie recipes call for a lot of fruit. I have no problems with fruit but it add a lot of calories.
Then I had this thought:
Could I make my own version of a green smoothie with tons of spinach, and lower calories but make it taste awesome?
So I went to work. I tried some different combinations and after lots of experimenting, I found the combination that works.
I may have been so excited that I jumped up and down in my kitchen to celebrate.
Yes I am that dorky!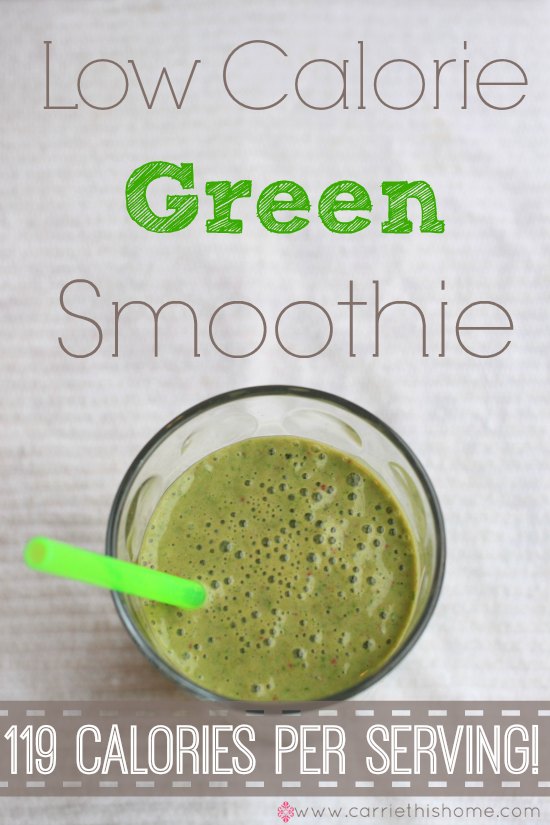 By the way, BOTH of my picky eaters kids LOVE this smoothie and beg for more. I'm not joking–here's the proof: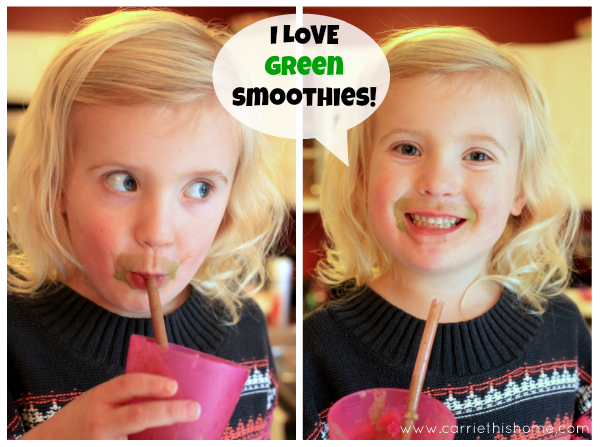 Have you ever heard a kid beg for something where the main ingredient is spinach?
Me neither. Until I started making this low calorie green smoothie.
Needless to say I'll be making a lot of these!
Here's the calorie count:
One cup banana: 105 calories
One cup strawberries: 48 calories
1.5 TBSP honey: 90 calories
Light Greek yogurt: 90 calories
Baby kale: 10 calories
Each smoothie makes about three servings and totals in 357 calories. Total calories per serving = 119
Let's be honest. This smoothie is not the prettiest drink. Does it look disgusting? Yes. But trust me–it tastes awesome so the looks are worth ignoring.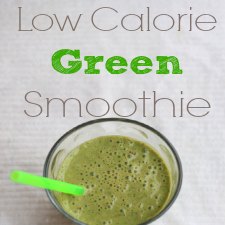 Low Calorie Green Smoothie
2014-01-08 09:23:17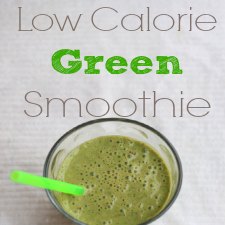 Serves 3
An awesome way to sneak more veggies into your diet! This tastes like a strawberry banana smoothie but is packed with vitamins!
Ingredients
1 cup frozen strawberries
1 ripe banana, cut in several chunks
2/3 cup cold water
1.5 TBSP honey
1 5.3 oz light strawberry Greek Yogurt
2 cups baby spinach (packed down into measuring cup)
1/2 cup baby kale
Instructions
Put ingredients into blender in order.
Blend for about a minute until all ingredients are blended up. I usually have to stop the blender and push the spinach down towards the bottom to get it to mix in. I do this a couple times until the mixture is all blended up.
Pour into cups and enjoy a sweet way to eat more veggies!
Notes
This smoothie can be made using different frozen berries. Feel free to make your own version!
Carrie This Home https://carriethishome.com/
This post linked to
Whimsy Wednesday
,
Whatever Goes Wednesday
,
Work It Wednesday
,
Delish
,
Moonlight and Mason Jars
,
Eat. Create. Party
,
The Weekly Creative
,
Ladies Only Blog Share
,
Serenity Now
,
Weekend Wind Down
,
Link Party Palooza
,
Saturday Show and Tell
,
Saturday Sharefest
,
DIY Sunday Showcase
,
Inspiration Monday
,
Give Me The Goods
,
Do Tell Tuesday
,
Awesome Things Tuesday
,
Wine'd Down Wednesday
,
Family Fun Friday
,
The Weekend ReTreat
,
In and Out of the Kitchen
,
Tutorials and Tips
,
Think and Make Thursday
, and
Hit Me With Your Best Shot
.
P.S. - If you're a blogger

, you HAVE to check out *this course. I took it myself and highly recommend it. (*aff link)