I wanted to share something that God has been putting on my heart a LOT lately.
Like most parents, I struggle with how to accomplish all the things on my to-do list.
To be honest, most of them don't get done.
I feel like I'm treading water most days.
I spend a lot of my time doing things that have to be done. I have to do the laundry. I have to pay the bills. I have to water the flowers. I have to clean the house.
I also waste a lot of time. I waste time on Facebook. I waste time on this blog. I waste time on Pinterest.
I got to a place where I really had to ask for help and guidance from God as to how I should be spending my time each day. I want to make sure I can spend time with the kids, get all the work done, and enjoy a little free time.
As if accomplishing all three of those in one day is possible.
It's not. But I'm learning that's okay.
When deciding how I need to spend my time for the day, I kept hearing this:
Time spent with your kids is NEVER time wasted.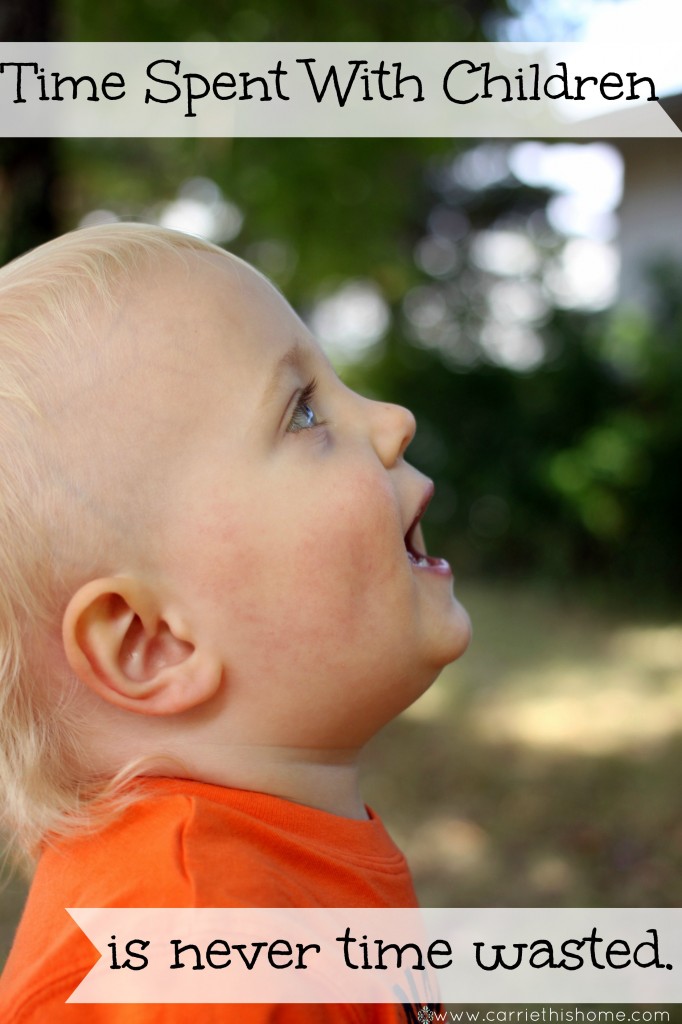 At the end of my life I'm never going to say "I spent too much time with my kids."
I don't want to waste my time on unimportant things.
Jesus said "Let the children come to me, and do not hinder them…" Luke 18:16. Obviously Jesus thought spending time with children was important enough to rebuke the disciples for pushing them away.
How many times a day do I push my kids away to do the laundry, comment on one more blog, get one more thing done?
Gulp. I'm guilty of that sometimes.
James 1:17 says "Every good gift and every perfect gift is from above, coming down from the Father of lights with whom there is no variation or shadow due to change."
My two children are each a miracle and a great gift from the Father. Yes my little gifts need diaper changes, discipline, and sometimes drive me crazy but they are gifts none the less.
Spending time with my kids will be time well spent.
The laundry can wait. I can put the computer away. I'm going to enjoy spending time with my kids while I can.
This post linked to Whimsy Wednesday, Cheerios and Lattes, and Serenity Now.
P.S. - If you're a blogger

, you HAVE to check out *this course. I took it myself and highly recommend it. (*aff link)