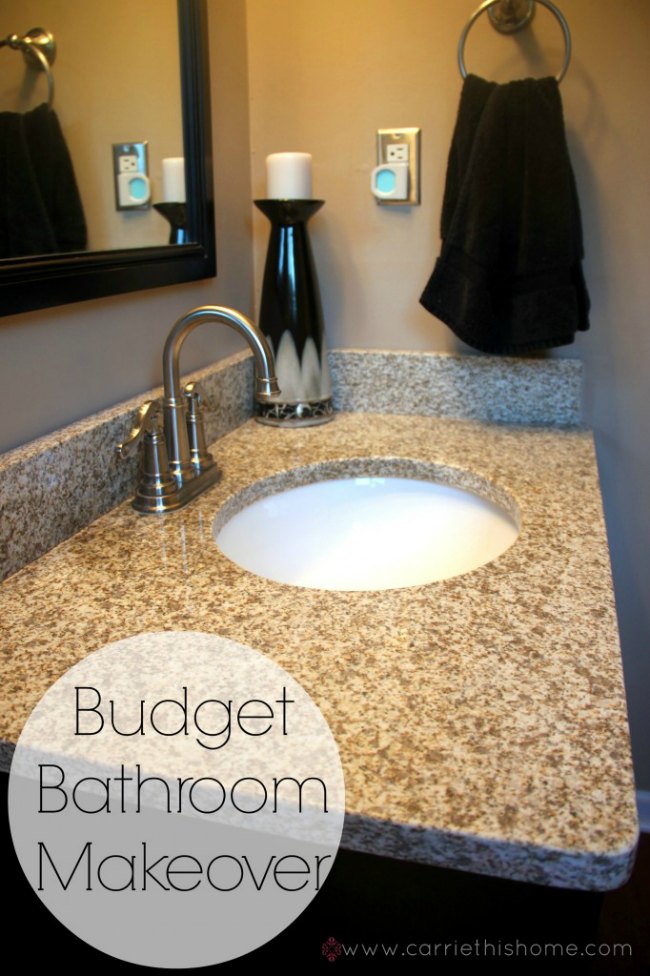 Recently the hubby and I were on a date night and we ended up at our local home improvement store. For fun.
That's what happens when you become a DIY blogger.
Somehow we ended up in the bathroom vanity section and got inspired to replace the counter top in our guest bathroom. We'd been talking about replacing it for years but never got around to doing it.
One thing I learned recently is you don't have to spend a lot of money to make a big impact.
Our little budget bathroom makeover is a great example of this concept.
We have a small guest bathroom on our first floor. Since it's a small space we've re-decorated it at least four times in the six years we've owned the home.
At the start of this project, the bathroom didn't look that bad.
But take a closer look at our sink:
See those dark spots in the sink? No that's not dirt. Those are scratches in the bowl & they have been driving me CRAZY.
No matter how clean the sink was, it never looked clean. This is not the way I want to greet guests.
There was also a nice big chip on the corner.
So after getting some out-of-the-blue inspiration, the project began. We decided to replace the counter top and sink with a pre-made counter sink set. Now we just had to pick one!
Work With What You Have To Save Money
Once we got serious about the project we had an important decision to make. Most counter top sink sets are sized for faucets with either four inch or six inch spacing. To be honest the counter top sets we liked the best would require us to get a different sized faucet.
But getting a different faucet would cost a lot of extra money. Since our existing faucet was really nice and fit our style, we decided to keep it and find a counter top to match it.
I'm so glad we did because this step saved us at least $80.00!
*this is a sponsored link from Decoraport.com. See my full disclosure here.
So my first tip for a budget bathroom makeover is to pick out your bathroom's weaknesses and work on those. Since the counter top was the clear weak link, that's what we focused on. Everything else like the cabinet, *mirror and fixtures were up-to-date so we decided to keep them to save money.
We bought a golden colored granite counter top and sink set at our local home improvement store. We spent a total of $188.00 on the counter and sink and opted to buy the extra side splash for an extra $20.00. Buying the side splash was worth it to get a cohesive look. We brought our new purchases home & got to work.
And when I say "we got to work" I really mean the hubby got to work. My hubby does all the grunt work for our projects & I'm so thankful he's gifted in craftsmanship!
We removed the old counter top.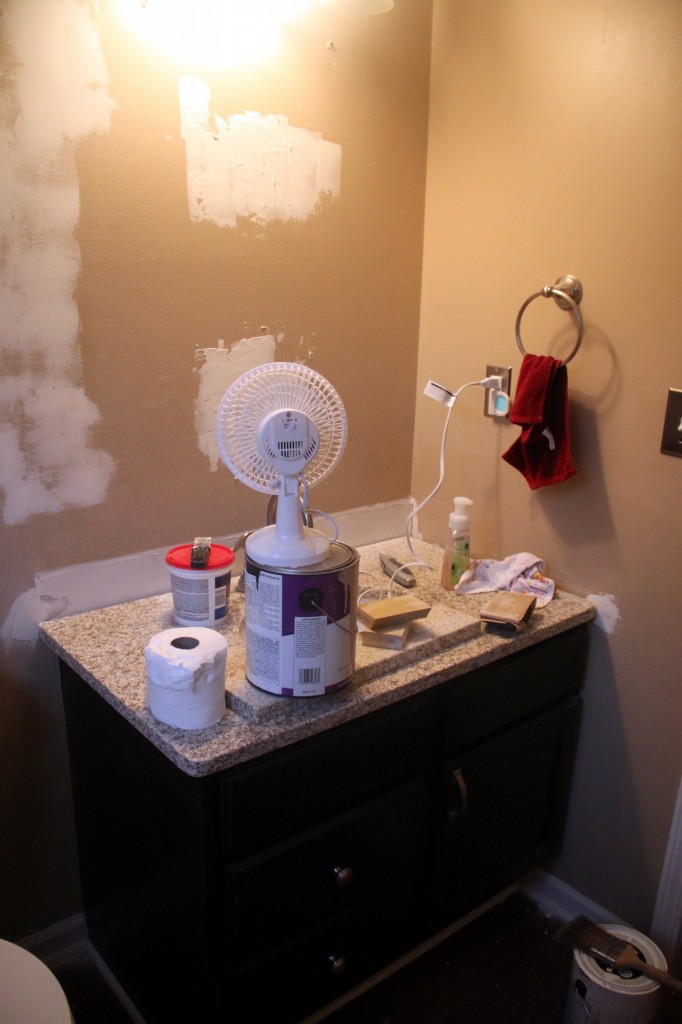 While we were at it, we patched up some wall imperfections. By the way, when mudding and sanding, don't be like us and leave everything out to gather up dust or else this will happen.
Hello dust!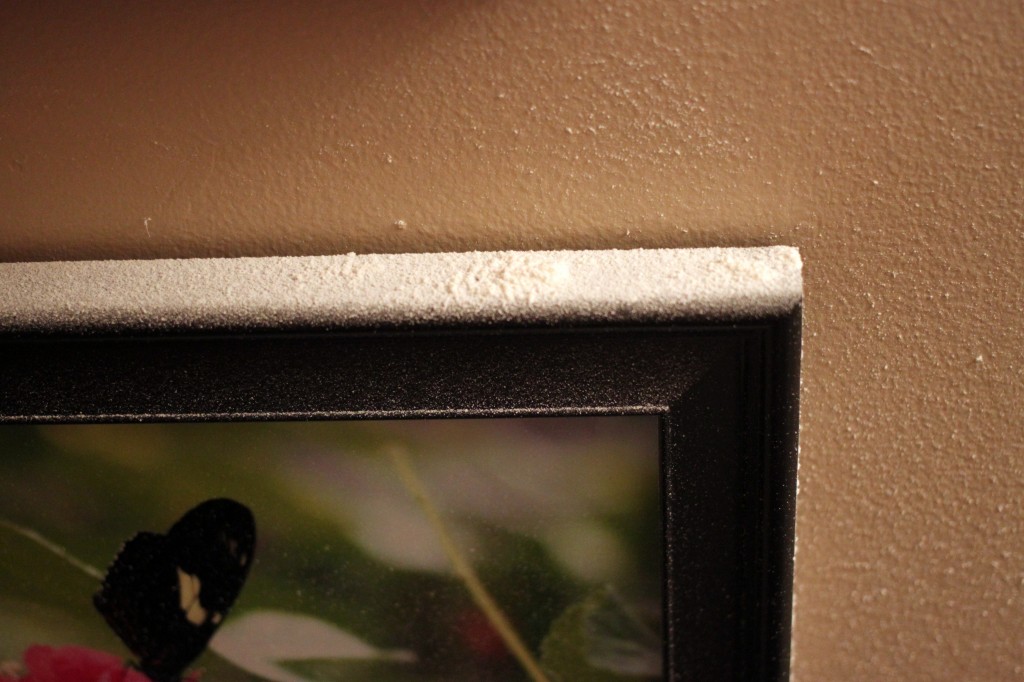 Now For The Big Reveal!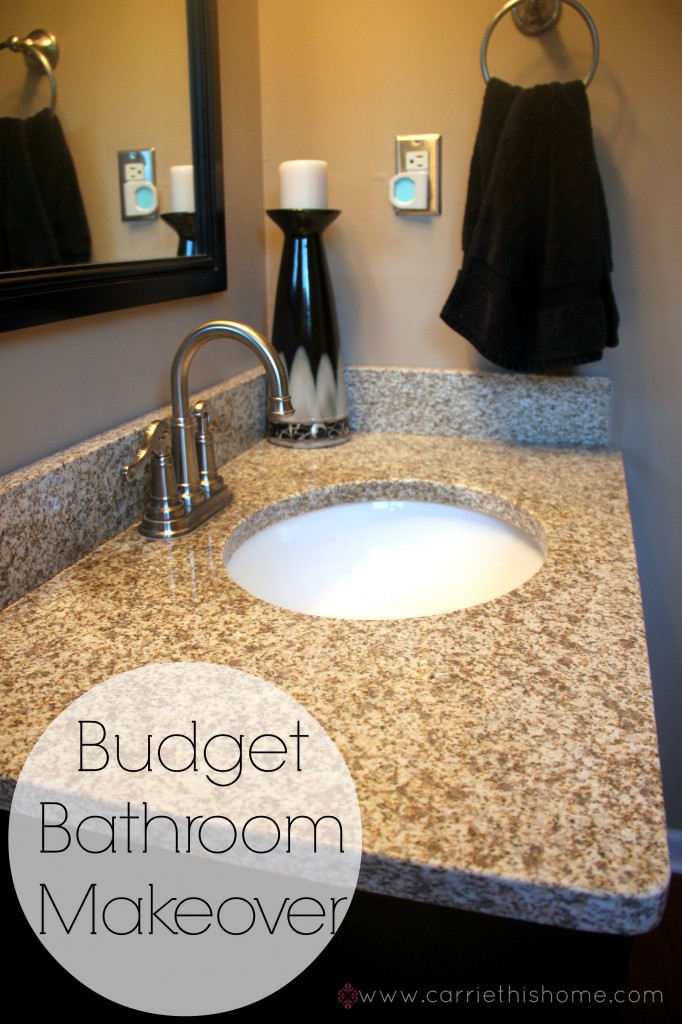 I am now loving the fact that my new white sink doesn't have any black chips in it!
The corner is now a smooth solid piece of granite! This looks so much better than the old chipped counter!
So the moral of this story is….you don't have to spend a lot of money to make a big impact!
Here's some other small ways you can change the look of your bathroom without spending a lot:
Paint–a new paint color can add a completely different mood and look to your bathroom.

Paint the cabinets {The cabinet in this bathroom used to be an oak color. The Hubby painted it black which gave it a much more modern look}
Update fixtures
Add a punch of personality with some cute accessories
This post linked to Inspire Me Please, Think Pink Sunday, Suburbs Mama, Give Me The Goods Monday, Create It Thursday, Home Stories A to Z, Do Tell Tuesday, Whimsy Wednesday, Throwback Thursday, Work It Wednesday, Wine'd Down Wednesday, Hit Me With Your Best Shot, The Makers, Project Parade, and Tatertots and Jello
P.S. - If you're a blogger

, you HAVE to check out *this course. I took it myself and highly recommend it. (*aff link)