For our 15th wedding anniversary, my hubby gave me a budget modern farmhouse master bathroom makeover! We wanted to transform our bathroom into a soothing clean space. As we designed the bathroom, I was drawn to the farmhouse look but I wanted more of a modern twist. I've definitely derived some design inspiration from Joanna Gaines of Fixer Upper (which happens to be one of my favorite shows) One of the best parts of this budget makeover is that all the materials we used are very affordable!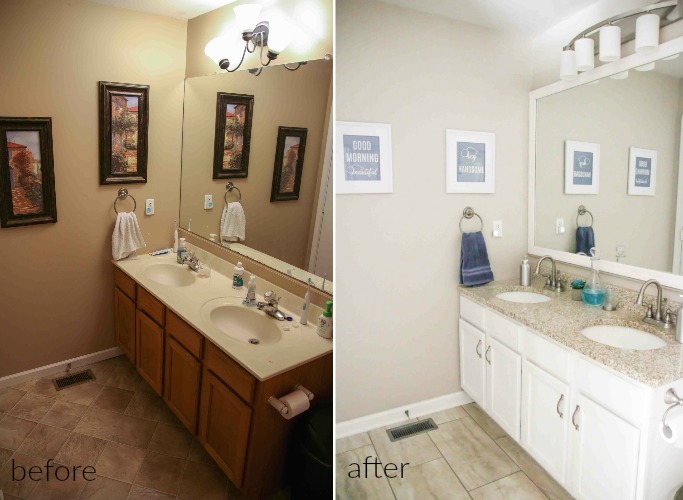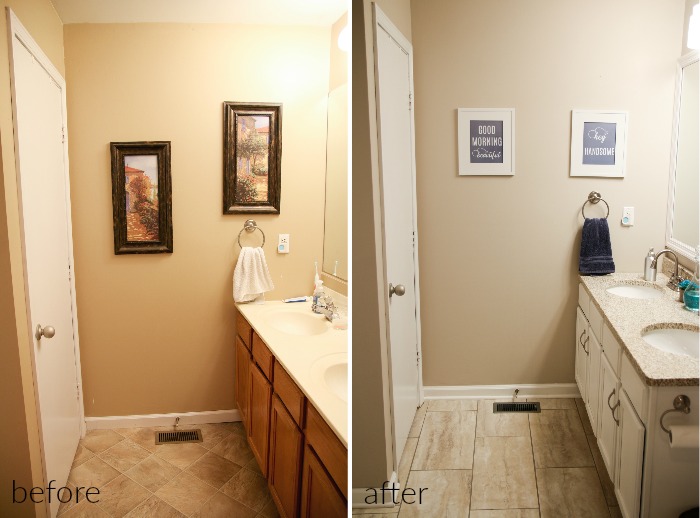 For your convenience, this post contains affiliate links. See my full disclosure here.
Budget Modern Farmhouse Master Bathroom Makeover Materials:
Most of these items are less than $20 and make the perfect addition to your modern farmhouse style!
We're so happy with the results! It's difficult to pinpoint my favorite part of our new bathroom (there's about 5-6 things that I constantly mention as my favorite part) I'll give you a quick tour of our bathroom so I can highlight some of my favorites.
Budget vanity and countertop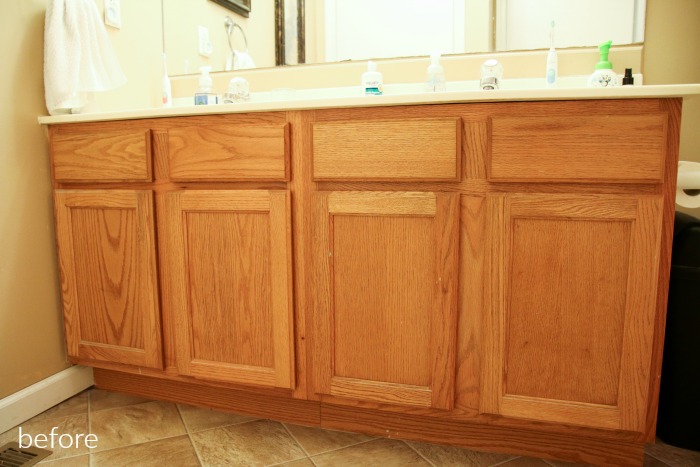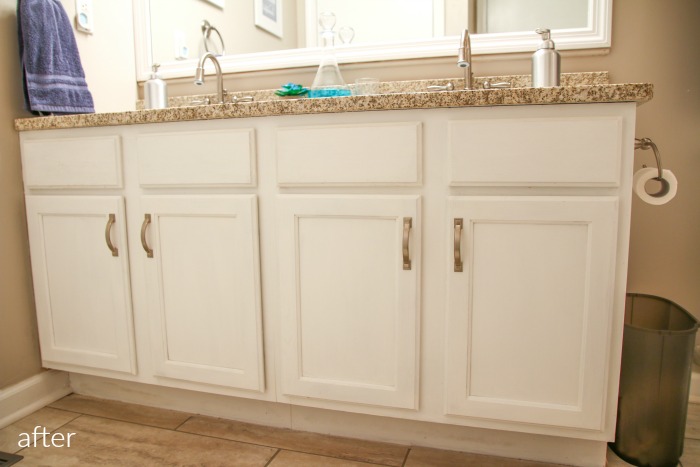 You can make a big impact without spending much by making the most of the cabinets you already have. We painted our existing cabinets with a fresh coat of white paint. Then we added some cabinet pulls, a countertop and new faucets.
Speaking of the faucets, I have to show you something really cool!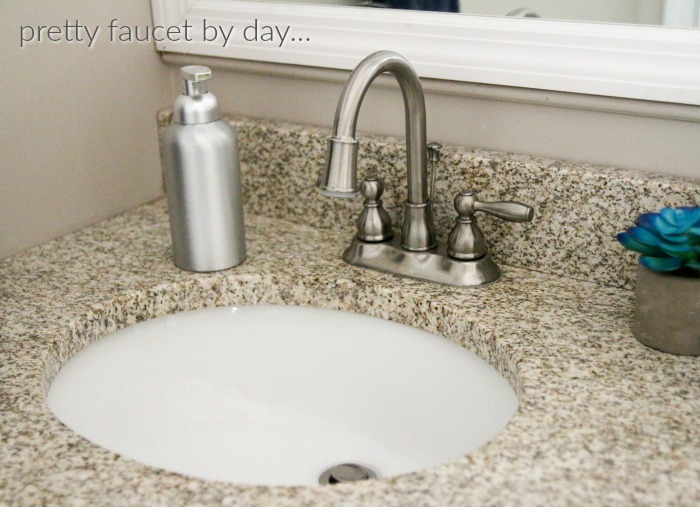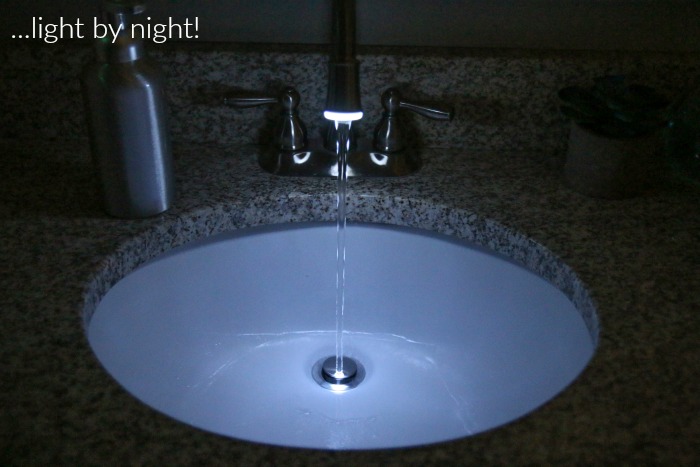 The LED faucets illuminate the sink when the water is turned on! I know it's a gimmick but I really like them. We liked the faucets so much we bought another one to use in our guest bathroom.
In full disclosure, one of the faucet lights now works just intermittently, although the water flows out just fine. In the product review, some buyers mentioned similar problems. HERE are some other LED faucets that may be more reliable. Even with the problem we had, I'm still really enjoying the faucets.
Modern Farmhouse Storage
We needed something to bring warmth into the bathroom since there are so many cool colors in the space. This beautiful handmade shelf provided that source of warmth (and storage too!) I paired it with a candle holder I bought on a vacation and this print from Hebrews 6:19.
Affordable modern farmhouse lighting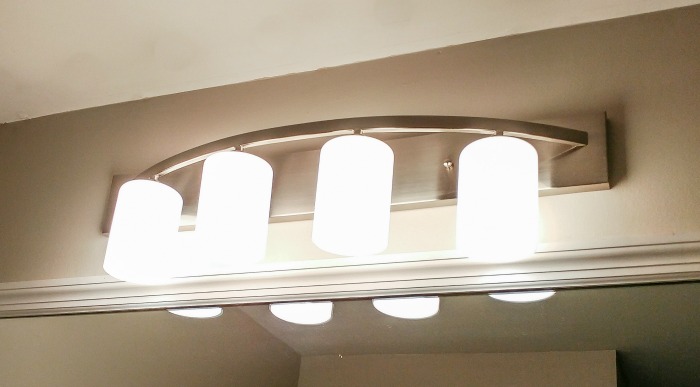 Our new bathroom light fixture is not only a bargain but it also has the perfect mix of modern style and functionality. This light was sooooo much better than the puny three bulb light we used to have.
Easy and affordable flooring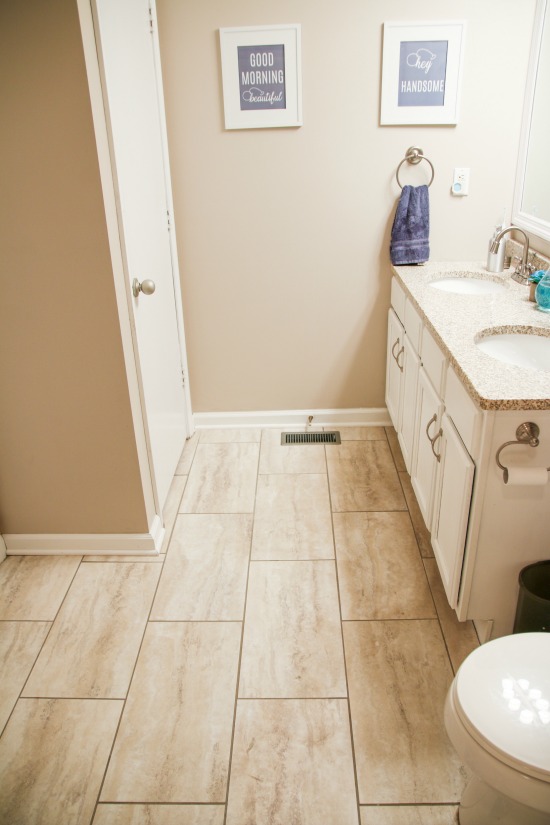 Believe it or not, this flooring is peel and stick vinyl tile! You can install it and use grout in between the tiles to give it a realistic look. We LOVE this floor because it was so easy for my husband to install and it's a great affordable alternative to traditional marble. I love this product so much that we will probably use this for any future tiling projects.
Bathroom accessories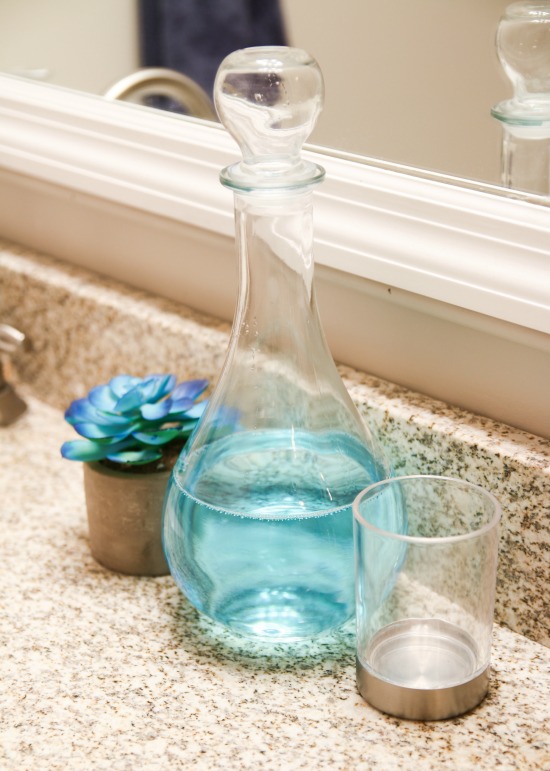 Mouthwash becomes a statement piece in this simple but pretty wine decanter paired with this bathroom cup. Making something you use every day into a design element is an easy and affordable way to decorate.
Good morning beautiful print set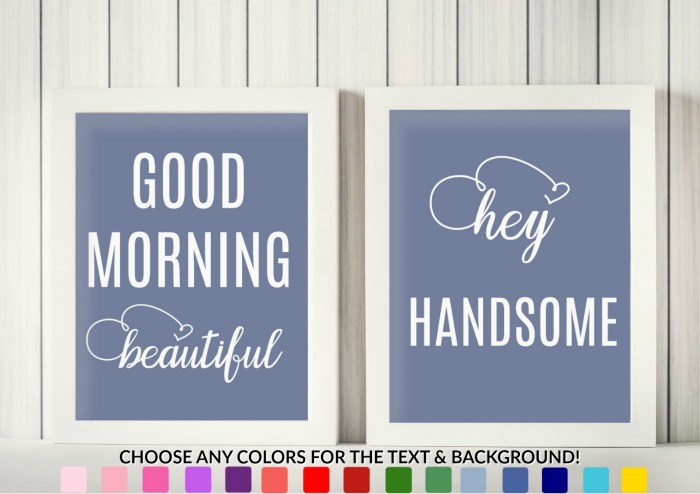 To help commemorate our 15 year wedding anniversary, I created this print set in blue to match our towels. Printables are an affordable way to add a little personality and color to a space. The printable set is custom made in any color you choose and is available here.
Farmhouse baskets make great accessories!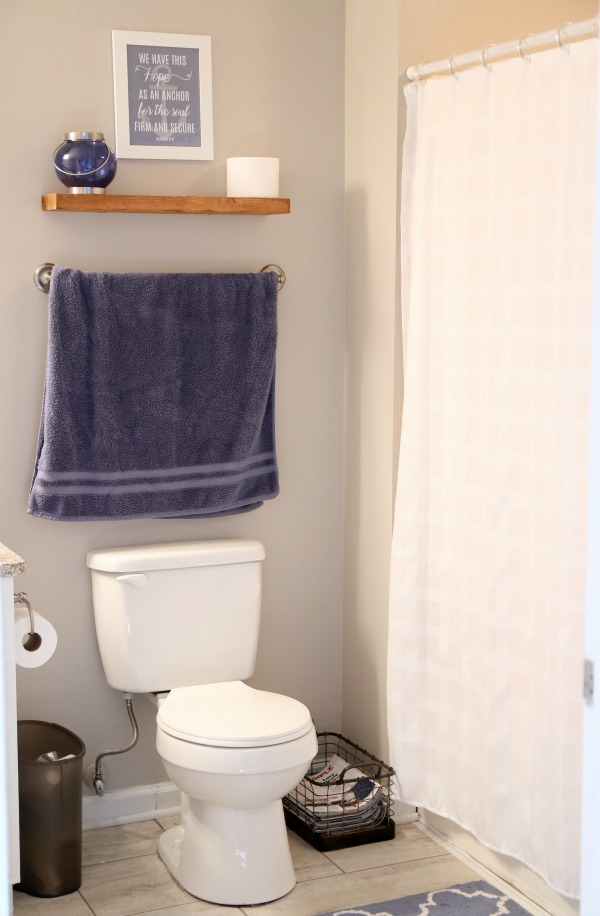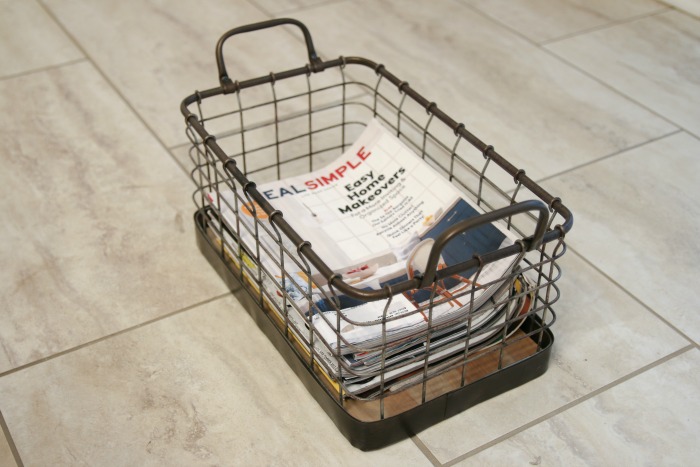 My mother in law gave me this pretty wire basket for my birthday. It's the perfect size for our bathroom reading materials (the regular price is high so make sure you go to the website and use the 40% off coupon!)
Galvanized items are key to the farmhouse look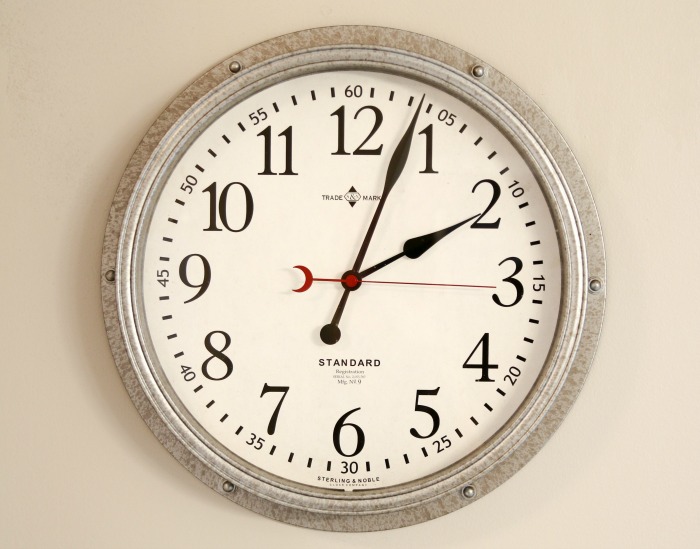 My new galvanized clock is perfect to help me keep on time while getting ready in the morning. Accessories with a galvanized metal look fit in perfectly with the farmhouse style.
Budget modern farmhouse bathroom makeover full source list:
I hope you've enjoyed the tour of my new bathroom! What was your favorite part?
P.S. - If you're a blogger

, you HAVE to check out *this course. I took it myself and highly recommend it. (*aff link)