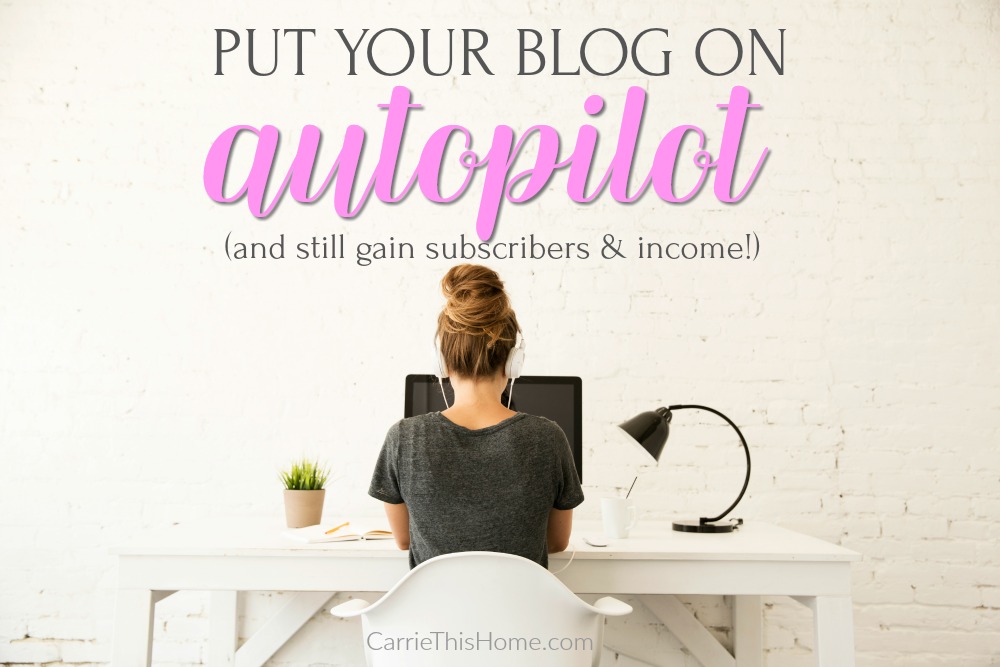 Sometimes life gets crazy and things don't turn out the way you planned. What happens when you have to put your blog on hold after putting in years of time and investment? I should know because that happened to me. Things in my personal and professional life changed, along with my schedule and suddenly I had to put my business on the back burner. Over the past 6 months I put my blog and online business on autopilot and surprisingly one of my subscriber lists grew by 44%, my main subscriber list grew by 28% and income from my Etsy shop has grown substantially! It is possible to put your blog on hold and live your life while still gaining subscribers and income. Keep reading & I'll show you how to put a blog on autopilot.
How to put a blog on autopilot
Putting your business on hold will take some time at first but it's worth it. You'll be setting things up ahead of time which will allow you to put your blog on hold so you can focus on other things, all while the work is being done for you. The key is having the right tools. There were a couple of tools I used that were essential to helping my content reach more people and turn those people into subscribers and customers.
First, do some research and find out what blog posts bring in the most traffic. Then pair those posts with a freebie to turn those casual readers into subscribers. You might be wondering 'what is a freebie?' Watch the video below and I'll explain it.
How to set up a freebie
(tool used: Mad Mimi)
For your convenience, I've included some affiliate links to tools I use and recommend. My full disclosure is here.
Reach more people on social media
Next, we need to get your freebie content in front of as many people as possible, all while saving time. Look at your blog stats and see where most of your traffic is coming from. If most of your traffic referrals are coming from two or three social media platforms, then those are the ones you'll focus on, since it's already working. Don't worry about the rest. You can put all your social media marketing in once place and save time by using one tool within your WordPress dashboard. It's called CoSchedule and I'll show you how to use it in the next two videos.
Part one: save time by scheduling social media while you write a blog post
(tool used: CoSchedule)
Part two: how to turn social media followers into subscribers
(tool used: CoSchedule)
How to turn Pinterest viewers into subscribers
The next tip is to spend time on the social media outlet that gives you the most return. For most bloggers, Pinterest is the biggest source of referral traffic. Most bloggers need to set up an autopilot plan for Pinterest. I suggest setting up an ongoing pinning schedule on Pinterest through Board Booster, and I'll show you how to do that in the next video.
(tool used: Board Booster)
Make sure your freebie is seen by every visitor on your blog
The next and probably most important step is make sure your freebie offer gets seen by as many people as possible. Don't be obnoxious but do make sure readers have plenty of opportunities to see your offer and sign up. I've put my offer in a couple key locations and I've seen a ton of growth as a result!
(tools used: Hello Bar, Mad Mimi)
How to make an income while on autopilot
Can you really make money while your blog is on autopilot? Yes, you can! In this video I'll show you exactly how I've made some income even while I put my blog on autopilot.
(tools used: this awesome blogging course, Mad Mimi)
Resource list for how to put a blog on autopilot:
Want some more great blog tips? Click here to subscribe to my exclusive email list just for bloggers and online entrepreneurs so you don't miss a great tip!
I hope these videos have been inspiring and helpful to you. If you have a question, feel free to leave a comment below.