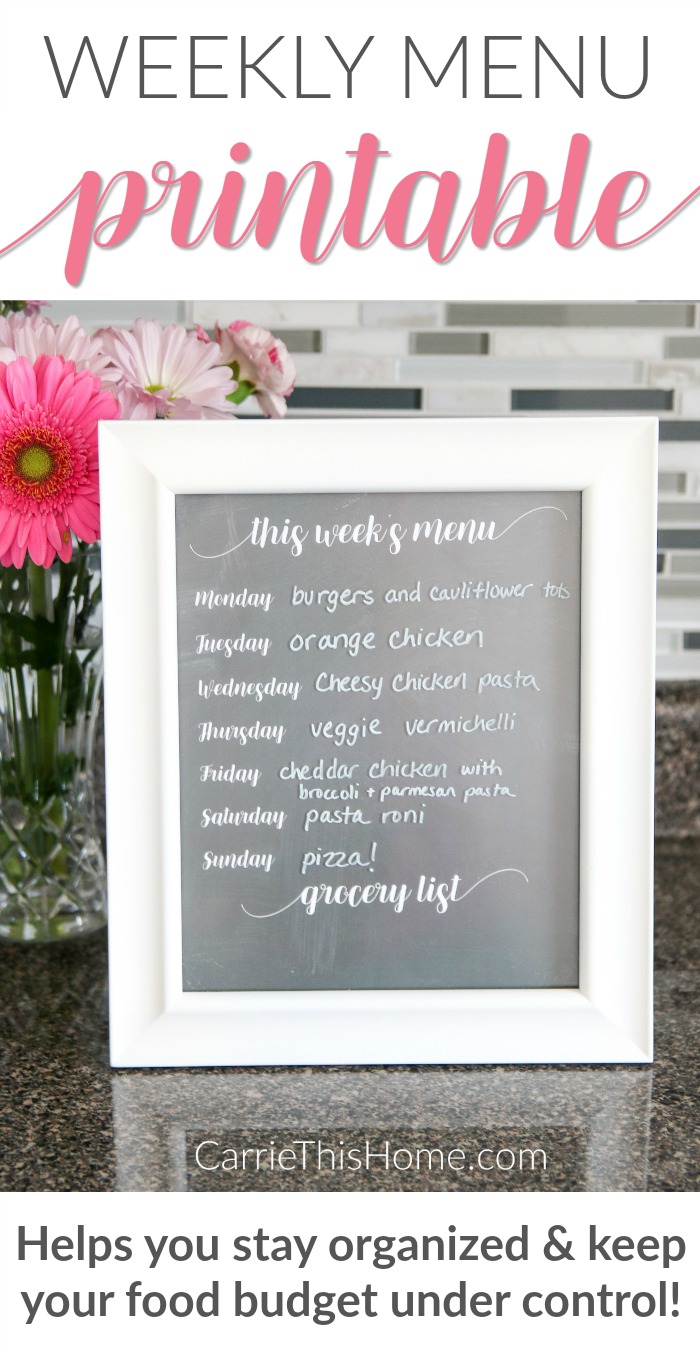 What's for dinner? Most mothers hate to hear those words and I bet you do too. By the end of the day you're probably so tired you're ready to throw in the towel and let the imaginary chef cook up a meal. I can't give you an imaginary chef (sorry) but I can give you something that will organize your meals for the week and keep your food budget under control. This weekly menu printable will help organize your dinners ahead of time saving time, money and your sanity!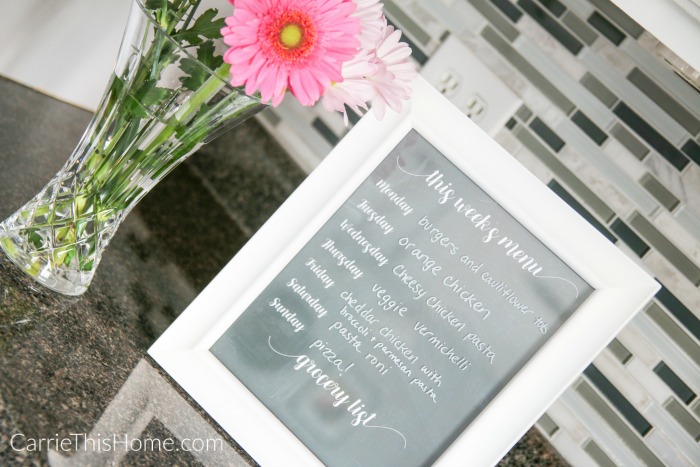 For your convenience, I've included some affiliate links (at no extra cost to you!) My full disclosure is here.
Weekly Menu Printable
weekly menu printable (get it for free HERE)
8×10 frame
Simply print your weekly menu printable, put it in an 8×10 frame and write out your menu for the week on the glass surface with a chalk pen like this one. This menu not only makes a super cute decor item for your kitchen, it's also a helpful way to keep your dinners organized and keep your food budget on track!
Here's how it works
Set aside about 15 minutes to plan out your meals for the next week. Take inventory of what food you have on hand and try to make as many meals as you can with what you already have. This will keep you from spending too much at the store. Then you can write down items you need to buy at the store. The less items that end up on your grocery list, the more money will stay in your pocket!
It takes just about 15 minutes to make a meal plan for the whole week. Once your meal plan is done, use a chalk pen and write out the meals on the frame displaying the weekly menu printable. Keeping the meal plan on display will help you remember what food to prep the day before the meal. The meals are displayed for everyone to see so you'll no longer hear that dreaded phrase "what's for dinner?"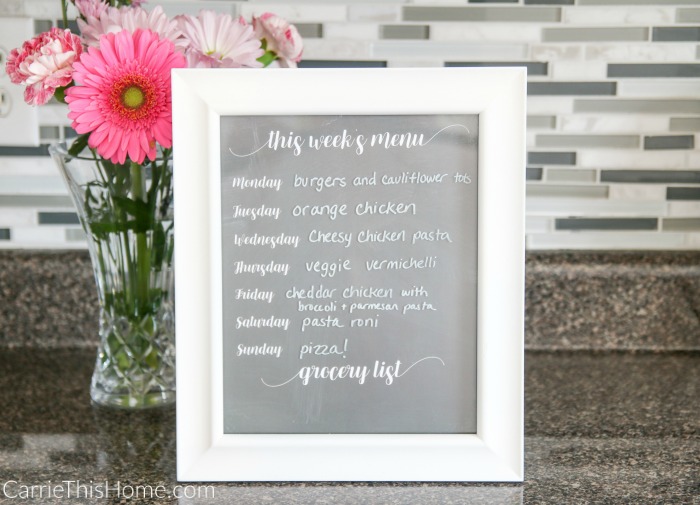 Get your free weekly menu printable!
I'm giving the weekly menu printable away for free to anyone who signs up for my email list! Just choose a list(s), fill in your email and I'll send you the weekly menu printable right away. If you're already a subscriber, just fill in the form and you'll be sent directly to the Weekly Menu Printable. Don't worry–you won't end up with duplicate emails from me 🙂
I really hope this printable makes your life a little easier. I know it has for me! I've been using mine for several weeks already and it's made a huge difference–I don't feel as frazzled as dinnertime approaches and I've been spending a little less at the grocery store!
If you're looking for some easy meals to include in your meal plans, check out some super easy recipes here.
What helps keep you organized for dinner time?
P.S. - If you're a blogger

, you HAVE to check out *this course. I took it myself and highly recommend it. (*aff link)