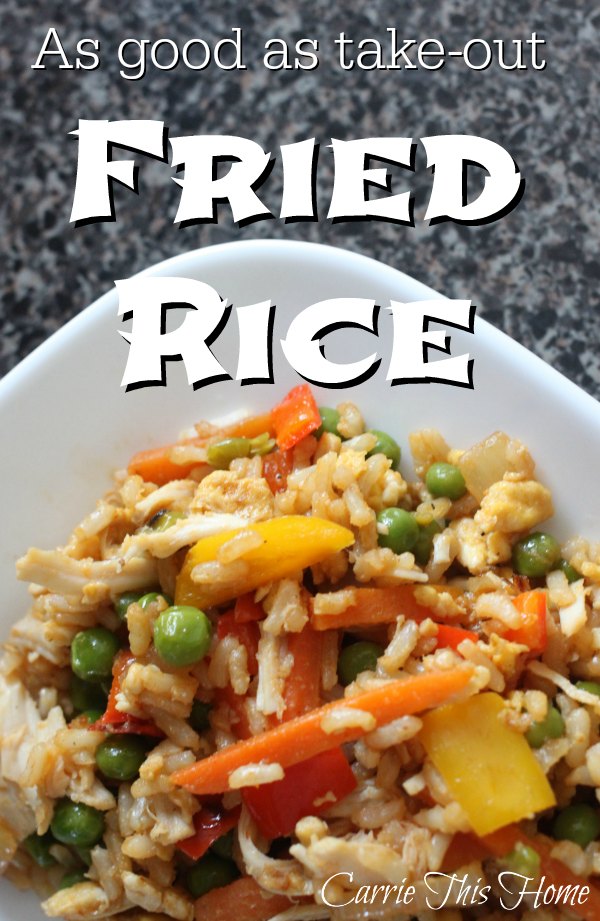 I have had a long love affair with fried rice. It's my go-to meal at Chinese or Thai restaurants. You just can't go wrong with it!
The Problem
We live on one income so eating out at a nice restaurant is not always an option. Sometimes I have expensive taste when it comes to food. What makes it worse is we'd have to get a babysitter so we could actually enjoy said expensive meal. Because of those circumstances, we don't go out on dates to Chinese or Thai restaurants very often. So my fried rice cravings go unmet.
The Solution
With the culinary genius of my Hubby, he created a fried rice recipe that tastes like take out but has a much lower price!
I married man that knows how to do tons of DIY projects, makes me laugh, AND knows how to cook.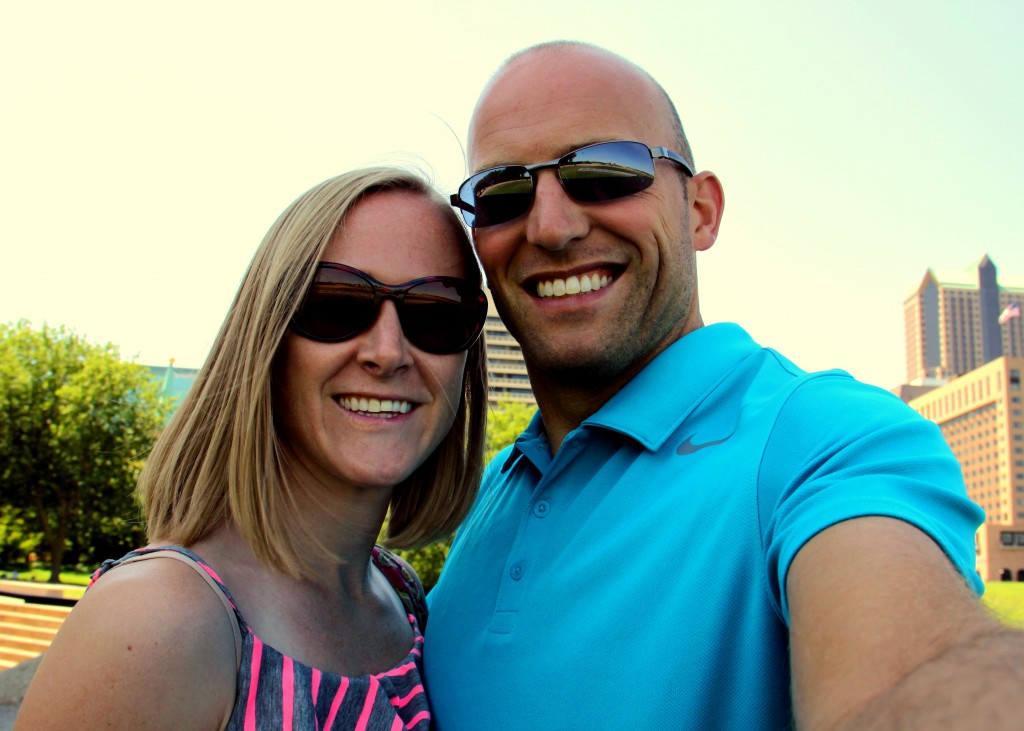 Yep. I am one blessed woman!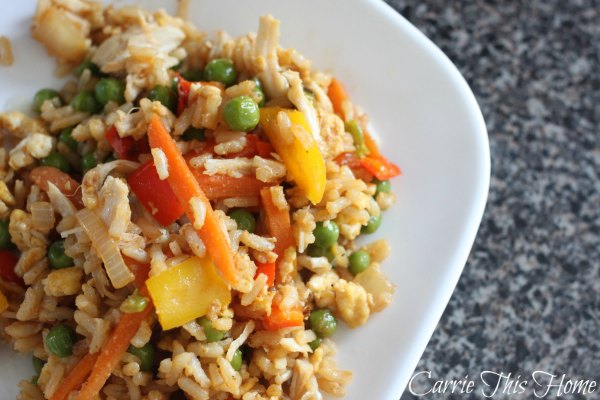 Most recipes I try need to have at least two of the three requirements:
Great taste
Frugal
Healthy
I rarely find recipes that hit all three. This one does.
Our As Good As Take Out Fried Rice recipe is loaded with vegetables and can be made with brown rice which makes this a healthy dinner option as well!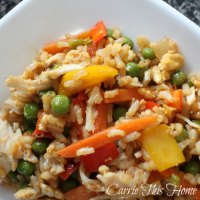 As Good As Take Out Fried Rice
2014-05-22 20:00:51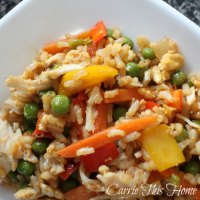 Serves 4
This easy Fried Rice tastes as good as the takeout from your favorite restaurant!
Ingredients
2 TBSP sesame oil
2/3 cup baby carrots, sliced long ways
1 cup frozen peas
1/3 cup chopped onion
1 cup chopped peppers
1/2 TBSP minced garlic
3 eggs
1/8 cup soy sauce (we use low-sodium)
2 cups cooked rice (we use a mix of brown and white rice)
1-2 TBSP Sriracha sauce (depending on how spicy you want it)
1 TBSP garlic powder
1 TBSP onion powder
1 cup pre-cooked chicken or other meat of choice (this is the perfect way to use leftover meat!) Skip this ingredient if you want a vegetarian version.
Instructions
Using a non stick pan, get the oil hot then saute all the vegetables on med-high heat until slightly tender (about 7 minutes)
Add minced garlic to vegetables and saute for 1 minute
Move veggies to side of pan
Scramble 3 eggs in other side of pan
Once the eggs are cooked and scrambled, stir everything together and add 1/8 cup soy sauce
Gently stir in the rice, garlic powder, onion powder and meat
Stir in 1-2 TBSP Siracha sauce (use more or less depending on how spicy you want it)
Take a taste test. If you wish, you can add any of the flavorings or spices to achieve the taste that fits you. Sometimes we drizzle a little more sesame oil and Sriracha sauce until the taste is just right.
Notes
This recipe can be made slightly healthier by using a 1/2 and 1/2 mixture of brown and regular rice.
Carrie This Home https://carriethishome.com/
This post linked to
Thrifty Thursday
,
Skip The Housework
,
DIY Sunday Showcase
,
Snickerdoodle Sunday
,
In and Out of the Kitchen
,
The Makers
,
Whimsy Wednesday
,
Inspiration Monday
,
Tasty Tuesday
,
Lovely Ladies Linky
,
Hump Day Happenings
,
Inspire Me Please
,
Serenity Now
, and
Saturday Sharefest
.
P.S. - If you're a blogger

, you HAVE to check out *this course. I took it myself and highly recommend it. (*aff link)