We are a one income family of four.  We're used to finding ways to save money.  We try not to buy things if we really don't "need" them.
We've been in this position for a long time & that's okay.  God has provided what we've needed over & over again and we're so thankful.
I'm a stay at home mom that can easily get lost in the mix of diapers, cleaning up messes, making time to play with the kids all while trying to get stuff done on the to-do list.  I can get burned out pretty easy if I'm not taking a little time to take care of myself.
One thing that really rejuvenates me is having time to myself in the morning before my family wakes up.  Starting the day off with a conversation with God, some reading, and coffee makes such a difference in my day.  God sets my mind on what's really important so I don't get lost in the craziness.  It's worth investing time to take care of myself so I can effectively take care of my family and fulfill my purpose in life.
So what does this have to do with spending money?  I'll explain.
Even If Money Is Tight, It's Worth Spending A Little To Invest In Yourself.
I love to have some quiet moments outside before the kids wake up.  We had a cute bench on our front porch but it was super uncomfortable.  As a result I never sat in it.  The other day I mentioned to the hubby that I'd like to get a new more comfortable bench.
Being the wonderful hubby that he is, he found one for a great price and bought it for me!  Here it is: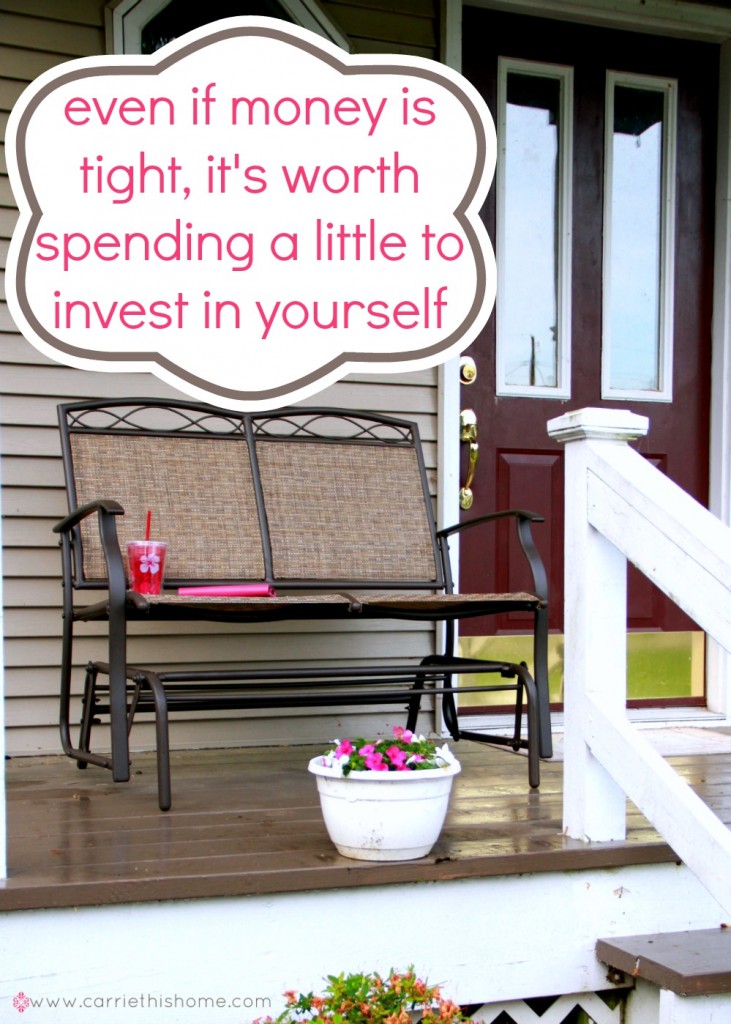 This may not seem like much but having a comfortable place to sit, some quiet time to myself & enjoy the weather makes the rest of the day so much better.  When my soul is well taken care of, I am a much better mom to my kids and wife to my hubby.   When I'm taken care of, I fulfill my purposes much more effectively.  Spending the money on this little bench helped me invest in myself, so that made the purchase totally worth it.
Don't get me wrong–we don't make big purchases all the time.  We try to spend our money wisely in the right places.
How I Invest In Myself
Photography
Last year the hubby and I bought a new DSLR camera and it's been one of the best purchases we've ever made. Photography is a hobby for both of us and having a nice camera gives us something to enjoy together.  Investing in quality time with your spouse is really valuable.  Not to mention we have a ton of awesome pictures!  The camera and lenses have been worth every penny.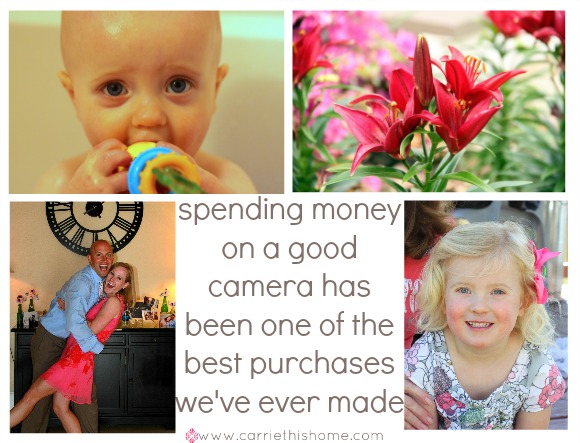 Carrie This Home
My blog has given me a creative outlet where I can share ideas and projects I'm excited about.  It took a little money to get it started and I believe it's been money well spent.  One of the proudest blog moments I've had is when a friend of mine read my post 12 ways to save money and decided to refinance her home.  This one move ended up saving her family a lot of money.  Knowing that I was able to share an idea that made a difference really gives me purpose.
Vacations
Another thing we're going to spend some money on this summer is a trip for just the hubby and I.  Nothing extravagant–just a couple nights away to enjoy some time together.  One mistake we made earlier in our marriage was not going on vacations for fear of it costing too much.  We missed a lot of opportunities to travel while we were both working with no children to worry about.
How Can You Invest In Yourself?
The answer will be different for everyone.  Here's some questions that might help you figure it out.
What do you like to do in your free time?
What are you really excited about?
Do you have any hobbies you enjoy that you're passionate about?
Think about something healthy you do that leaves you feeling better than when you started.
I'd love to hear from you.  Leave a comment below and tell me:
What's one thing you do just for yourself?
If you could buy one thing to invest in yourself, what would it be?
Have you been holding off on buying something?
This post linked to Inspire Me Please and Tatertots & Jello
P.S. - If you're a blogger

, you HAVE to check out *this course. I took it myself and highly recommend it. (*aff link)