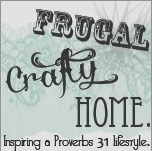 It's time to Blog Hop! Thanks for joining me and Jordan from Lily White. Designs, and Sara from Sneaky Spoons, and Amy From A Blossoming Life.
Frugal Crafty Home Blog Hop is a great place to check out every Monday to get great ideas for crafts, activities, home projects and ways to save money. You can come just to check out the links at the bottom of the post or you can share some of your own.
Link up!
If you have a post, project, or story you'd like to share, click the link at the bottom of this post.
Link up (directly to the specific post) of your crafts, frugal finds, recipes, DIY projects, clothing, happenings around the house, homemaking…etc!
Link back to this post…just put a little link at the bottom of your post.
Then come back here and click on the links that interest you and support other bloggers!
Featured post from last week:
My favorite link up from last week comes from Jenna at Rain On A Tin Roof.  She wrote an excellent post about How To Grow Your Blog With Pinterest. As a new blogger I can use all the help I can get so I'm really drawn to posts like this.  She had some really good tips; some of which I'm already doing and some I haven't.  It's always good to learn something new, isn't it?
Now it's your turn!





P.S. - If you're a blogger

, you HAVE to check out *this course. I took it myself and highly recommend it. (*aff link)