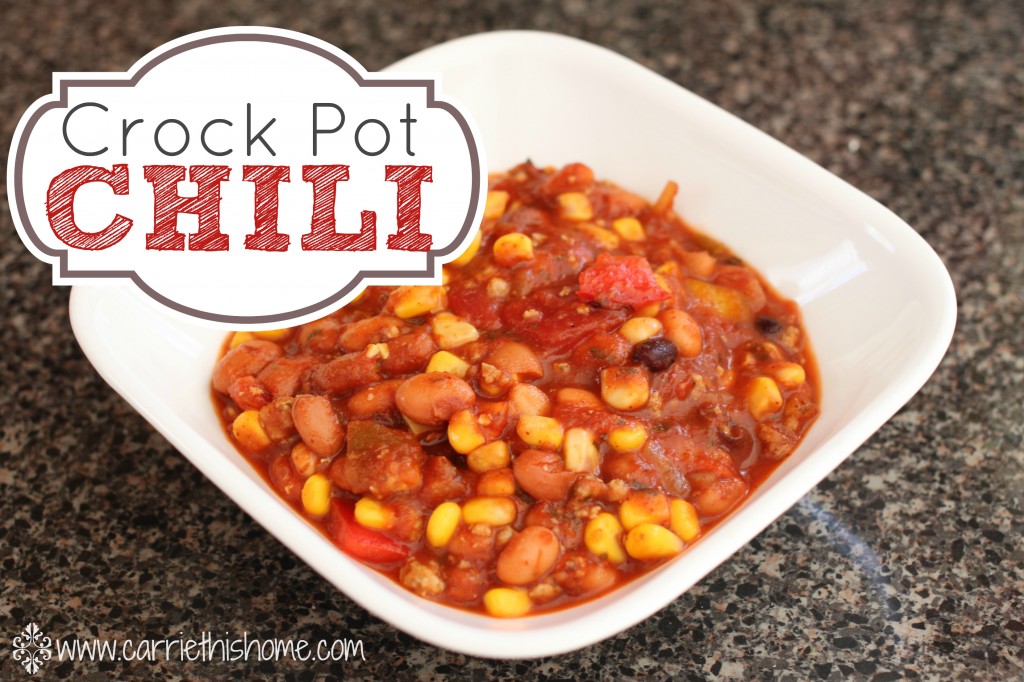 Lately I've been making a lot of chili. I've been tweaking chili recipes I found on Pinterest and I created a version that both the Hubby and I really enjoy. I've been trying to find recipes that are inexpensive, easy, healthy, and tasty. It's hard finding meals that hit all those marks. Thankfully, this one does!
We like this Crock Pot Chili because:
It's super easy to make
It makes a LOT (it fills my 6 quart crock pot)
It doesn't cost very much (you probably have most of the ingredients in your kitchen already)
It's healthy and tastes great–I use lean meat and sneak in a lot of vegetables
Ingredients:
24 oz tomato sauce
2 jars of your favorite salsa
1 bag frozen sweet corn
1 cup chopped bell peppers (any color)
3 TBSP chili powder
2 29 oz. cans pinto beans, rinsed
1lb. pre-cooked ground beef or ground turkey (leave out for vegetarian chili)
garlic powder to taste
tabasco sauce to taste
Directions:
Stir all ingredients in the crock pot. Cook on low for 4-6 hours. See–I told you it was easy!
Feel free to customize this recipe to your taste. You can also top the chili with sides including:
shredded sharp cheese, crackers, light sour cream, hot sauce. The possibilities are endless.
*This post contains an affiliate link for your convenience. See my disclosure here.
By the way, *this is the crock pot I use
and I absolutely love it! It cooks meals automatically with a built-in meat thermometer, it's big enough for roasts, and has a spill-proof lid that clamps shut. It makes cooking so simple and it's worth every penny!
P.S. - If you're a blogger

, you HAVE to check out *this course. I took it myself and highly recommend it. (*aff link)