Yesterday, the hubby and I were looking at a plastic storage container I found under our bed.    As we tried to think of what we were going to do with it, we both came up with very opposite ideas.
Me: "we could put this under the bed and use it for storage."
Hubby:  "we could use this for indoor sledding!"
Funny how men and women look at things so differently!
I'm all for finding activities that are fun to do while we're trying to keep cabin fever at bay.  So I agreed to try it on one condition: make sure it's safe.
The hubby got pillows and a big comforter and put them at the bottom of the stairs.  Then he got my daughter's bike helmet for added safety.
The end result?  We all had a blast!  My daughter got worn out from climbing up the stairs a billion times.  Wearing out a little one before nap time is a win-win situation for me!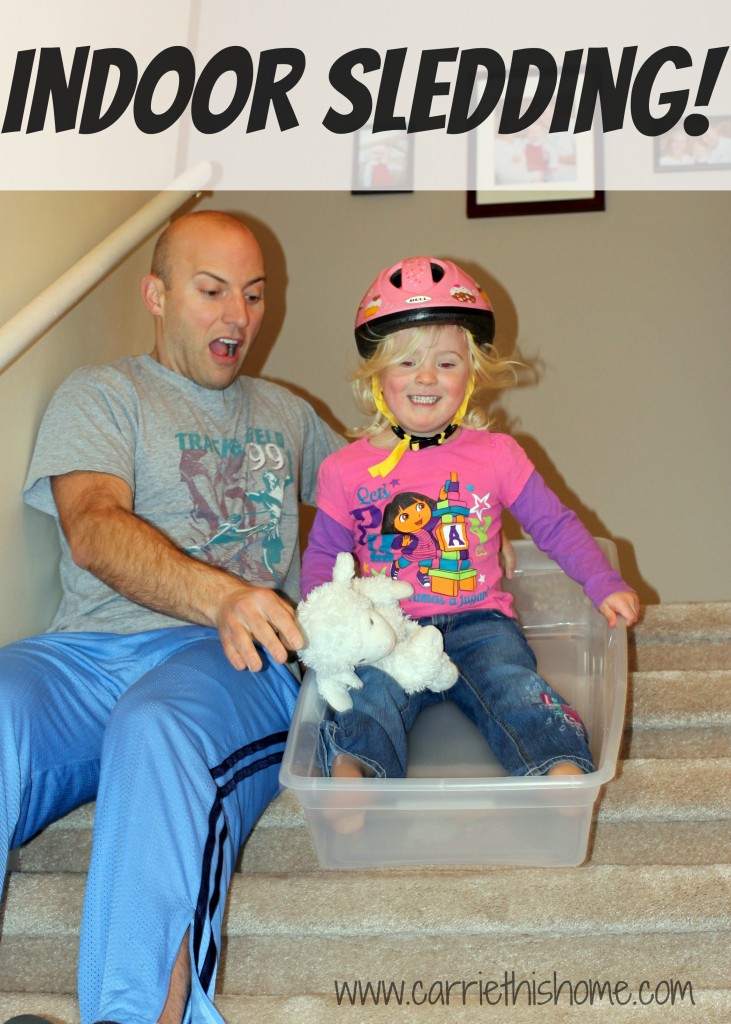 If you're going to do this, I have a couple tips:
The plastic containers are REALLY fast!   They're way to fast for children to slide by themselves.
Rule #1:  Do not let young kids do this by themselves!  To solve that problem Hubby stayed planted in the middle of the stairs and guided the plastic container down to keep it from going too fast.
Use a helmet if you have one.
Make a soft landing spot using blankets, pillows and any other soft items.
Rule #2:  Have fun!


Linked up to My Crazy Beautiful Life
P.S. - If you're a blogger

, you HAVE to check out *this course. I took it myself and highly recommend it. (*aff link)