Why do the best toys come with a gazillion pieces? Who needs a 152 piece tool set? And a 1,001 piece hair decorating kit? Apparently, my kids do.
Sometime in the past 5.5 years since I've become a parent, I've noticed a disturbing trend in my home. We have clutter. More specifically, toy clutter.
Everywhere.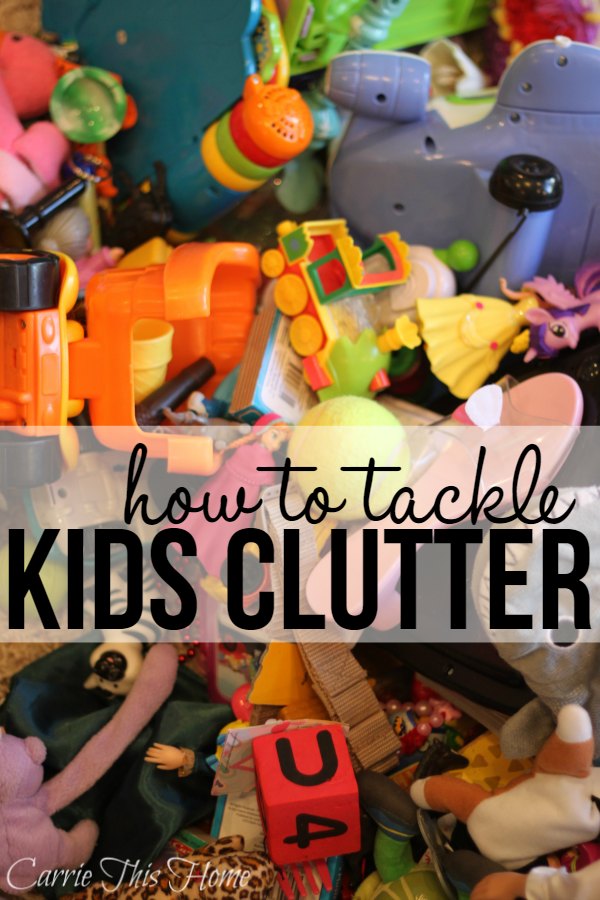 Needless to say the potential for mess in my house is high. Before you lose all hope, don't worry. Recently we tackled the clutter in my son's room and made it a place where we're all happy. You can keep those 152 piece tool sets AND tackle clutter. Your child can easily find their toys all while you enjoy a clean, peaceful home. I'll show you how!
How To Tackle Kids Clutter
Just because you want a clutter-free home doesn't mean you have to throw all the toys away. You can tackle clutter in a short time by doing two things:
Create a home for the clutter
Organize it
This is what my son's room looked like before. Books, toys, and little pieces of puzzles everywhere.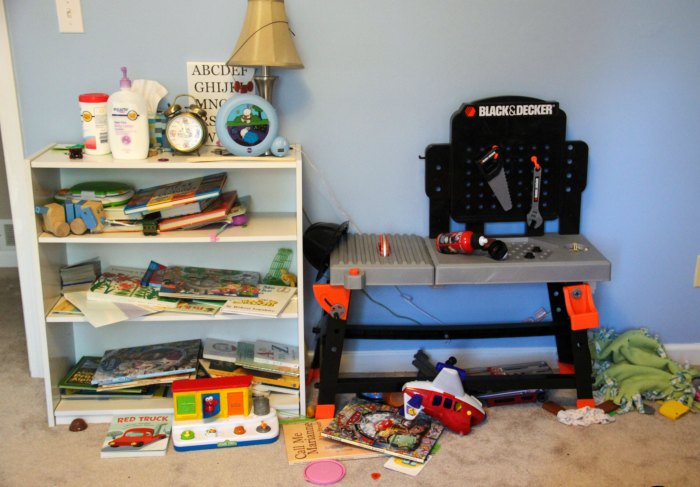 Now after creating a home for the clutter and organizing it, his room looks like this: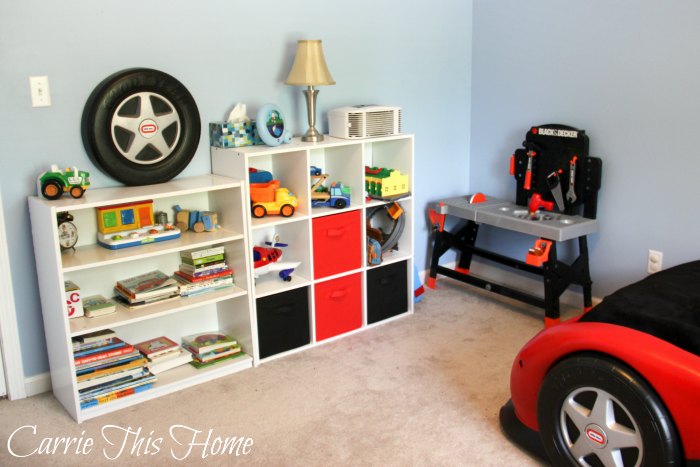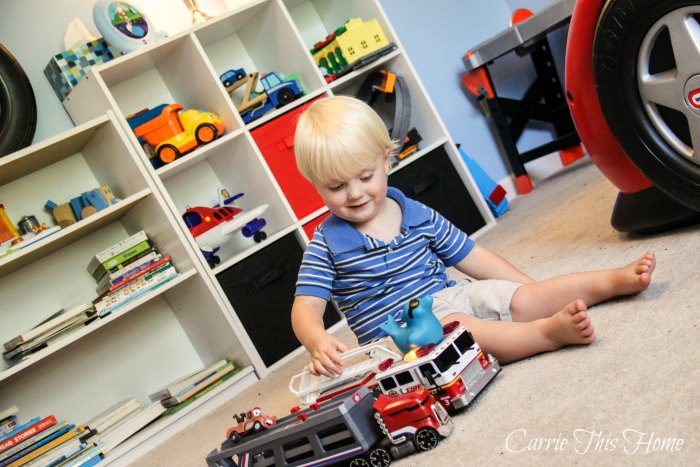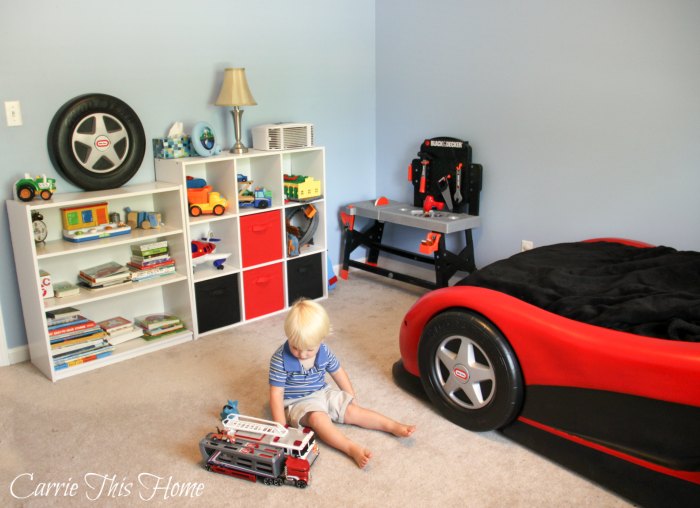 My son's room is now a fun place where we can both come and enjoy spending time together. He can easily find his toys and I'm not stressed over a huge mess. This is how it's supposed to be! You can have a space like this in your home & I'll show you how to do it!
This post contains affiliate links for your convenience. See my full disclosure here.
Easy Ways To Tackle Kids Clutter
Give the clutter a nice home. We created a home for my son's clutter by purchasing a new storage unit (similar to this one
at Amazon). New furniture not in the budget? That's okay! Look at your existing furniture and you may find the solution right under your nose.
Choose your furniture wisely. One key to tackling clutter is choosing furniture that will easily tame the mess while creating a fun and calm place to play. Choose furniture that takes up a small footprint on the floor but is able to hold a lot. The unit we chose can hold a LOT of toys and it barely takes up any floor space.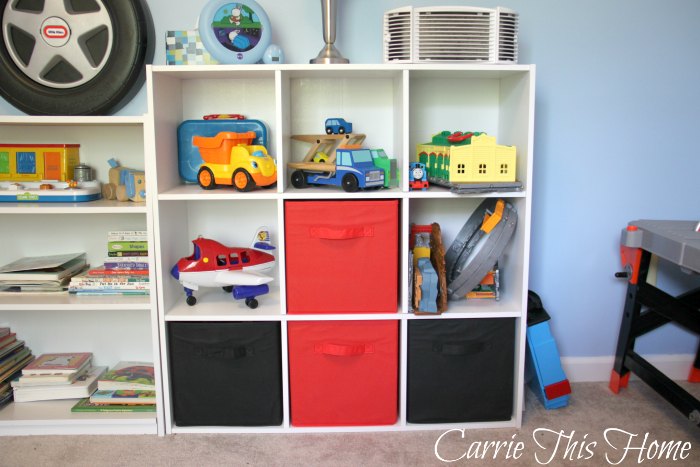 Choose furniture that will grow along with your child. We chose the white finish since most of the other furniture in his room was white. As he grows older and his interests change, the furniture will change along with him. When the days of toys cars and planes are over the bins can be cleaned out and converted to fit his future interests.
A mix of open shelves and covered storage is best. Open shelves will focus direction onto special items you want to highlight while giving the child easy and quick access. This is the best place to store items your child plays with everyday. Open shelves can also house awkwardly shaped toys. The bins can help harness and hide the mess of smaller items. Bins are perfect places to house very small toys like Legos, toy cars, and that 152 piece tool set.
Create easy access for the most used toys. Toys that are used most frequently need to be placed right at the child's level. Since my son is only two and not tall enough to reach the top shelf, I put all his most popular toys in the bins on the bottom.
Make your furniture multitask. We also use this shelf for the lamp, clock, and air purifier.
Categorize. Each bin creates a "home" for different types of toys. No more endless piles with a gazillion pieces everywhere. I placed all of my son's trains in one bin, all the airplanes in another, and all the small cars in another. Since each bin creates a home, specific toys can be easily found when it's time to play!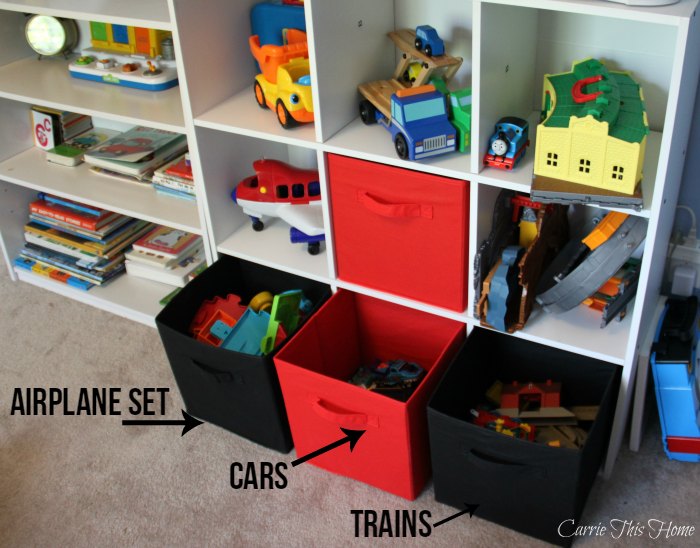 Make it easy to clean up. Having toys categorized makes it easier for the child to participate when it's clean up time. As you can see from the photo below, my son can easily clean up all the trains in a snap by just throwing them back in the bin!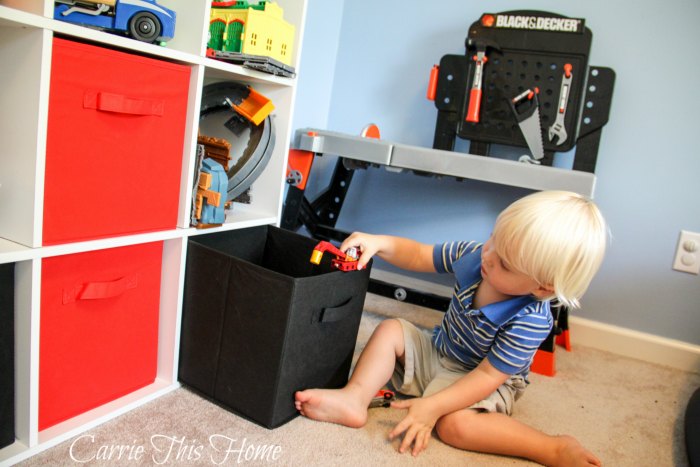 We liked this storage unit so much, we bought four more! One for the office, two for the basement and one for my daughter's room. I think I'm going on an organizing frenzy!
Now it's your turn!
Here's an attainable challenge for you: find one area in your home with toy clutter and decide to get it organized this week. Next week, choose another area and do the same thing. Keep doing this until your problem areas are addressed. Next thing you know your whole house will be more organized and you'll have time to enjoy time with your little ones!
See–wasn't that easy?
What are some ways you deal with kids clutter? Leave a comment below and share your favorite tip to share with others!
This post linked to: Weekend Wind Down, Saturday Sharefest, Show Me Saturday, Skip The Housework, Think and Make Thursday, and Best DIY Projects and Recipes.
P.S. - If you're a blogger

, you HAVE to check out *this course. I took it myself and highly recommend it. (*aff link)