Have you ever had those moments when you listen to lyrics from a song and they hit you like a ton of bricks?
For me, Whom Shall I Fear (God of Angel Armies) by Chris Tomlin is one of those songs. The lyrics remind me that no matter what I face, God is by my side.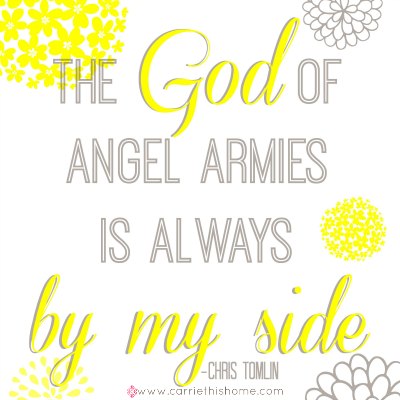 Some people say "God won't give you more than you can handle." I've come to realize that is not true. Sometimes I have WAY more than I can handle on my own. I need Jesus to carry me through those times. He gently reminds me that I don't have to have it all under control.
He does.
I struggle with a lot of things. Historically my main struggle has been worry. I worry about way too much like:
What if my health fails as I get older?
What will life be like for my kids as they grow up?
Will we have enough money for my kids college tuition?
Will we have enough for retirement?
How will my kids face the hardships of adolescence?
Will they know Jesus?
Worry easily gets out of control. Suddenly I'm focusing on problems that may or may not happen and I'm not trusting in the protection and provision of God. I need constant reminders that I am not in control so I shouldn't worry as if I do. One way of doing that is making artwork and printables with quotes that help put my focus on Jesus.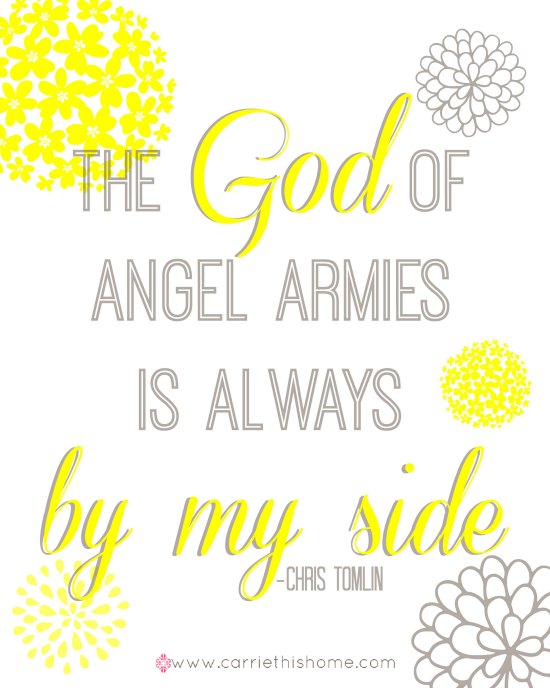 I know I'm not the only one who struggles with worry so I'm sharing this printable with you! Just click on the link below and print on regular paper or cardstock.
8 x 10 God of Angel Armies Printable
I also made a printable note card set. If you know of someone who has been having a hard time you can send them a sweet note. Click on the link below and print out on cardstock.
God of Angel Armies Note Card Printable
Do you struggle with worry too? What do you tend to worry about?
This post linked to Family Fun Friday, Serenity Now, Link Party Palooza, Saturday SHOWlicious, Skip The Housework Saturday, Saturday Sharefest, Get Schooled Saturday, Inspiration Monday, Project Inspired, Do Tell Tuesday, Awesome Things Tuesday, The Makers, Whimsy Wednesday, Hit Me With Your Best Shot, Work It Wednesday, Link'n Blogs, Thrifty Thursday, Tutorials and Tips. The Makers, and Inspire Me Please.
P.S. - If you're a blogger

, you HAVE to check out *this course. I took it myself and highly recommend it. (*aff link)