I recently discovered how to cool soup fast without watering it down with ice. This little tip has been a game changer for me!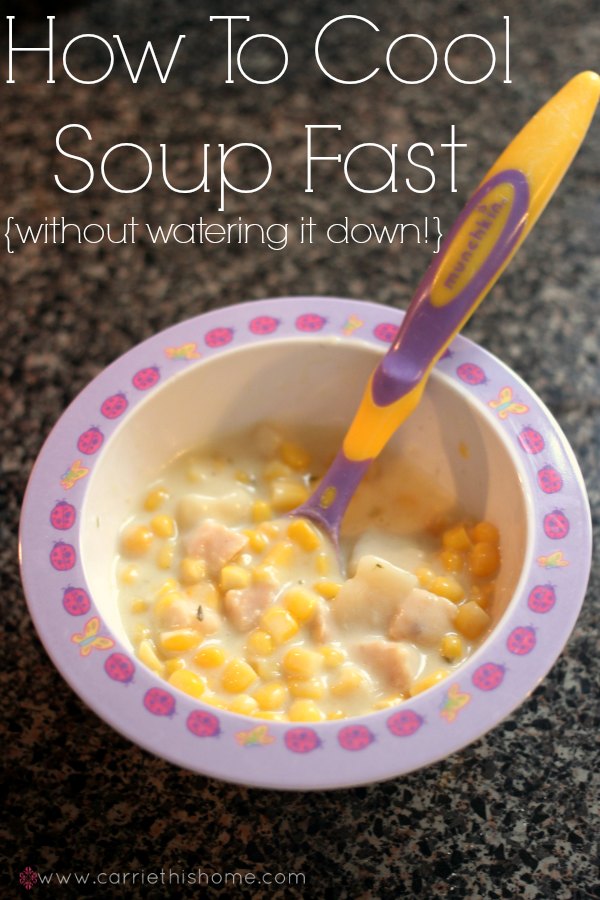 One of my kids' favorite things to eat for lunch is "corn soup." It's a creamy corn and chicken soup that's perfect on cold days. But I always run into a problem…I have to wait until it cools off before I eat it so I don't burn my tongue.
I'm not patient enough to wait for it to cool down.
Neither are my kids.
They can't eat it right away–it's BLAZING hot!
My son doesn't quite understand the concept of waiting for food to cool down. I try to blow it off but as he eats the first bite he still burns his tongue.
Great.
Now I have a hungry and hurt child. That combination is never a good one.
I need a way to cool soup FAST.
I could always put an ice cube in but then it waters the soup down. I hate that!
Here's a better idea:
To cool a bowl of soup fast without watering it down with ice, put a teaspoon of frozen corn in it. Stir around a couple of times until the corn is defrosted and voila! Now the soup is the perfect temperature and the taste remains the same! The trick is the frozen corn will cool down the soup as it defrosts.
What if your favorite soup doesn't have corn in it? Try a handful of frozen peas. Chances are most soups have some sort of vegetable in it. Just pick a frozen veggie that goes with your soup and you're set to go!
This tip has saved me a lot of time and sanity. And a lot of burned tongues!
So that's your tip of the day! I hope this comes in handy the next time you serve up some soup!
What is your favorite soup to eat when it's cold outside?
This post linked to Get Schooled Saturday, Tutorials and Tips, Link Party Palooza, and Moonlight and Mason Jars.
P.S. - If you're a blogger

, you HAVE to check out *this course. I took it myself and highly recommend it. (*aff link)