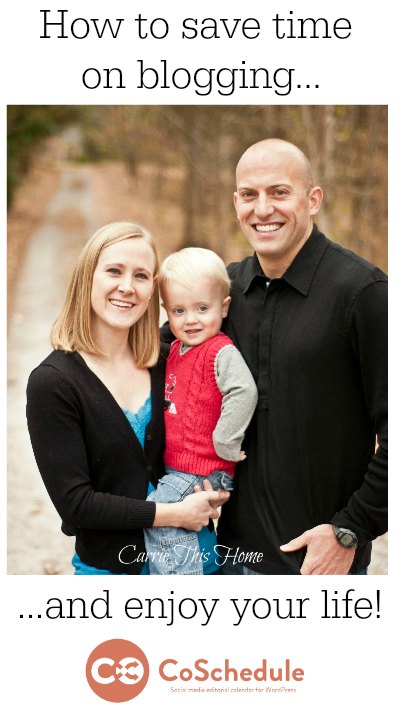 I love blogging!
It's the perfect creative outlet for me where I can share easy recipes, how-to tips for home projects and share my life and faith.
But there's a problem.
Blogging takes a lot of time!
One post will take HOURS to complete. It takes time to write the post, more time to take photos, and then even more time to promote the post on social media. Promoting one post on Facebook, Google+, Twitter and Pinterest takes so much time that I've felt the need to be connected to my computer all.the.time.
Being a blogger means having a presence online. The problem is I don't want to be on the computer all the time. I have a family to take care of and I'm not going to sacrifice time with them.
This post contains some affiliate links and referral links for your convenience. All opinions in this review are my own. My full disclosure can be seen here.
Then I discovered CoSchedule. Now I'm wondering how in the world I survived without it! CoSchedule allows me to streamline my blogging work so I can spend more time with my family.
What is CoSchedule?
CoSchedule is a social media editorial calendar that allows me to write a post and schedule all my social media updates on Pinterest, Facebook, Twitter, LinkedIn, Buffer, and Google+ all from my WordPress dashboard!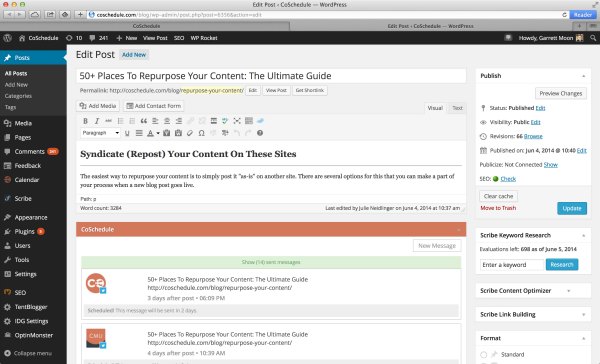 CoSchedule is a drag-and-drop editorial calendar plugin for your blog that allows you to manage all your posts and almost all your social media accounts all from inside your WordPress dashboard. What I love the most about CoSchedule is it allows me to promote my post as I'm writing it!
CoSchedule keeps everything organized. All the posts on the calendar can be dragged and dropped to a different date and all the social media promotions go with it!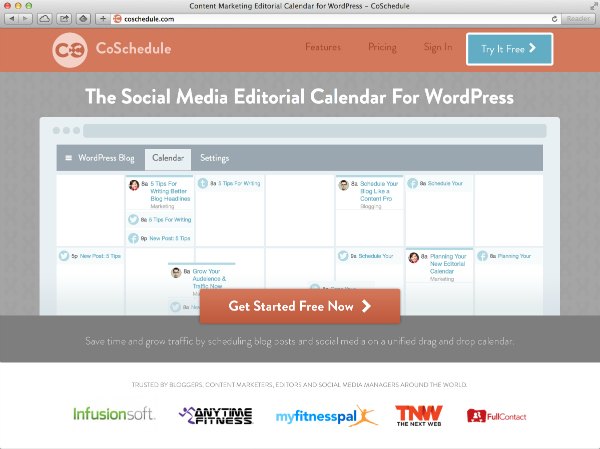 How does it work?
CoSchedule is installed to your website through a plugin. It's easy to install and the directions on how to use it are easy to follow (even for non-techy people like myself).
Once the plugin is installed, CoSchedule integrates WordPress, Facebook, Pinterest, Twitter, Google+ pages, LinkedIn and Buffer–so all the information is all on the same screen making blog writing and promotion streamlined.
Here's how it works: I write my post as usual. Directly below my post window, there is a CoSchedule window. From here I can schedule post promotions to my social media outlets. CoSchedule allows me to schedule unlimited social media posts at customized times. Having all the information right in my dashboard is so convenient!
Here is an example of what it looks like in the Edit Post screen: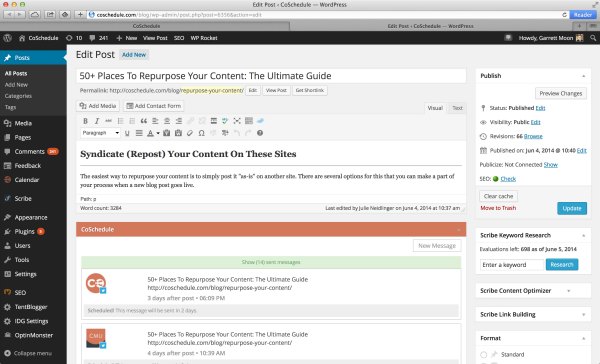 Want to see CoSchedule in action? Here is a quick video showing the top 5 features of CoSchedule. Seeing it in action is what sold me.
Another feature I love about CoSchedule is it gives me the ability to schedule social media updates for future dates. This past week I went on vacation so before I left I scheduled a post and lots of messages on all my social media. CoSchedule allowed me to take a break from my blog because it did all the work for me. I spent quality time with my family and didn't have to sacrifice traffic to my blog!
As you create a social media message in CoSchedule, you can see exactly how the promotion will appear on your social media once it is published. You also have the ability to set the exact date and time of the promotion.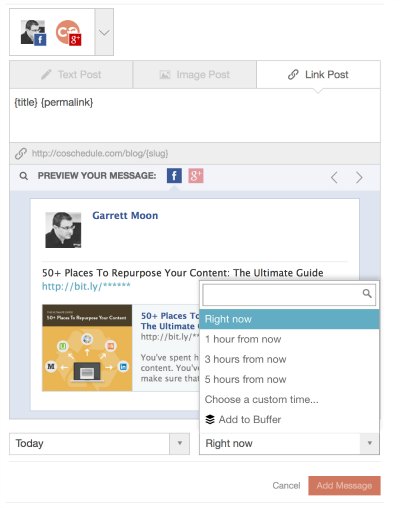 How much does it cost?
I am very skeptical when it comes to paying for services for my blog. In fact, before this the only paid service I used on my blog was PicMonkey (to edit photos and graphics.) Most times for my blog I try to use free services but this is one of a few exceptions.
CoSchedule only costs $10 per month. I was so happy after my free trial, I decided it is worth every penny. And that means a lot coming from a cheap frugal person like myself! CoSchedule gives me the tools I need to easily drive more traffic to my blog, so the increased income potential quickly makes up for the cost.
Perfect for blogs with multiple authors
CoSchedule is a great tool for blogs with multiple authors. In this photo below, there are several people assigned to different tasks within the same blog. This means everyone can keep on the same page and stay organized! CoSchedule allows multiple people to view the calendar and work simultaneously.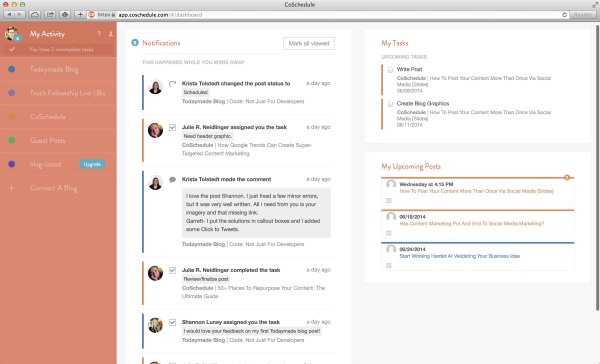 Will CoSchedule be a good fit for you?
I honestly believe CoSchedule is the perfect social media tool for any blogger. This is especially true if you want to:
Save time promoting your posts
Gain more traffic without too much work
Have the ability to post unlimited social media messages at customized times
See your posts and social media schedule all in one place
Keep your blog tasks organized
Have a blog with multiple authors with different responsibilities
How I use CoSchedule
Pinterest is the number one traffic boost for my blog so it makes the most sense for me to be spending time pinning a lot during peak times. Being able to schedule pins as I write the post is a huge time saver. I can schedule pins during peak usage times–giving my posts huge exposure without being glued to my computer.
The calendar gives a great visual of what's going on with my blog all in one place. I can make the most of my blogging time by seeing it all in one screen. Then when I'm with my family CoSchedule does all the work for me! CoSchedule has allowed me to be successful with my blog and gives me more time with my family. It's a win-win!
I also like to use the CoSchedule calendar to promote older posts. I just click on a day on the calendar, input the blog post URL, photo, and description and then CoSchedule does the work for me!
What I think
CoSchedule has been a life saver for me. It's allowed me to promote my blog at a low cost, streamline my blog work, all while saving me time. CoSchedule allows me to spend more time with my family and less time blogging without sacrificing my blog's success.
Start a free trial
If you like what you're reading, go ahead and start a free trial. There's nothing like trying it out for yourself!

This post linked to Whimsy Wednesday, Lovely Ladies, The Weekend Re-treat, Inspire Me Please, Serenity Now, The Weekend Wind Down, Saturday Sharefest, Skip The Housework, DIY Sunday Showcase, In and Out of the Kitchen, Tutorials and Tips, The Makers, Snickerdoodle Sunday, Moonlight and Mason Jars, and Hit Me With Your Best Shot.
P.S. - If you're a blogger

, you HAVE to check out *this course. I took it myself and highly recommend it. (*aff link)