It all started with a picture on Facebook.
You know when people take pictures of their dinner and post it on Facebook? It's kind of annoying, right?
Usually I could care less about what people are eating for dinner.
Well the other week, one of my friends from high school posted a picture of his dinner that his wife made him and it looked AMAZING. That meal caught my attention.
It was chicken wrapped in cheddar cheese and bacon.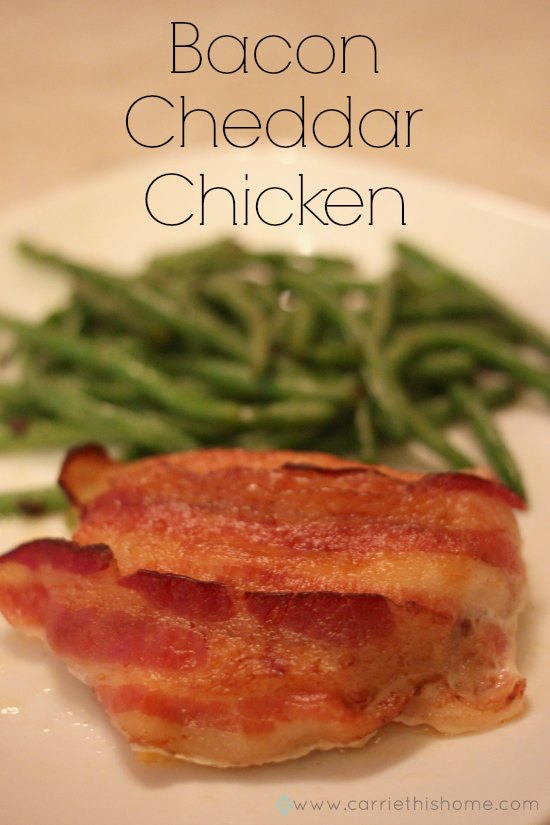 Chicken + Bacon + Cheese
"Why have I not thought of that combination before?" I said as I kicked myself.
I asked my friend for the recipe and he and his wife kindly shared it with me. Later the next week I made it for dinner and the results were AWESOME! The chicken was moist, the cheese added a rich creamy flavor, and the bacon….well do I even need to say it? Anything is 100 times better with bacon!
My whole family loved it, including my picky eaters two kids.
Finding meals all of us enjoy is next to impossible.
I think it's safe to say this is going to be a dinner staple at my house from now on!
Recipe Card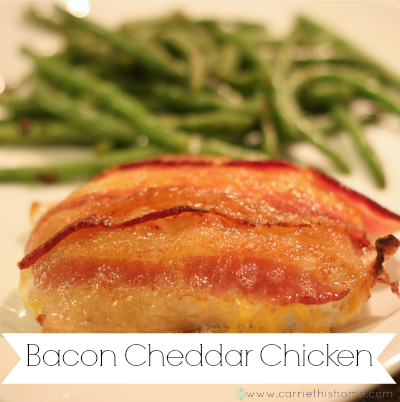 Bacon Cheddar Chicken
2014-01-24 12:25:46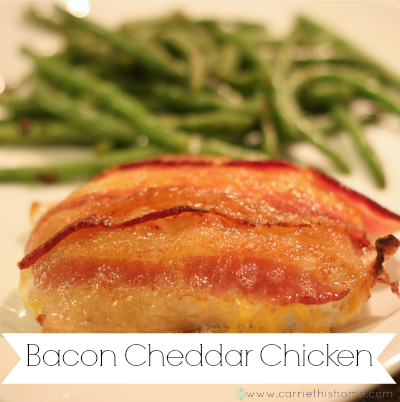 Serves 4
Chicken baked with cheddar cheese and bacon. Need I say more?
Ingredients
4 boneless skinless chicken breasts
1/2 cup shredded sharp cheddar cheese
1/8 tsp garlic powder
1/4 tsp seasoned salt
6 strips bacon (uncooked)
Instructions
Preheat the oven to 350 degrees.
Place the chicken breasts on a cookie sheet lined with parchment paper (the parchment paper makes clean up a breeze!)
Sprinkle each piece of chicken with cheese, garlic powder and seasoned salt.
Cut the slices of bacon in half and lay them over the tops of each piece of chicken.
Bake for about 30 minutes at 350 degrees.
After 30 minutes, turn the oven on broil for about 5-10 minutes until bacon on top is crispy. It is very important that you watch the chicken cook during this process to ensure it won't burn!
Once the bacon is crisp, take the chicken out of the oven and enjoy!
Carrie This Home https://carriethishome.com/
Like this recipe? If you want to see more check out all my
Easy Cooking
recipes!
This post linked to Moonlight and Mason Jars, Thrifty Thursday, Inspire Me Please, Wowza Wednesday, Saturday Showlicious, Skip The Housework, Saturday Sharefest, DIY Sunday Showcase, Think Pink Sundays, Share Your Creativity, Inspiration Monday, In and Out of the Kitchen, Tutorials and Tips, Do Tell Tuesday, Awesome Things Tuesday, Whimsy Wednesday, Hit Me With Your Best Shot, The Weekend Re-Treat, Eat.Create.Party!, Weekend Wind Down, and Link'n Blogs.
P.S. - If you're a blogger

, you HAVE to check out *this course. I took it myself and highly recommend it. (*aff link)