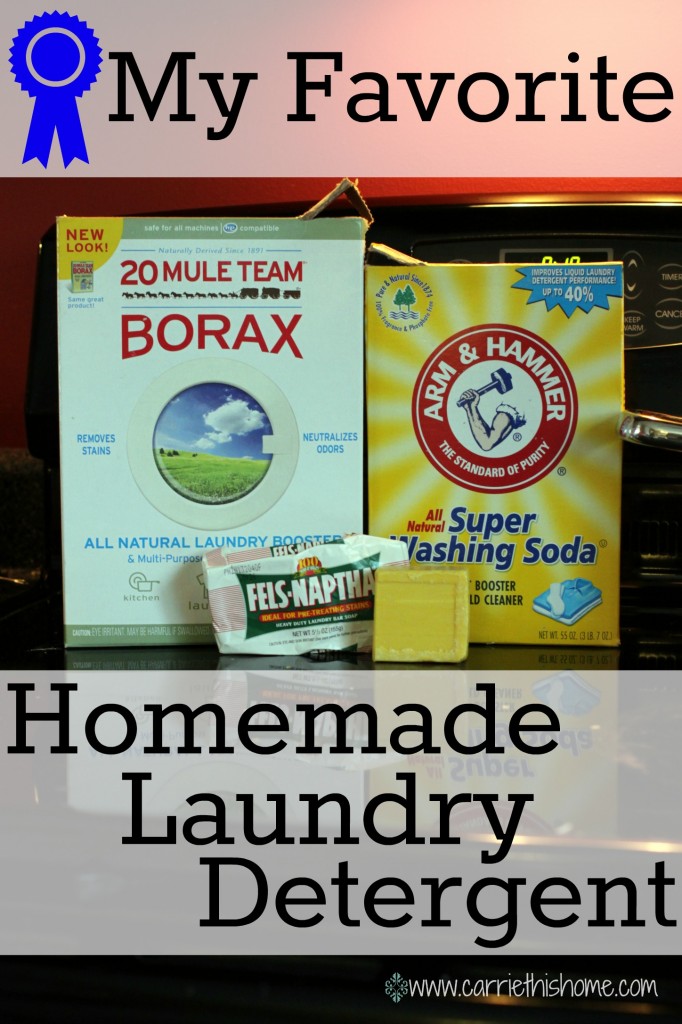 A couple months ago I wrote a post about my adventures in making my own powder laundry detergent. (To see that post, click HERE) I wanted to make my own detergent in hopes of saving money. I found a recipe, tried it out, and had good success with it. It cleaned well and met my goal of saving money.
Recently, my friend Amy from A Blossoming Life shared a recipe for homemade liquid laundry detergent that's really easy to make and the cost is about $.005 cents per load! That caught my attention as it was cheaper than the current recipe I was using.
A LOT cheaper.
So: does it work?
YES! I've been using it for a couple months and I'm satisfied with how it cleans and smells. Amy has been using it well over a year and has great results.
Does it smell good?
Yes. The Fels Naptha soap has a light, clean lemony smell that I really like. My house smells really good when I make it! The smell of my laundry products is really important. Regardless of how it cleans, if it doesn't smell good I won't use it.
No more yellow spots!
This recipe also solves a problem: no more yellow spots on my whites! One problem I had with the powder laundry detergent recipe is little yellow spots would sometimes show up on my whites. I think this was due to some of the Fels Naptha soap not melting in the load. One little bit would get stuck on a part of clothes and wouldn't get washed away. Since Amy's recipe involves melting the soap down, there aren't any issues with yellow spots!
So if you want to make the full batch, go ahead and see the video tutorial and recipe on Amy's blog here. If you're wanting to make a smaller batch like I did, keep on reading!
Homemade Laundry Detergent
This recipe will make approx. 120 loads worth of detergent!
(recipe adapted from A Blossoming Life)
Supplies:
5 quart pot
1/2 cup borax
1/2 cup washing soda
1/2 bar Fels Naptha soap or other non foamy soap
Containers to hold finished product. I used 4 fabric softener containers like this: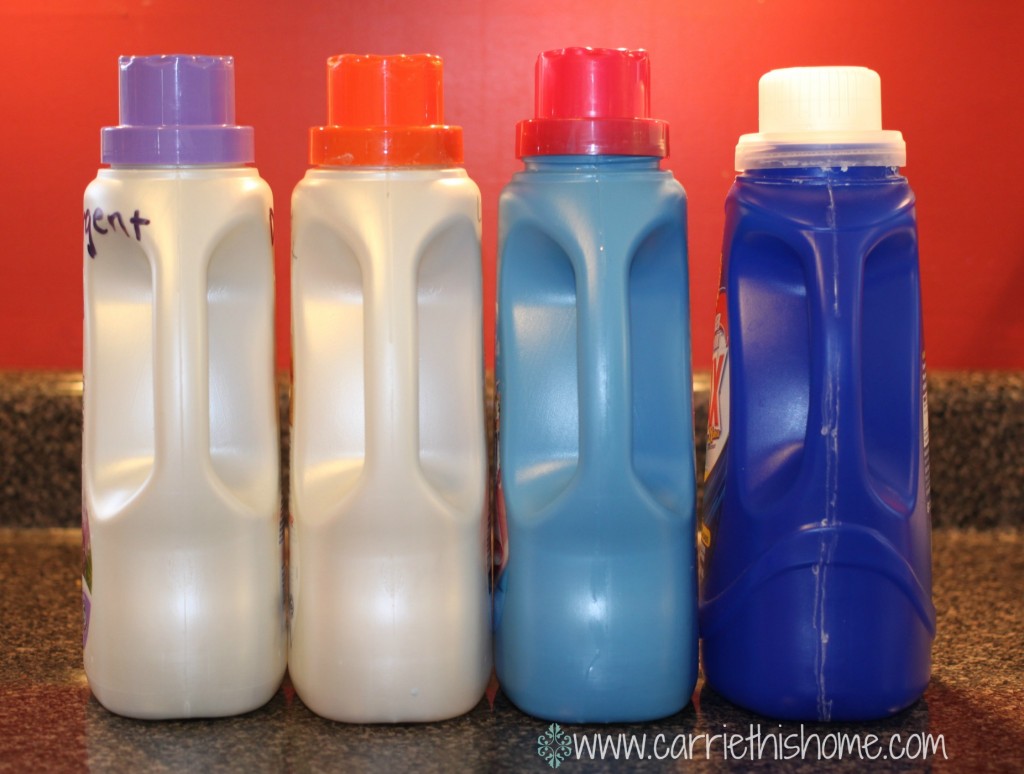 Directions:
Fill the 5 quart pot with water leaving a little room at the top for the rest of the ingredients. Then set on the stove to boil.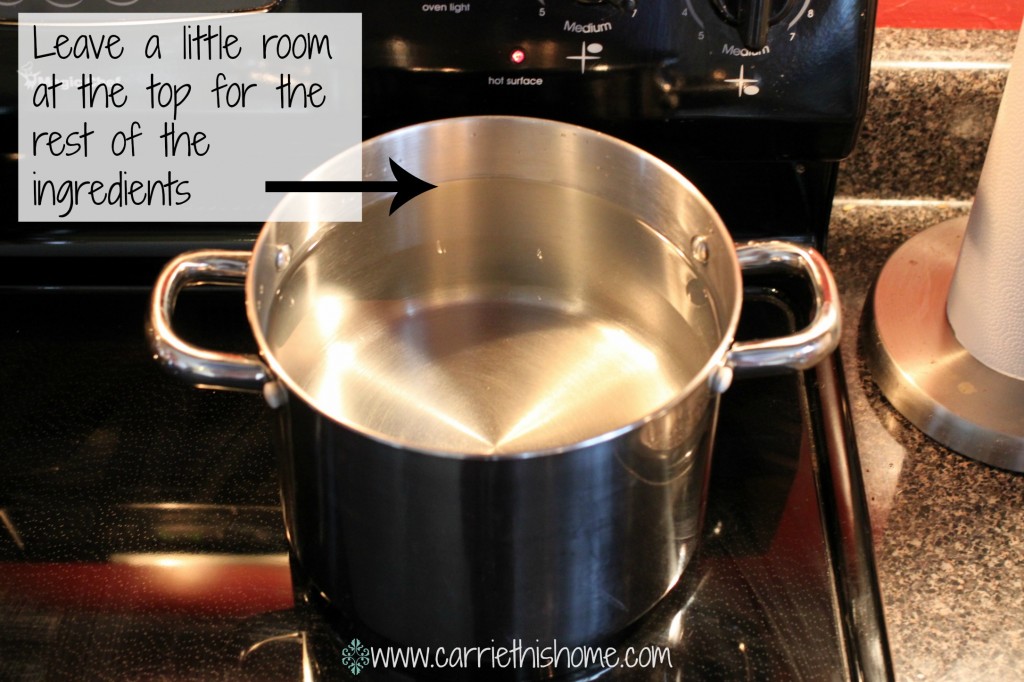 Meanwhile, grate the Fels Naptha soap. I use a cheese grater with very small holes to help the soap melt faster. This is what the soap looks like after being grated: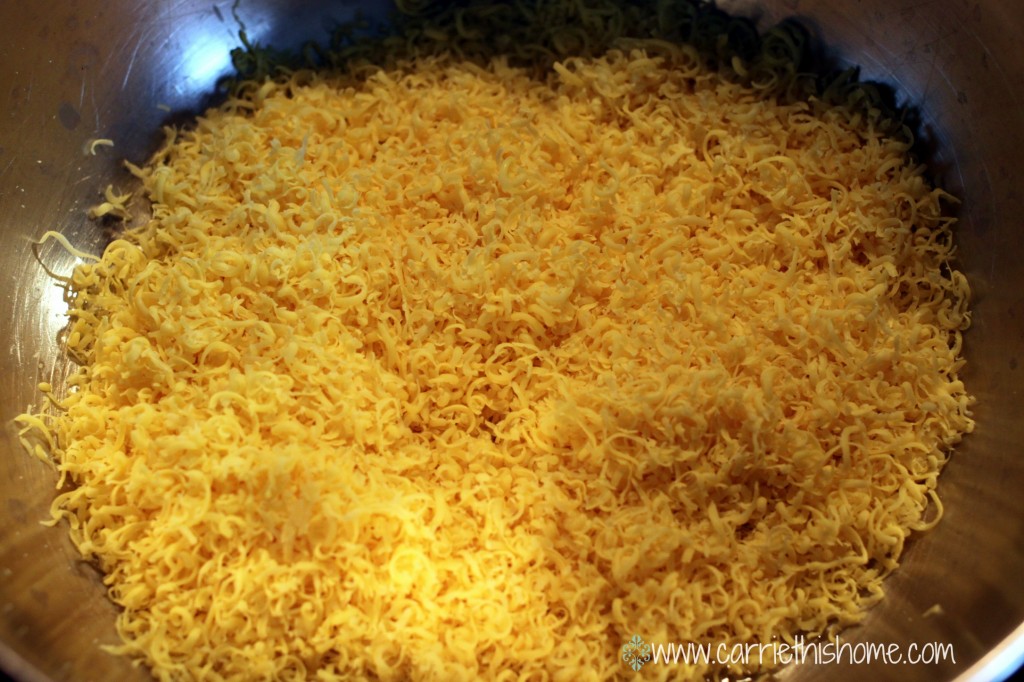 Once the water is boiling, slowly add Fels Naptha soap and turn down the heat to medium low. Once the soap is melted slowly add in borax and washing soda. Stir until dissolved.
Let the mixture sit for awhile (about an hour) and cool down and mix well again. The soap will get thicker as it cools down and will look like this: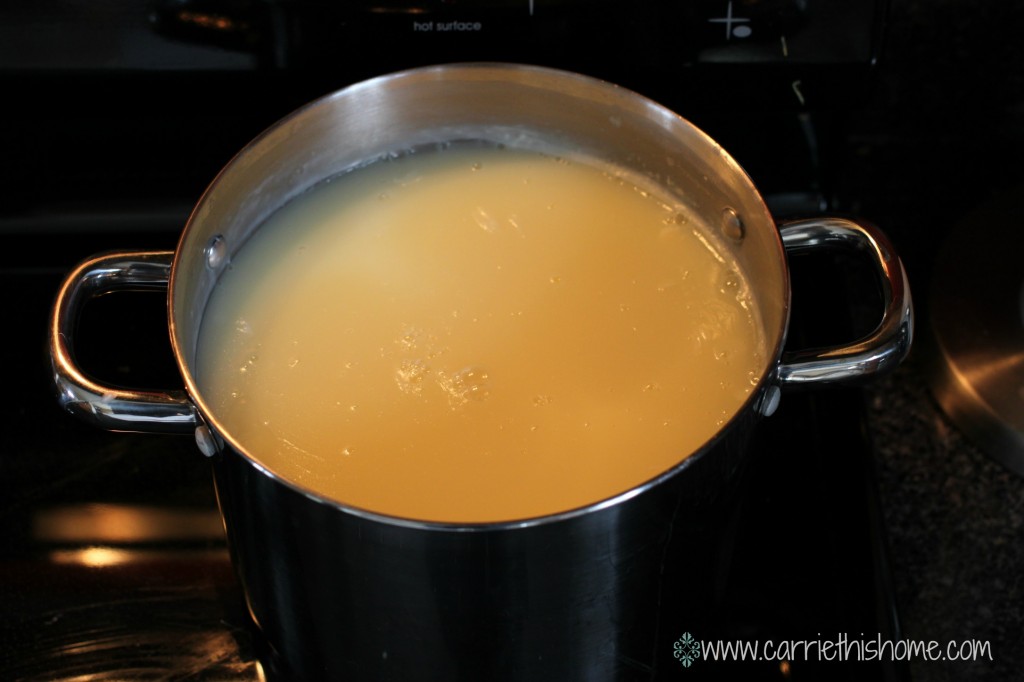 Once the soap has cooled down (to where it's safe to transfer) use a measuring cup to pour the soap into the containers. Fill up each container halfway with the soap mixutre. Then add warm water to the soap until the container is full. Shake it up a little to mix the water and soap.
That's it! You're done!
Use 1/3 cup of laundry detergent per load for big loads. It will not produce a lot of bubbles! You may notice after you have used it for awhile that it will start to get thick chunks, just shake the container (if it has a lid) or mix it again with a whisk or stick blender.
This laundry detergent has saved my family a lot of money over the years! Here's to clean clothes and a bigger wallet!
(Linked to Give Me The Goods Monday, Inspire Me Please Blog Hop, Create It Thursday, Whatever Goes Wednesday, Serenity Now, Inspiration Monday, Whimsy Wednesday, The Weekend Re-Treat, Do Tell Tuesday, Awesome Things Tuesday, Think Pink Sunday, Share Your Creativity, Show Me Saturday and In and Out of The Kitchen)
P.S. - If you're a blogger

, you HAVE to check out *this course. I took it myself and highly recommend it. (*aff link)